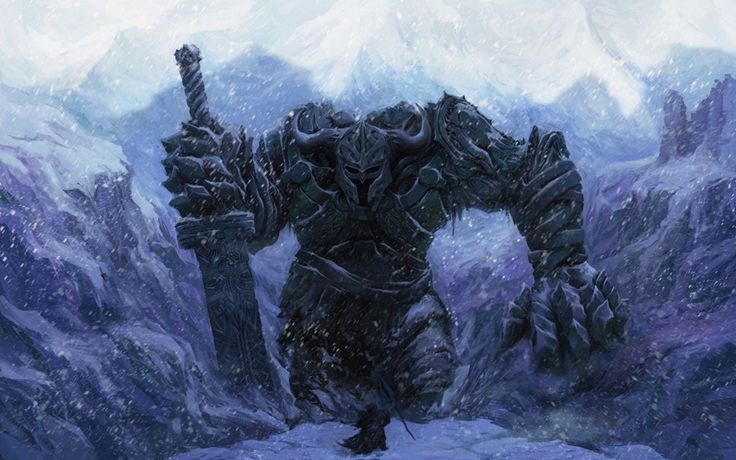 Exactly how do you put together a list to make the top tables at the big 40K tourneys (Like LVO) – in today's meta?
Goatboy here again and last week I talked about the death of the Take on All Comers list.  Its a frustrating loss in ways as army lists have started to feel the same as you deal with the Deathstar, MSU, or brutal Alpha Strike list.  Each one – while might have a few small unit changes all work the same way.  This is the frustrating thing as some players like to win with something different instead of just winning.  Heck it gets hard to find something to fit your play style as you get to an event and see 4-5 other lists that work the exact same way.

Heading to the Top
This brings the question then – how do I find the right secret sauce to give me some chance to make the top 8?  Of course the reality of making the Top 8 can depending on a bunch of different factors.  Dice rolls, army match ups, mission match ups, and even "mental" facility match ups will really determine if you get there.  I don't have any pre determined thought that I will get to the glorious top 8.  I got lucky with some match ups during my run at the Adepticon finals and while I haven't lost more then won yet at an LVO – I still haven't cracked that tough top 8.
Currently I have a few lists that are pretty much ready to go.  Either they only need 1 or 2 units painted or I can easily cobble it all together from my evil/good guy stuff.  I am trying to limit myself and not go into either a heavy summoning set or some other "game" slowing style list that could hurt me finishing a match up.  There is nothing worse then slow playing and winning a game by "taking" too much time.  Its one of the things that frustrates me and really leaves a bad taste in my mouth.  This means I need to get a list I know well enough, can quickly make decisions, and hopefully leave the "shenanigans" at the table and just dice it off like a good wargamer.

Things You Need
Right now I think an MSU style list that can do enough damage to a Gladius is most likely the best way to go.  If you can handle a Death star as well – that is a bonus.  I also have the issue that playing the damned Freeblade game too much has me thinking – go big with my knights and try to get in the top 8 without FW super heavies.  I also want to not rely on Psychic powers.  The Culexus does a number on psychic armies and I would rather have my opponent take a crazy tax instead of giving up some of my list's offensive ability.  It also lets you ignore one phase of the game which can help alleviate time consuming decisions and focus you on the mission at hand.
Here is the initial list that might get a few small tweaks depending on if I want to try a different HQ and dabble in psychics for some TWL action.
******WARNING – COPY AND PASTE IS IN FULL EFFECT******
White Scars CAD + Baronial Court Imperial Knight Faction
White Scars CAD
HQ: Techmarine, Bike, Conversion Beamer, Meltabomb, Hunters Eye (Lord is this wargear nuts…)
Troops: Bikers X 3, Grav Gun X 2
Troops: Bikers X 3, Grav Gun X 2
Troops: Bikers X 3, Grav Gun X 2
Troops: Bikers X 3, Grav Gun X 2
Troops: Bikers X 3, Meltagun X 2, Attack Bike, MM
Baronial Court
Knight Warden, Ironstorm Missile Pods – Baron
Knight Warden, Ironstorm Missile Pods
Knight Warden, Ironstorm Missile Pods
List Strategery
I went with 5 units of bikes because it gives me a decent about of Objective Secured – the points even out to something in the power of 5 (makes the point amount of the army cleaner in my mind), and it gives me enough action to do a ton of different things.  The Hunters Eye is really a dumb piece of wargear as we all know how effective ignoring cover can be.  I have seen a ton of games won due to the ignore cover alpha strike gutting the Deathstar's Dark Angel friends.
The One Melta squad will usually start off the table versus any drop pod army.  The Conversion beamer lets me do some cute things with tables without blocked in windows and other options.  It also lets me snipe out things too if I can lock in what I can and cannot see etc.  Plus I made a sweet conversion for it out of some Adeptus Mechanicus extra guns and arms.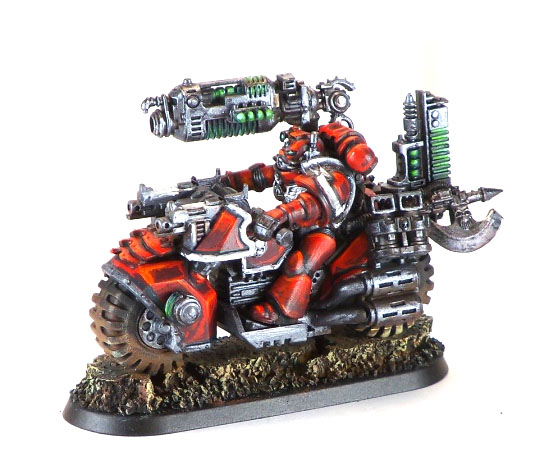 I wish I had a non psychic way to get TWL but I guess I just have to deal with ignoring cover.  Poor me.  Can't you make another Eye item called like the "Death Eye" that gives you TWL and maybe instant death?  I think the White Scars have been real good for Xmas and deserve it.  Wait… don't do it GW I swear I am kidding hah.
The 3 Knight make up is just based on the hope that having Barrage weapons might let me survive the Marker lights.  We know that when Storm Surges get activated with D shot Missiles it is a rough time for the Knight army.  2 6's and you got a big explosion that might take out some other friends nearby.  The hope is I can start out of 36 inch range and try to put some Barrage templates on them if needed.  Especially if they are hidden.  It also lets me shoot behind myself even if I scatter a full distance if rolled.  The 12 shot gun has always just been strong and I went with 3.  They can bust through Void Shields, kill Rhinos, and hurt just about anything in the game right now.  I might call and audible and go with a double shot Knight and tweak some of the bike units so will see.  That Battle Cannon can do some damage if needed.
Heck if I could I would take that new Knight the Atrapos due to its rough nature Versus Massed Vehicles and just the change to Vortex the board.  I know I have an ultimate Vortex game coming to me so as soon as I get one of these I am going to be hoping for that 6.  Of course will have one game where I derp myself 3 turns in a row haha.
Closing Thoughts
I also have a Deathstar list that is ready to go as well.  I will talk about it next week as another viable option to fly with.  It is a bit smaller and full on Counts as Evil Chaos.  Of course it shows everything wrong with Battle Brothers and how removing them would probably make the game a bit nicer to throw down in.  Still – it is there so people have to know about it and figure out how to deal with it in an event where you don't really have a chance to say no to the match up if you want to continue moving through the event.
What do you think is the strongest army building strategy right now?