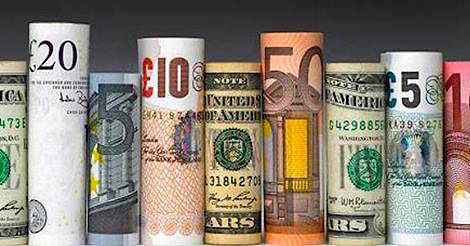 1 year on, GW reboots Age of Sigmar with a deal so cheap it's hard to believe!
Age of Sigmar was launched with MUCH fanfare 1 year ago. It launched on July 4th 2015.  Everybody and their brother came to check out what GW would offer to replace Warhammer Fantasy 8th Edition.
What followed was the 14 week "Summer of Sigmar" with non-stop releases introducing the Stormcast Eternals and the Khorne Bloodbound to the world. by the end of the summer it was evident there was a serious problem with the game's reception. the old WFB community splintered with some trying the new system, others migrating to Mantic's Kings of War and the most die-hard starting The Ninth Age.
It's been a year since Age of Sigmar was launched and GW had devoted over 50% of that time to the new system – but it was evident that something bigger than 6 pages of rules would be needed to reengage the player community.
Several months back we had just such a list and I am happy to say that the General's Handbook fills the bill fairly well to what we had envisioned.
More importantly it is clear that GW is serious about getting Age of Sigmar back on track as they are offering the new book with alternative rules for:
Open Play
Narrative Play
Match Play
Not only this but the pricepoint is SUPER LOW for GW.  I would assume they are offering this book at close to cost.  As an example the 168 page full color book chock full of rules is priced at $25. That puts it in the range of the softcover Grand Alliance faction books, also bargain priced to get people into the game.  Remember that the original Age of Sigmar hardcover introduction to the game is $75. This is a book GW is giving away to get everyone to take a second look at their one year old game system.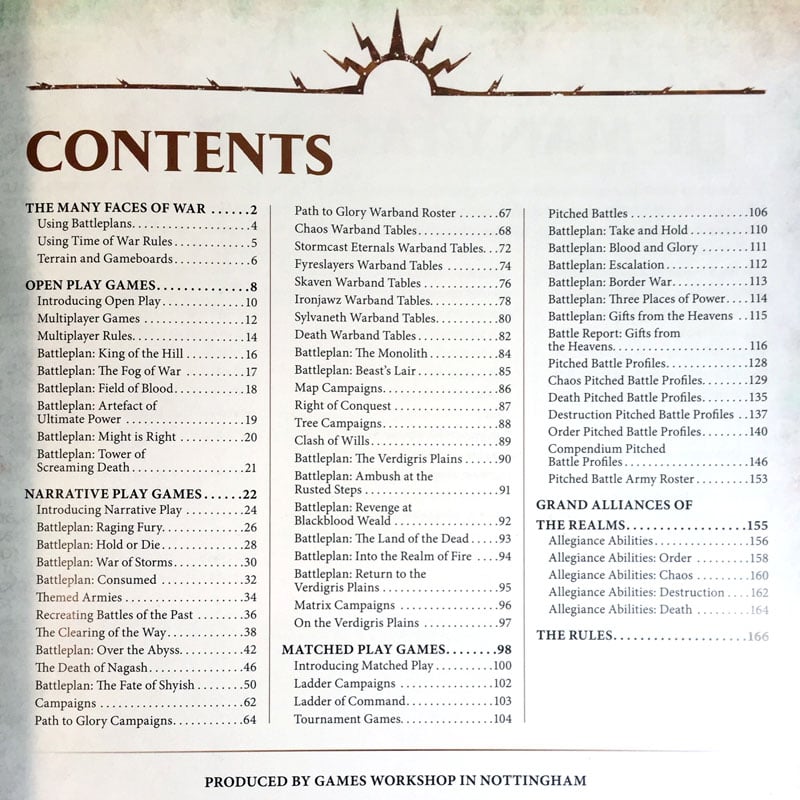 The Book
An essential, complete toolkit of rules that you and your gaming group can use in any way you like, the General's Handbook expands upon the rules of Warhammer Age of Sigmar to create a huge array of different gaming styles to suit any tastes.
The Rules
Each of these gives you, the player, massive flexibility and choice in the way games are played – they're designed to make you and your friends masters of your own gaming tables. The different rules have massive scope for overlap; for example if you want to use the multiplayer rules for a tournament, or Matched Play rules for a narrative campaign, you're totally free to do so.
Open Play
This is the best introduction to Warhammer Age of Sigmar and the wider world of wargaming in general. Open Play allows you to play unrestricted, even team-based and multiplayer games – all you need is your miniatures, their Warscrolls, the Warhammer Age of Sigmar rules, some dice and a tape measure. The General's Handbook features a number of great examples of Battleplans that are perfect for this play style, which we encourage you to expand upon with your own collections and even your own rules!
Narrative Play
The stories from the Mortal Realms are an important part of Warhammer Age of Sigmar – your collection of miniatures is made even more special by the rich history and thrilling tales told about them in various publications, making the hobby of collecting them an even more exciting venture. Narrative Play gives you a way to recreate the epic battles that have taken place in the Mortal Realms. The General's Handbook shows you how to theme an army for Narrative Play, contains advice on where to find the inspirational stories that fuel the games – and how to build your own stories and play exciting games within them.
Matched Play
Some hobbyists prefer to test their mettle in an equally-matched battle of strategy and wits, in which no advantage is conferred simply by selecting the biggest and baddest miniature in your figure case. Matched Play is the perfect solution – this provides points values for the units available in the Warhammer Age of Sigmar range, allowing you and your opponent to size each other up, decide on a points limit, deploy your armies and go to war on an equal footing.
~The multi-million dollar question for you – will the General's Handbook get you to give Age of Sigmar a 2nd look?