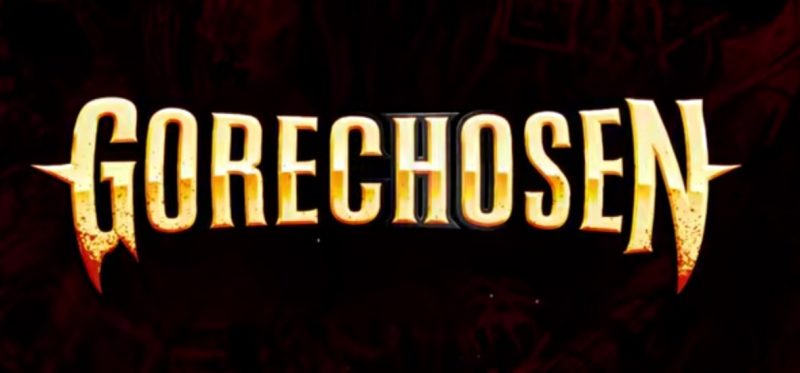 Gorechosen is getting some extra love from Games Workshop with two Legendary Heroes' Rules in White Dwarf – check it out!
Games Workshop is teasing one more reason to pick-up the latest White Dwarf – You get the rules for both Valkia The Bloody and Skarr Bloodwrath!
via Games Workshop (AoS Facebook)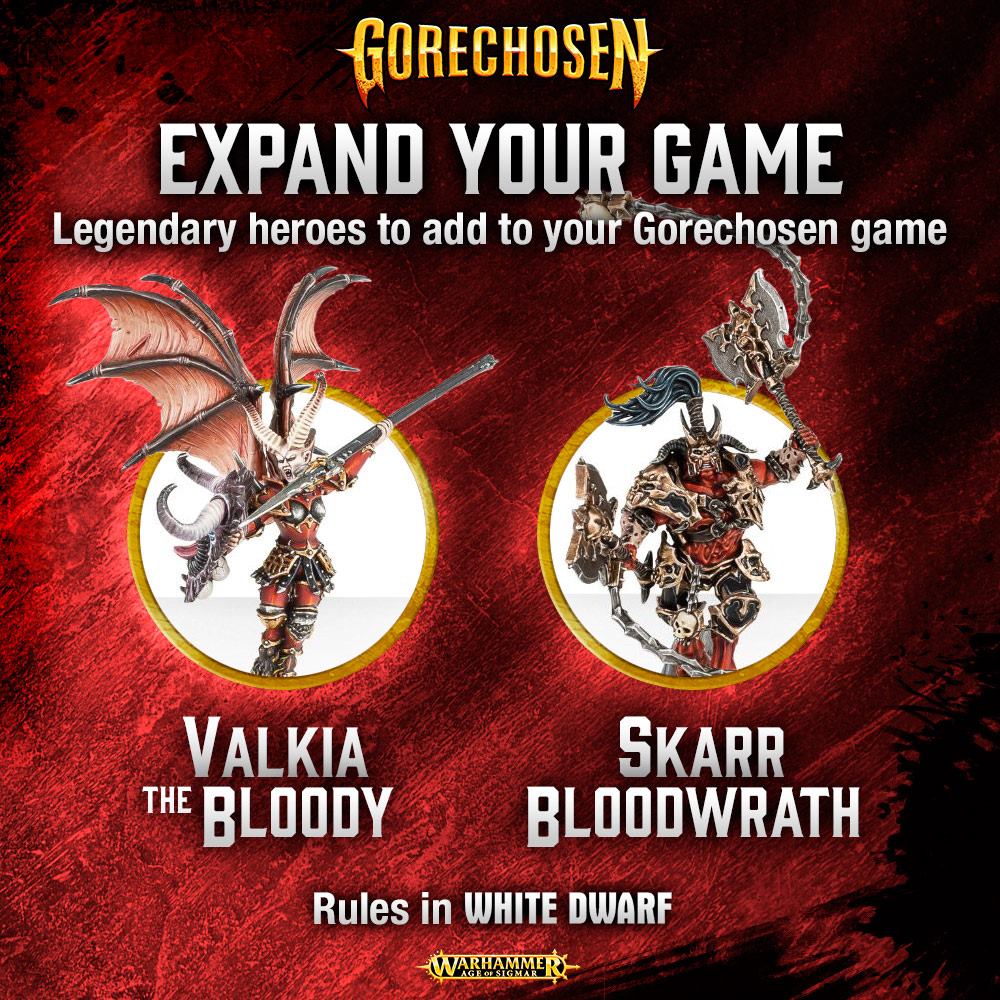 If you already have a Khorne Bloodbound army, then you'll find that rules for many of its characters are included in the Gorechosen box.

There are also two more included in this month's White Dwarf – legendary warriors capable of besting multiple other contestants, which is only fitting of the Blood God's favoured.
Now Games Workshop teaser didn't include those rules unfortunately. So here's a little teaser from the White Dwarf:
Valkia The Bloody Unique Action: Swooping Strikes.
"Discard any two Action cards to take this action. Move Valkia to any hex, facing in any direction. If you wish, you can then reveal another card, resolve its Attack action, and discard it."
Skarr Bloodwrath Unique Action: Slaughterstorm.
"Discard any two Action cards to take this action. Each other player with a fighter within 3 hexes rolls a dice. On a 1,2 or 3 their fighter suffers D6 wounds."
Both of these characters have additional rules that let them stay in the fight long past their time. Skarr's "The Never-Dying" lets him return to his feet and remove d3 or d6 injury markers while Valkia's "Daemonshield" basically gives her a save against a killing blow. Plus their "Kill Zones" are pretty unique as well. Both of these characters have some crazy killing power so taking them into the arena is a sure fire way to get the blood and skulls flowing! For those full rules go check out this month's premier issue of the "New" White Dwarf in stores now!
And in case you missed it here are the other four heroes coming in the Gorechosen Box: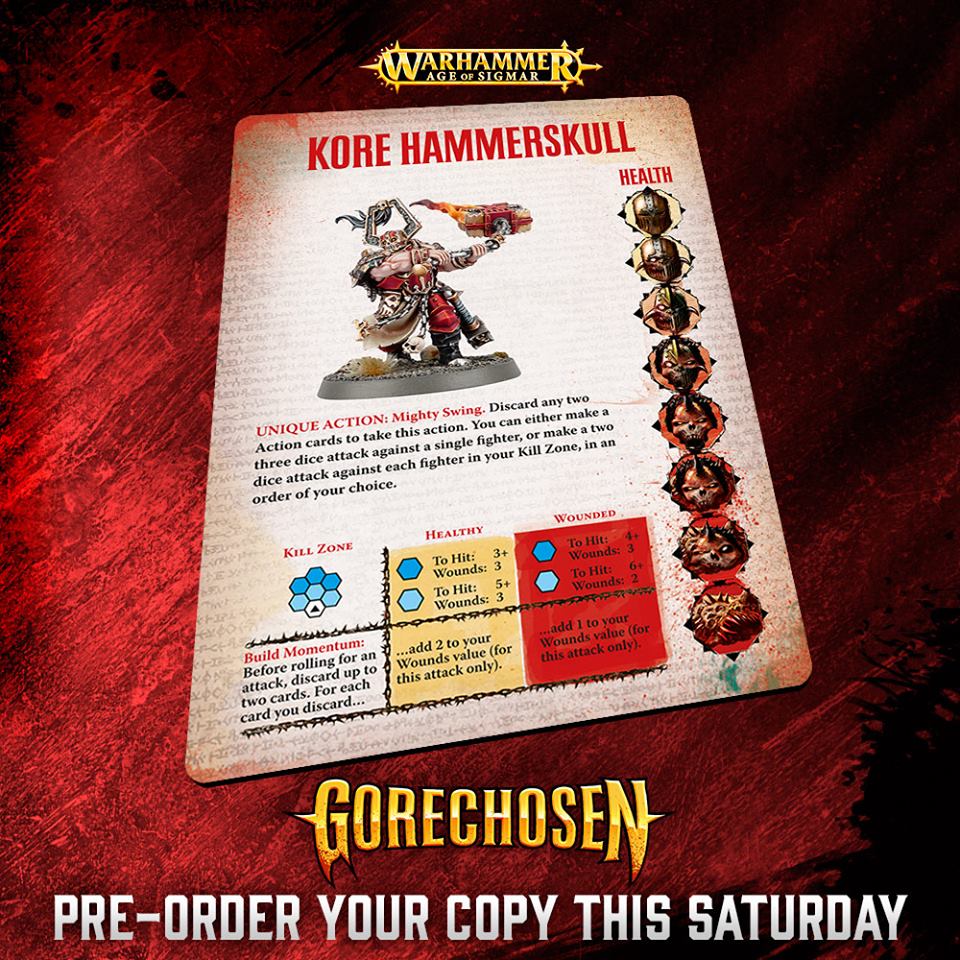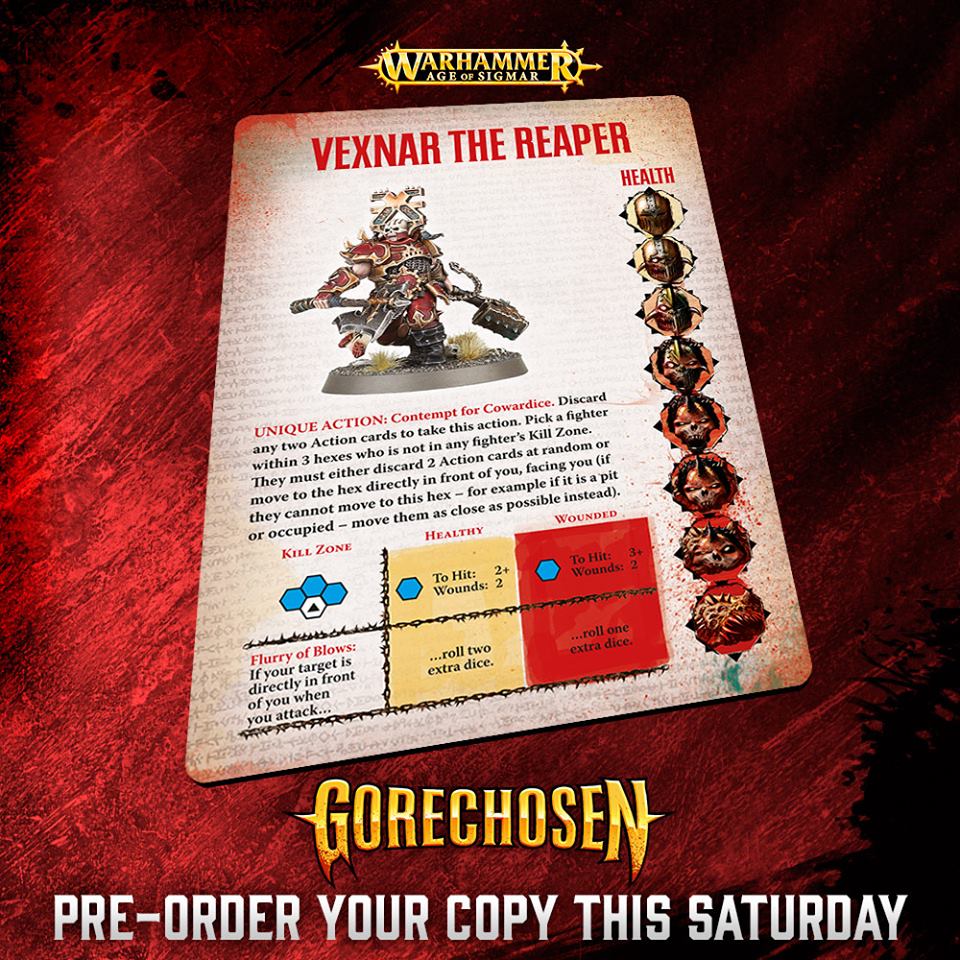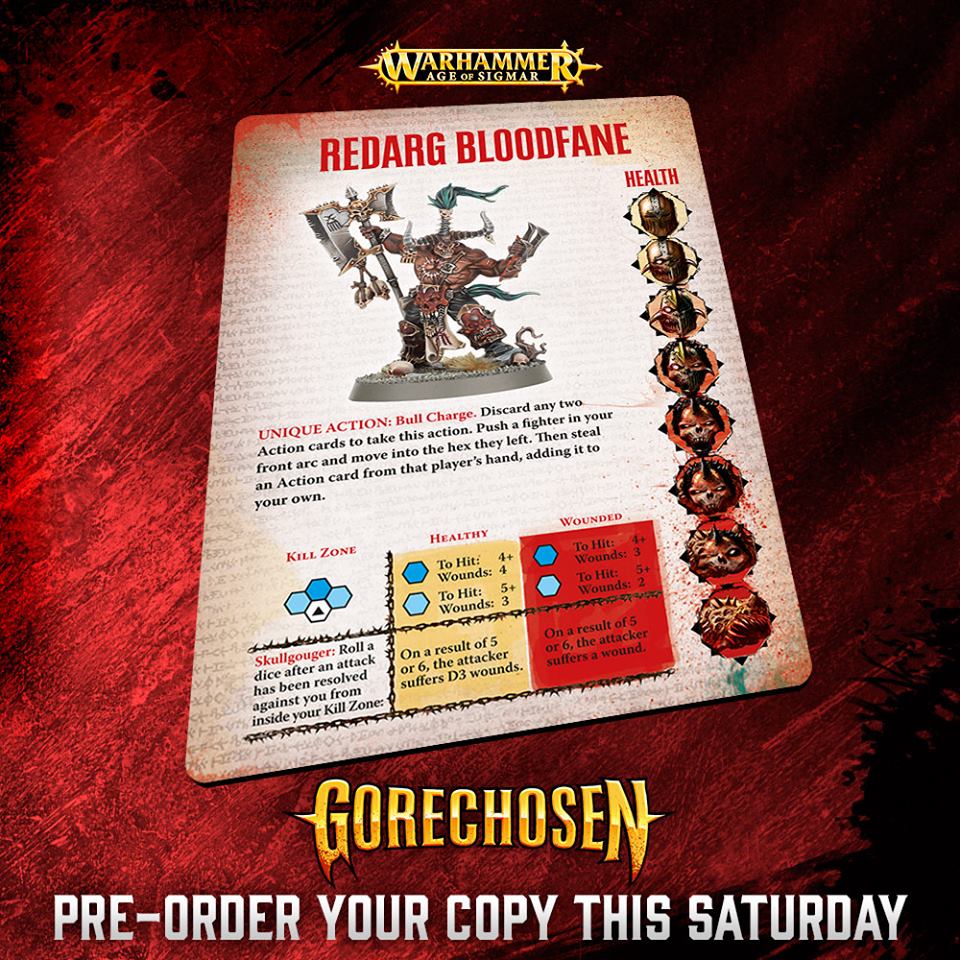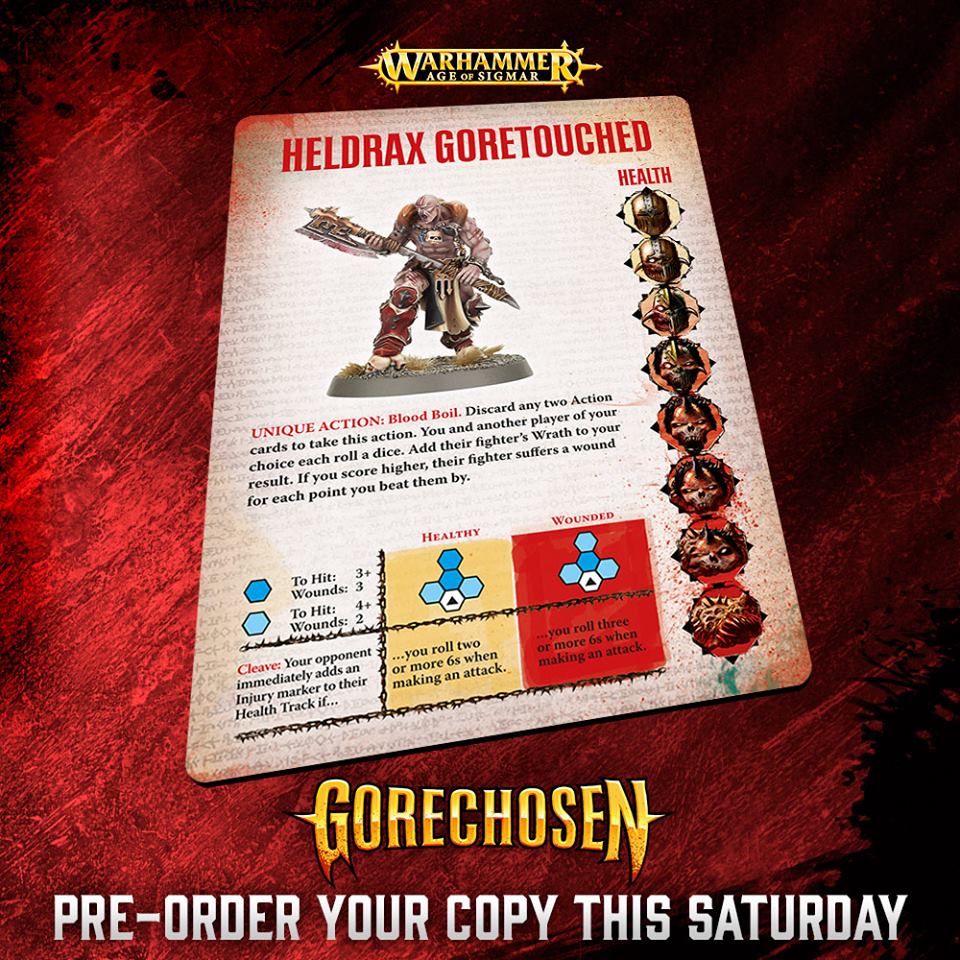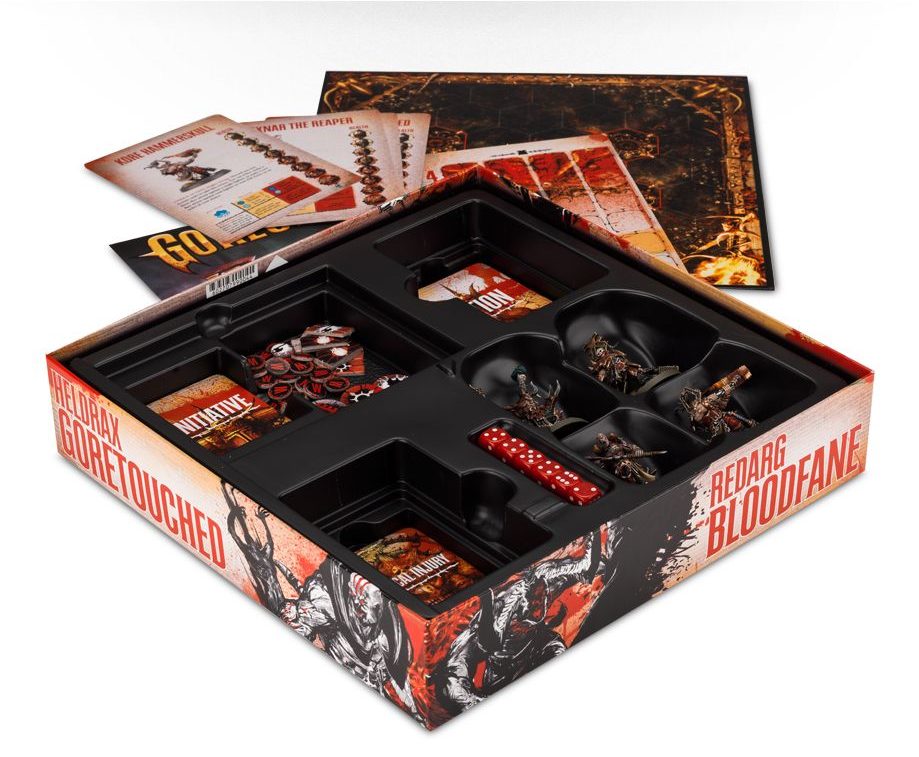 The Game
Gorechosen is a game of brutal, fast-paced arena combat for 2-4 players. In this game, four champions of Khorne are thrown into the pit, fighting bitterly against each other to prove who is the most worthy of the Blood God's gifts! Fight every man for himself, or team up against the strongest player to decide who is the most favoured of Khorne – lots of variations and tweaks to the bloodthirsty core game rules are included.
Watch it played:
Games Workshop is supporting their board games with additional rules in White Dwarf. I'm curious to see where this leads.