Cosplay Artist Spotlight: Hyperion Armory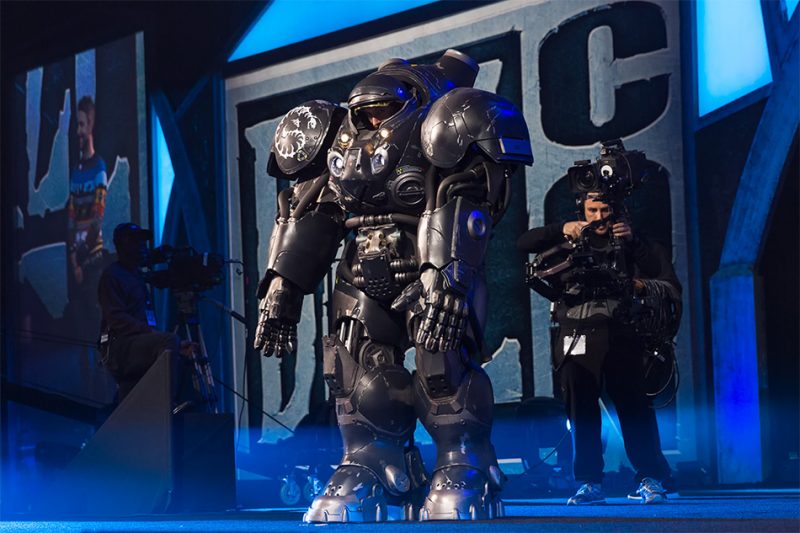 A Cosplayer Spotlight with Hyperion Armory, walking us through Blizzcon inspiration and their first cosplay build!
Welcome to the Cosplay Artist Spotlight!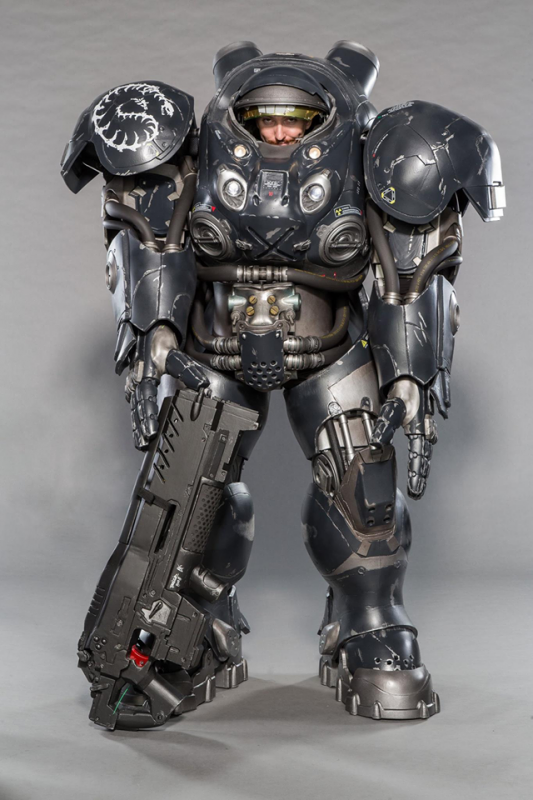 This week we are continuing our feature of Cosplayers and the construction and building process of some truly exceptional Cosplays. We've tapped some Cosplayers from the Blizzard and Warhammer communities, and prop builders. This week we're interviewing Hyperion Armory, 2nd Place Winner of the Blizzcon 2017 Cosplay Contest!!!
1. How did you get your start in cosplay? How long have you been building, and what lead you to this creative journey?
We started this large cosplay project three years ago. We were hoping to be done with the suit for that first year's Blizzcon, but we vastly underestimated the breadth of the build. That isn't where it started, though. I've been playing Blizzard games since I was a kid, thanks to Dad, and after a fateful field trip in high school, I realized that a career at Blizzard was a reality. I hatched this crazy idea that if I made a Terran marine suit or something as badass, they might just be intrigued enough by my passion to hire me.
2. What materials do you prefer to work with? 
We work mostly with EVA foam, as it's easy to work with. Dad's a master foamsmith, but my skills are middling. My preferred medium is plastic, via our 3D printer. Dad handles the printing side of things, but I do most of the designs.
3. Who/what are your creative inspirations for cosplay? Who do you admire/follow, or aspire to be like? 
We both attribute much of our knowledge for crafting to Evil Ted Smith and Evil Ted's Foam Fanatics on Facebook. He's a great guy, on and off camera. We learned painting skills from watching Bill Doran from Punished props on Youtube. We watched a ton of Cosplay channels and crafters on Youtube and Twitch.tv. As for the mechanical side of it all, I draw much inspiration from James Bruton of XRobots. As for who I aspire to be like, if I were to make a career out of cosplaying, I'd like to be as prolific as Kamui. She's also been a great inspiration to us, and she seems like a very nice lady.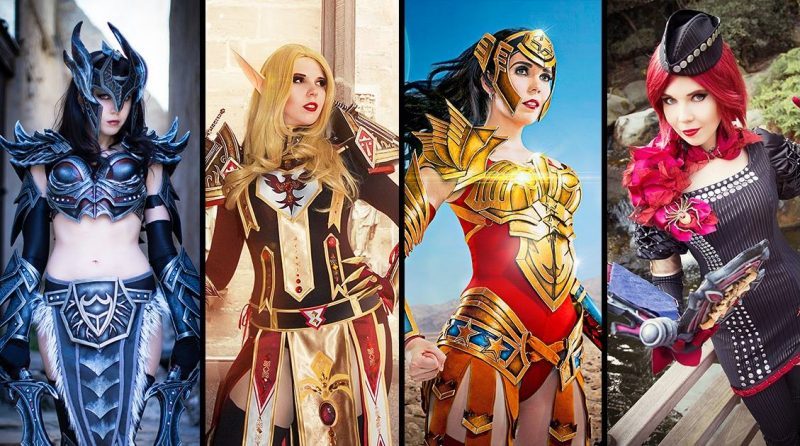 Kamui Cosplay, a major source of Inspiration for Hyperion Armory
Subscribe to our newsletter!
Get Tabletop, RPG & Pop Culture news delivered directly to your inbox.
4. What games do you play? Video games, tabletop, Wargames? 
We play mostly WoW. After 10 years of continuous raiding with our guild, "Varghala" on Shadowsong, and at times being among the highest ranking on our server (though that's not saying much), our guild fell apart as guilds do. Which is kind of a good thing when you are on a deadline to build a costume for Blizzcon, as it allowed us to concentrate on the build.
I used to play Starcraft 2 pretty regularly when it came out, beating WoL and HotS campaigns on brutal, dabbling in ladder and playing Diablo as well. Now I get my strategy game fix on Civilization 6, since I can ponder my moves over more time and pause when I need to.
5. What future projects are you working on? 
We're not working on anything at the moment (Blizzcon was less than a week before writing this), but our second stage for our plan of Terran marine domination was to mass produce suits. We were hoping by the first year that at this point we'd have a contingent of marines at Blizzcon 2017… I guess Jimmy will have to solo it for a while.
6. What conventions have you attended, which do you plan on attending? 
I've only attended Blizzcon, though for 5 years. I'd like to visit a ComicCon, and of course, E3, the holy grail of gaming conventions.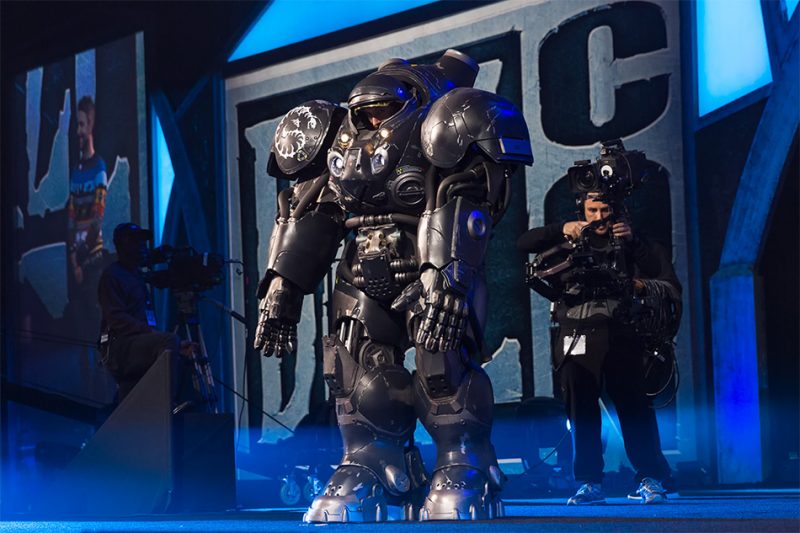 Hyperion Armory's Blizzcon 2017 Cosplay, Jim Raynor
7. Why did you choose this character for your first build? 
We chose it for its difficulty. At the time, we hadn't seen any amateurs pull off a marine outfit on such a grand scale. Shortly after we started, we found out about Michael "MWiggs" Wiggins of the RPF, who was working on the same suit at about the same time. He beat us to the punch, and what a doozy of a build it was. He won Salt Lake ComicCon, and a prize for best amateur costume from the Stan Winston School of Character Arts. We hope we were able to capture close to that amount of craftsmanship in ours.
8. What are your favorite fandoms/systems? 
Warcraft, Starcraft, Halo.
9. What was your greatest obstacle in the creation of this project?
Time was a huge factor. But I'd have to say that the hardest part was trailblazing the whole time. There weren't any nifty CAD files for us to download that somebody'd made, there weren't any reference kits, and to this day the amount of Terran marine cosplayers remains dismally small due to its lack of accessibility. Creating a suit that a human could fit in and all the engineering we had to figure out, is a huge challenge.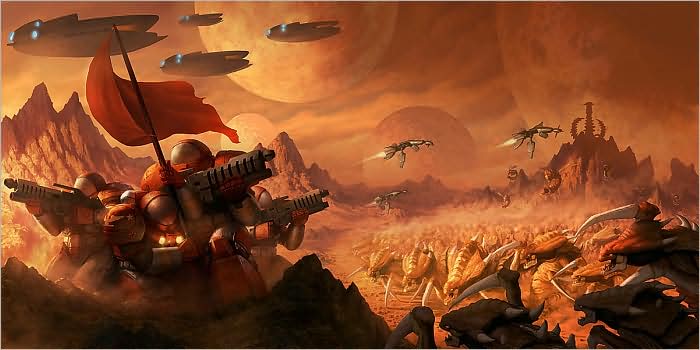 The Terran Marines of Starcraft
10. What is the greatest lesson you have learned?
If you put your mind to it, you can do anything. I started this project with 0 knowledge of foamworking, casting, electrical engineering, or 3D modeling, but now I can say that I am above average at the craftier side of things. I've never been artsy, or inventive, or patient until now. I stuck with it, and grew tremendously as a person. For anyone reading this who thinks they can't make that costume they've always wanted to pull off: you can. Just like a lump of clay that you might fashion into a molding buck, you too are a blank canvas waiting to be rewritten.
If you stick to it, you might just be on stage with Muse, taking selfies with Chris Hardwick, and all other  kinds of awesome stuff.
What are the links to your social media profiles? Where can our readers find you? 
https://www.facebook.com/Jimmy.Hyperion.Armory/ is our main source of updates, but if you want to make a quicker, more personal connection, you can email us at [email protected].
Hyperion Armory (@hyperionarmory) • Instagram photos and videos
Hyperion_Armory on Twitch.Tv  Coming soon, just started but don't have any content yet.
~Join us next week for more Cosplay! Coverage~
Have a Cosplay question you would like Mayhem's Muse to answer? Send email here!