Fantasy Flight Games unveils the next Mythos Pack for Arkham Horror: The Card Game and previews the next leg of the trip for our Investigators as well as the direction the upgrade cards are heading. It's 'For The Greater Good' after all…
The Circle Undone is the next Mythos Cycle coming from FFG for Arkham Horror. They have already shown off both sets of Investigators, and the first and second mythos packs for the cycle. Today, we're getting a closer look at the third mythos pack – For The Greater Good – and now we're getting a pretty solid idea of where those fancy new multi-class cards were going.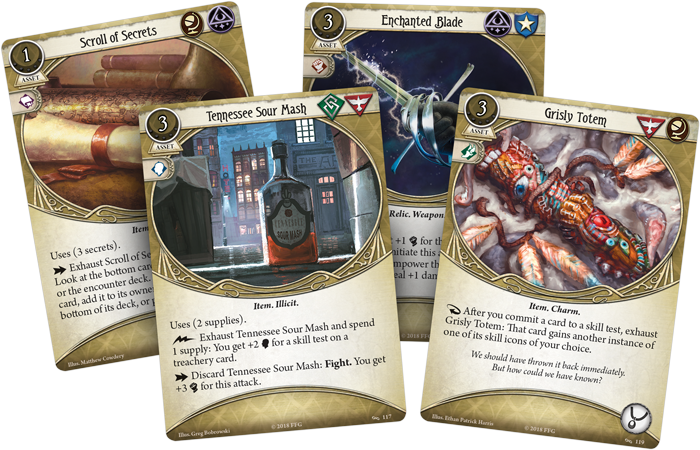 The new multi-class cards introduced for the upcoming mythos cycle.
As you continue to build your investigator's deck, you may find that your needs shift as your investigator grows into their own. In The Secret Name, Arkham Horror: The Card Game broke the boundary between player factions by introducing unique cards like Scroll of Secrets (The Secret Name, 116) that belonged to multiple classes. Now, as your investigators continue to gain experience from their research into Arkham's secret history, you will have the chance to upgrade these into more powerful versions that belong to classic, single-class categories.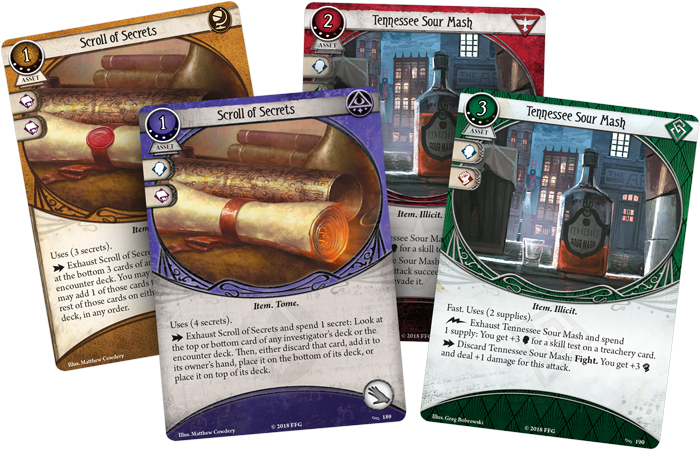 Tennessee Sour Mash
Let's start with the "good stuff" and kick this off with the Tennessee Sour Mash Card.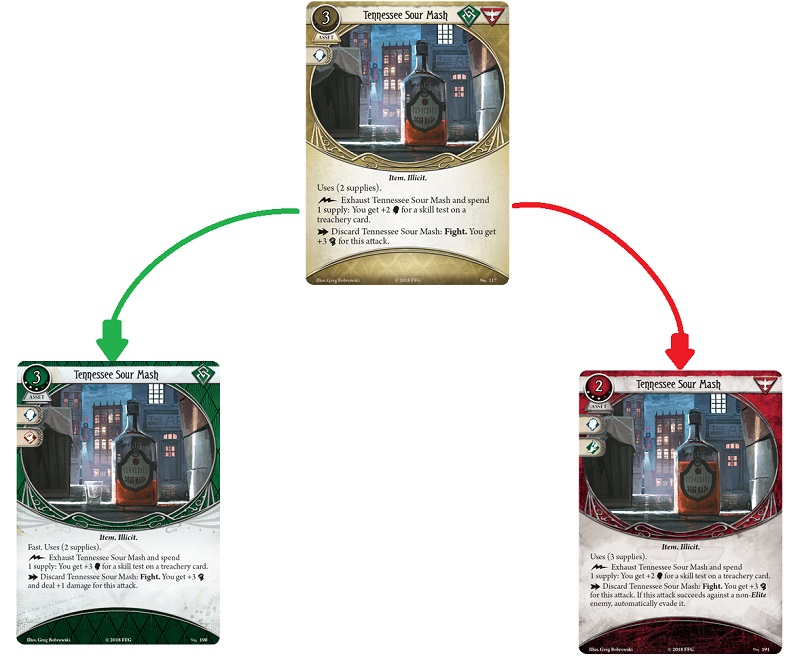 For the uninitiated, Arkham Horror is a LCG allows you to upgrade you decks as you play through a campaign (or Mythos Cycle). There are rules to how you upgrade cards during the campaign. Without going into all the details, just know you can spend XP you earn to swap cards out from your deck or to upgrade from one version to a more powerful version with XP.
Now, if Tennessee Sour Mash can be included in your deck (based on deck building restrictions) you can spend XP later in the Campaign to upgrade it further based on your Investigators class – in this case either a Rogue (green) or Survivor (red). At first glance, these cards are the same, right? Not exactly – even the card art is different! The Rogue version still has 2 supplies (or uses), however, it gives you and additional +1 for Will checks. For Rogues (who tend to go light on Will as a stat) that can be pretty helpful. Oh, and you can still chuck this for a fight check with a +3.
Conversely, the Survivor version of this card gets one extra supply AND costs 1 less resource to play. And if you do use this on a fight check, and are successful vs a non-Elite enemy, you also evade them. Both of these versions have something that makes them better than the base card, but both are useful for their respective classes.
Scroll of Secrets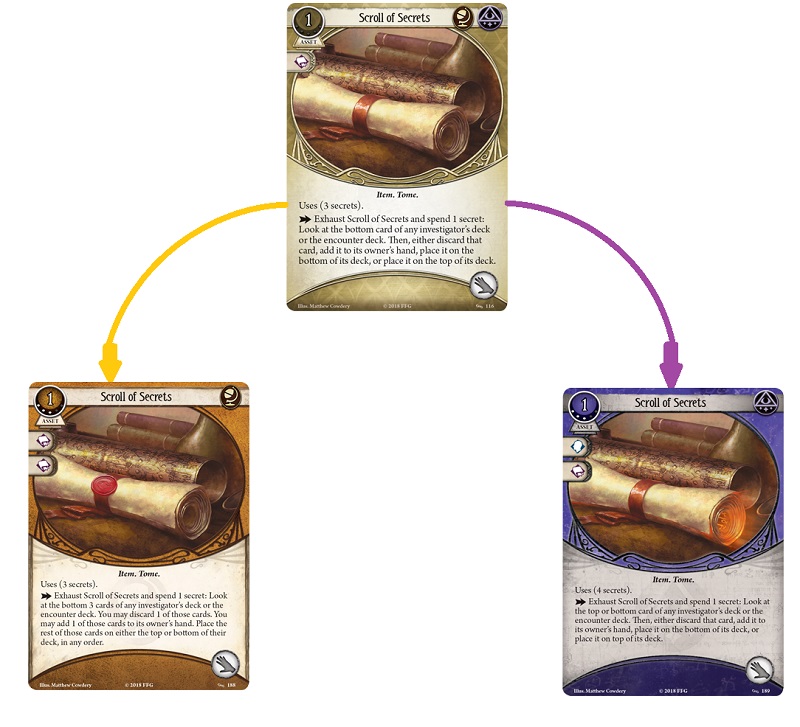 The other card that FFG is teasing is the upgrade path for Scroll of Secrets. Again, we see that theme continue for these cards where they look the same but on closer inspection they are quite different. The Seeker version (yellow) allows you to look at the bottom 3 cards of any investigator's deck or the encounter deck. You can then, discard a card, add one of those cards to their owners hand, and then place the rest on the top OR bottom in their respective decks in any order. That's a pretty great card for manipulating investigators decks or the encounter deck.
The Mystic (purple) version has an extra charge and lets you look at the top OR bottom card of an investigator's deck or the encounter deck. You can then discard it, add it to it's owners hand, place it on the bottom or top of it's deck. Again, very useful! Looking at the top card means you get a preview of what could be next – that can save folks from 'face checking' into a bad draw. Where as looking at the bottom 3 cards means you get to delay or discard cards depending on their usefulness.
V – The Hierophant
Minor Story Spoilers ahead – you have been warned.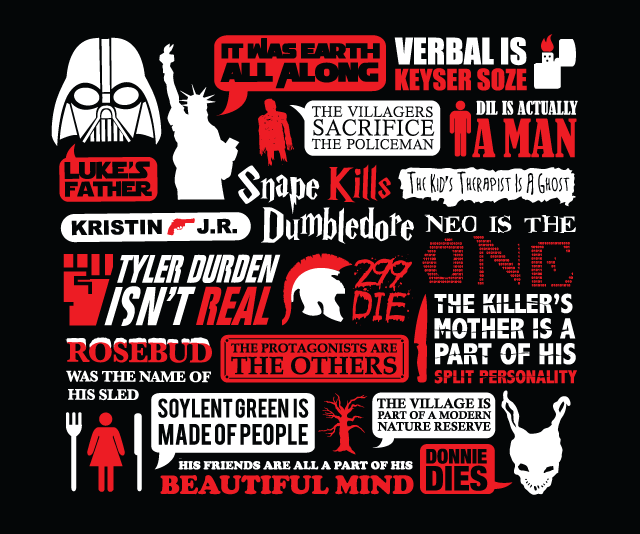 Following the events of The Wages of Sin, you are disturbed to learn that there have been even more strange sightings and worse, several more people have disappeared. You need help. How your adventure in For the Greater Good begins will depend on the choices that you have made earlier in your campaign. Do you believe you can trust the elite members of the Lodge, or are you suspicious of their intentions? They may be able to help you piece together the evidence you've collected, but if they have something to hide, you may be better off sneaking into the Lodge's manor in French Hill to learn what they are plotting.
The real question is how will you treat the silver lodge members – and how will they react to you. Are they just a bunch of rich lodge members caught-up in something they don't understand or are they willing disciples of something beyond comprehension?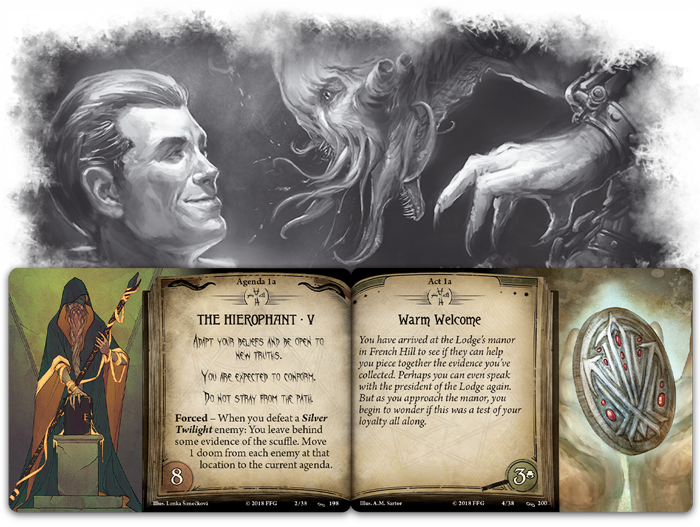 In reality, it's probably a mix of both – so who do you trust? The first agenda presents some interesting choices for the players – do they avoid defeating the Siliver Twilight enemies in hopes of delaying the doom count or do they run and gun in hopes of getting to those clues faster?
There is also a new mechanic introduced based on the tokens. Normally, they are in the chaos bag but in this particular scenario, you'll be setting aside a skull, cultist, tablet, and elder god token. Those will be treated as keys that the investigators will be able to gather during the mission. Should your investigator fall with one of the keys, then where they are eliminated is where the key falls. Thankfully, you can spend an action to pass a key to an investigator at your location.
What will these keys unlock and what secrets will you find…For the Greater Good?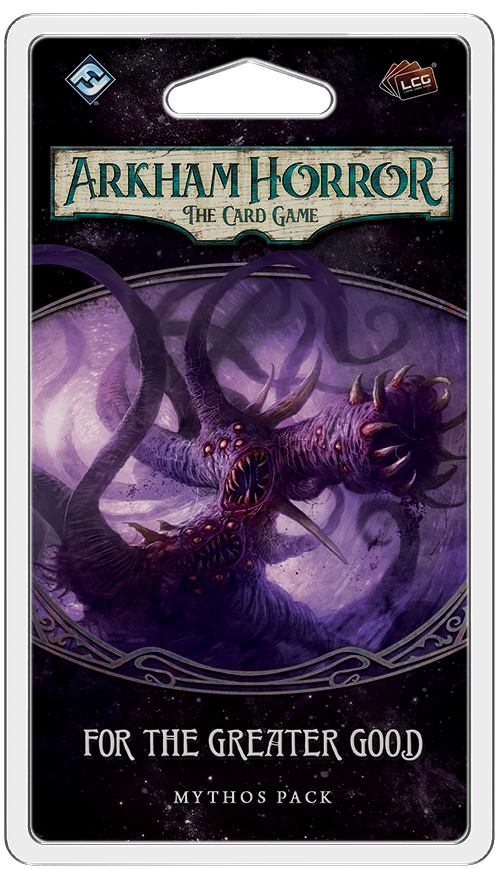 If it's got tentacles, it's probably not interested in the greatest good…for you.