In Cosplay we Unite: The 40k Community in Quarantine Pt 2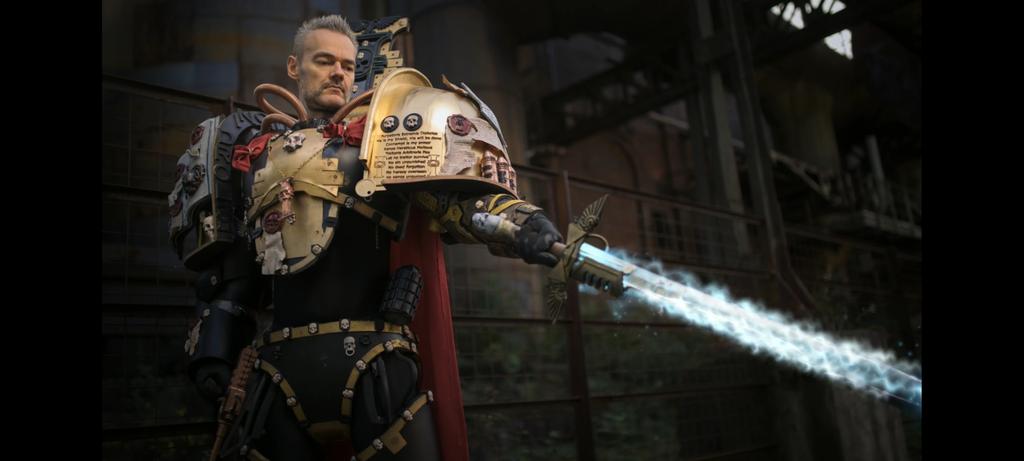 The 40k Cosplay Community is still united in these strange times.
We might be separated from each other physically, we might not be able to see each other in person… But the spirit of community is so strong in the Warhammer 40k world. This week, we take a look into the hearts of some amazing people and see just how the current crisis has affected them-and what keeps them going strong.
The last few weeks of self-isolation have lead to a LOT of free time trolling the internet. I normally spend a fair amount of time looking online for new cosplay ideas, artists I haven't yet discovered, and new sources of inspiration, but the Quarantine has exacerbated that to the extreme. While glancing at one of my favorite groups (40K Cosplay on Facebook) I came across a heartwarming post from one of my very favorite cosplayers – Dyfrig Griffiths of Iron Warrior Cosplay. If you haven't heard of him, you obviously haven't been reading the Bell of Lost Souls Cosplay beat for the last few years, because I have featured this gentleman NUMEROUS times (and for good reason). From my Cosplay Artist Spotlight with him to the Iron Warrior Sax Time video series, down to the beautiful tribute to Brand's Great Army… Dyfrig has been at the heart of the 40K Cosplay Community for as long as I have been covering it.
So as I clicked along through the 40K Cosplay group last week, I paused to look over a post that Dyfrig put up that day- a gorgeous group shot of a huge group of Cosplayers.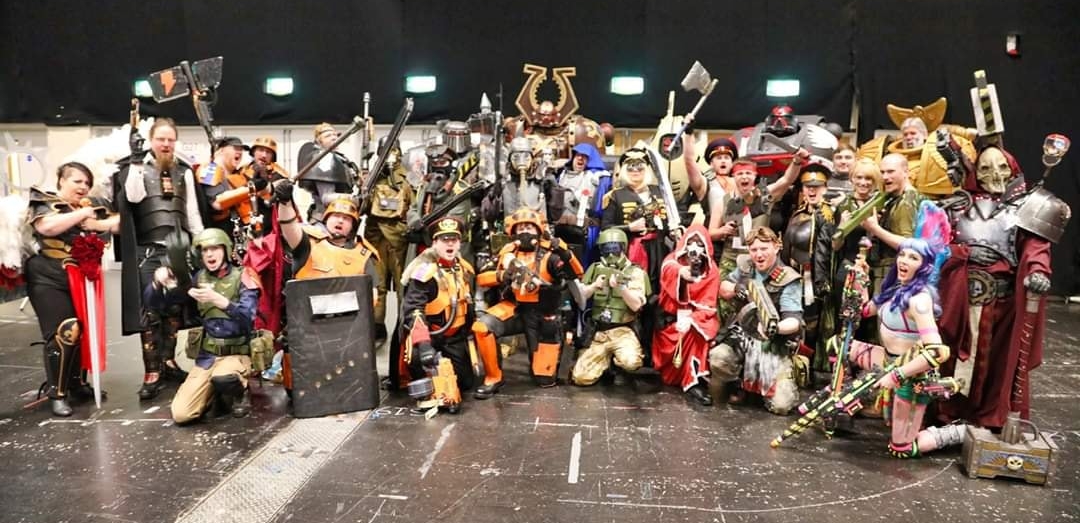 The Caption read:
"Really missing my Warhammer family, they are all amazing and beautiful individuals. This is us at Warhammer fest. One big happy Warhammer Cosplay family and I can't even begin to tell you how much I want to see them all again! IRON WITHIN!!" -Dyfrig Griffiths
This got me to thinking. I absolutely love how close-knit the 40k community is, so why don't we take some time to showcase it? I sent a private message to Dyfrig, asking him to message his army and have them send me an email with a picture, their social media links, and answers to a few questions. I was NOT prepared for the magnitude of responses, folks. For the next week my inbox was FLOODED with emails, from all parts of the world. I am astounded, and honored, and humbled to see so many people banding together with the sole purpose of connecting, sharing their stories, and showing how much our community CARES. I hope you enjoy the results!
XV22 Cosplay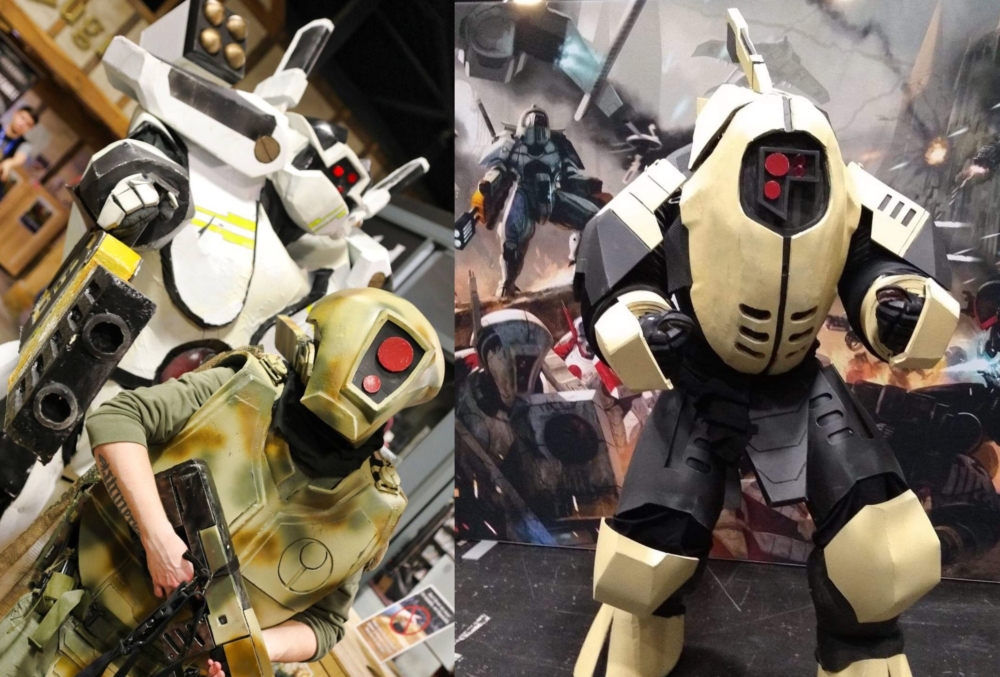 What Cosplays do you create?
I cosplay members of the T'au Empire – Gue'vesa (Human Helper) Pathfinder, Shas'O Kais (from the Dawn of War PC games) and more recently a XV25 Stealthsuit.
Where are you located?
I'm from Lancashire, UK.
How has the Quarantine effected you?
Quarantine as you might expect caused everything to grind to a halt. When it was implemented, we were ramping up for a weekend at Warhammer Fest which is one of if not, the main event of my calendar where I get to spend time with the rest of our community. Its really disappointing we are not able to make it this year but understandable.
What do you miss the most about the 40k Community?
I miss gathering with the rest of our community and talking 'shop' you could say. Sharing tips and generally our love of the Lore/Game. The community of 40k cosplayers we have built over the last few years has grown into a close group and expanding all the time. Perfect if you need some feedback on what you are working on. I definitely do not miss trying to move under low door frames however!
What keeps you going/motivated during these times?
Well during these times, motivation has been wavering but we organised a video call with other members in the group and that really built up the hype again and enthusiasm to continue with the projects such as my XV25 Burst Cannon. The flip side is the time i now have to invest in improving my cosplay.
Its really important that we keep our minds active right now, so if you think that cosplay looks like fun, or something of general interest (even if it is just a prop) you should join our communities and give it a go! There is nothing to loose other than time.
Where can we find you online?
I can be found at the following:
Argentum Cosplay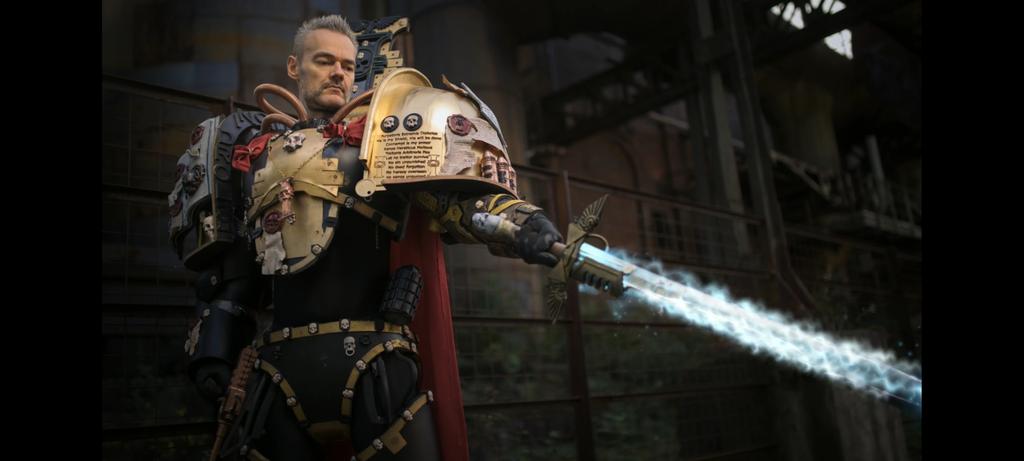 What Cosplays do you create?
Inquisitor in Power Armor
30K World Eaters Astartes
Titan Princeps
Marauder pilot
and have built a Sister of Battle
Subscribe to our newsletter!
Get Tabletop, RPG & Pop Culture news delivered directly to your inbox.
Where are you located?
Germany.
How has the Quarantine effected you?
build lightsabers for a living, and my shop is closed right now, though online is still open and working well. I miss conventions and shootings, had so much 40K stuff planned for this
year actually.
What do you miss/what do you love about the 40k Cosplay community?
I miss the people. Meeting new ones, and old friends. discussing new costumes, group meetings… I think the Warhammer cosplay community is one of the most positive out there.
What keeps you going/motivated during these times?
Instagram and Facebook (for all their negative aspects) are a great help to keep in touch.
Where can we find you online?
Instagram: Argentum Cosplay
KandK Cosplay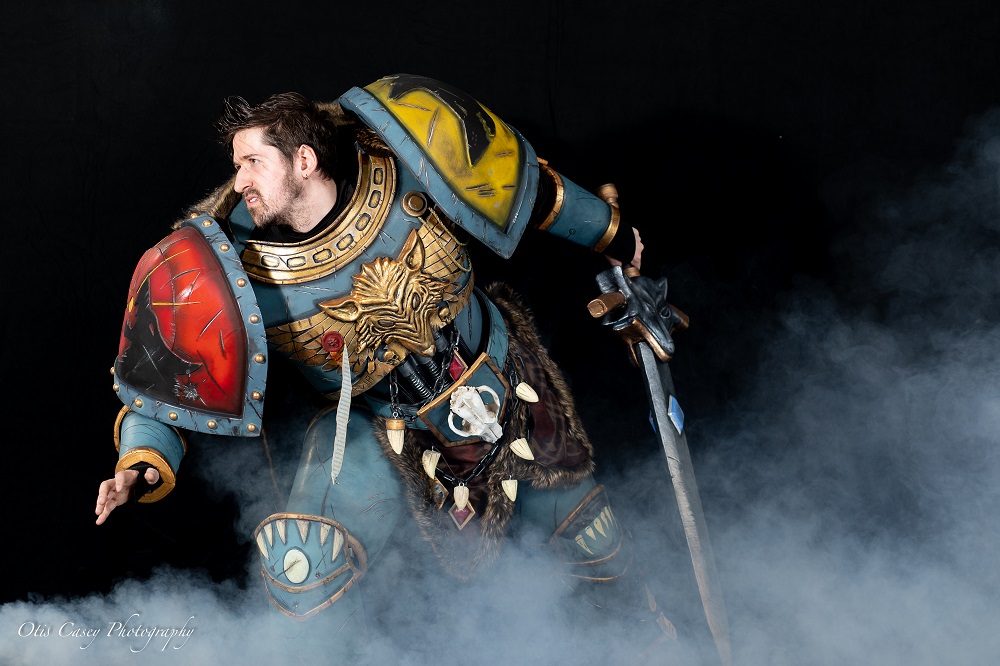 What Cosplays you create?
My favorites currently are doing a generic Witcher and doing a Space Wolf.
Where you are located?
I am located in Macungie, Pennsylvania, United States.
How the Quarantine has effected you:
Honestly?  Not very. Had a couple of cons cancelled and not able to see some distant friends. That part stinks. But everything else has improved. I'm able to work at home (I've wanted to for over a year) and I was able to pay off my car a year early due to my tax return and the stimulus. And from this I've been able to buy a new PC.
What you miss the most about the cosplay community/what you love most about it?
I miss being able to get into the roles I play during cosplay, as well as being able to act that way around fellow cosplayers or fans who do the same, liking to play along. I miss the variety of people you meet and how everyone is so nice and supportive. I love the energy that cons and cosplayers bring to the scene and having a good laugh, being able to bond over mutual interests and hobbies.
What keeps you going/motivated during these times?
Mainly just having my friends to talk to and play games with, my loving wife as well, they keep me sane and involved with those I love (I'm typically a hermit/introvert).
Any important tidbit you want included:
If you ever want to contact me/us for any collabs or involvements with projects, don't hesitate! We love to work with people and have fun with it.
Where can we find you online?
Commissar Turch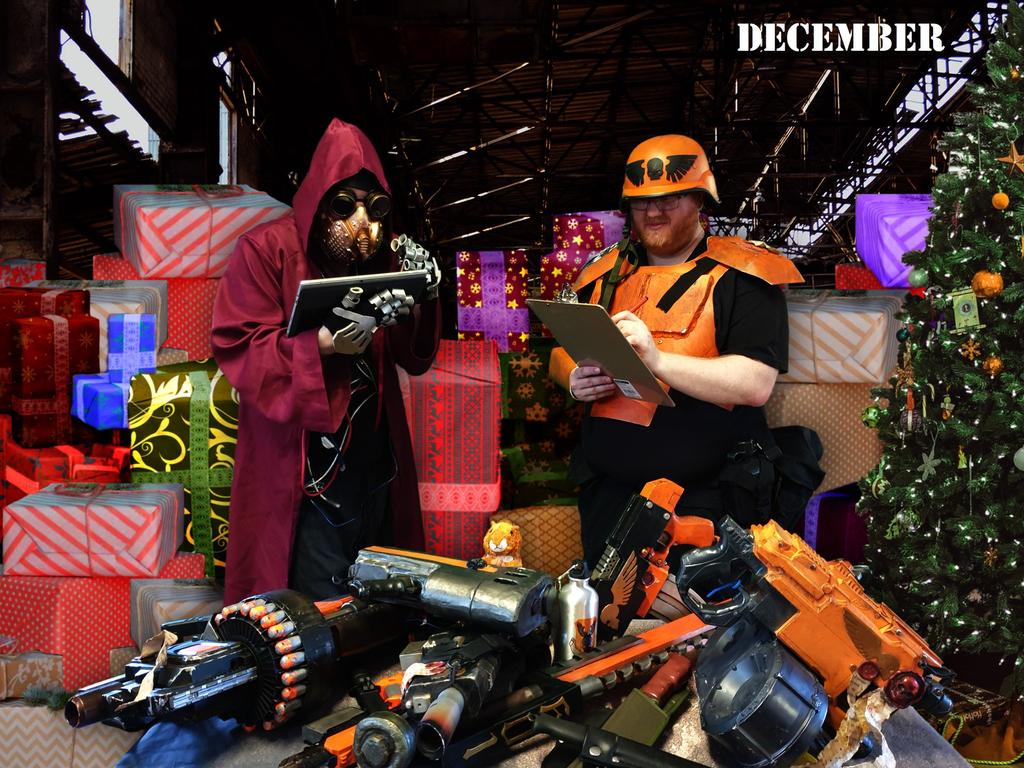 What cosplays do you create?
Within out group we have mainly guardsman, but we do have other characters, such as tech priests, rogue traders and even our own living saint.
Where are you located?
We are a group of 40k cosplayers based around the uk, although mainly in kent.
How has the Quarantine effected you?
The quarantine was a bit of a blow to us this year, with pretty much all of the events we had planned either postponed or cancelled. Initially this was a real downer for us all, but this has allowed me to concentrate on other things. We are never idle.
What do you miss the most about the cosplay community/what do you love about it?
The 40k cosplay community is on the whole very friendly and has allowed us to make many new friends, as well as get new member for the group. When we all meet up we have so much fun and i think this is what is missed the most. The camaraderie. Many of us have problems with things like depression and anxiety, so when we are all together we help each other out and allow us to forget these things knowing we are in safe company.
What keeps you going/what motivates you during these times?
Staying in contact via social media helps a lot. Always bouncing ideas off each other. Many of us have other projects that we are working on as well. This helps so we can try to improve our work ready for the next event that we may be able to go to.
Merlyn Cooper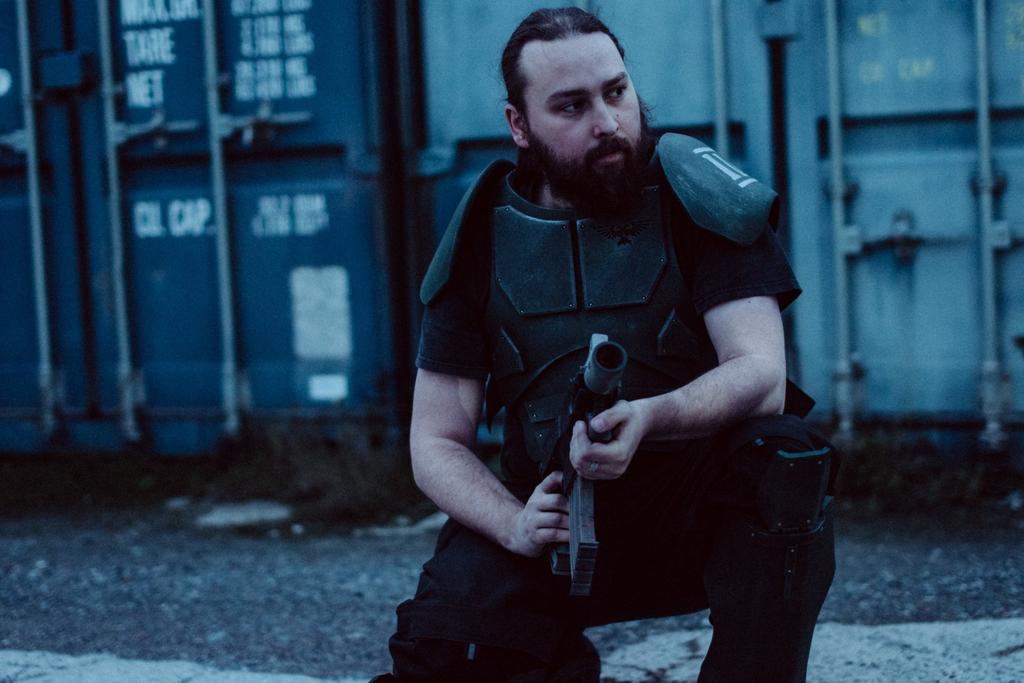 What cosplays do you create?
Astra Militarum, Sergeant: (Armour built by Dyfrig Griffiths, I added 3D printed parts to a nerf stryfe for the bolgun.)
Where you are located?
Aberystwyth
How has the Quarantine effected you?
This year would have been my first year going to Warhammer Fest in full cosplay, I was looking forward to meeting more of us in person as, even before quarantine, living in a remote location really hampers the ability to get together with other cosplayers.
What do you miss the most about the cosplay community/what you love most about it?
I was hoping to talk about how they built their cosplays and just hanging out with more people who don't just appreciate the universe but indulge in to the point where they feel compelled to build something, those are the kinds of people who have a love for the setting, Fethin' good people.
What keeps you going/motivated during these times?
Fortunately, like many 40k cosplayers, I have my "pile of grey guilt" which I've been glad to crack on assembling and painting! My local game store have been having online painting competitions so we can get on to painting the models that were months and months down the priority list, I'm now painting Roboute Guilliman, I had soo many infantry I intended to do first but he counts as a "Monster" so he's valid for the local painting competition!
Any important tidbit you want included:
40k Cosplayers, and cosplayers in general, just want to see new cosplayers succeed in the hobby/profession, if you need advice you just need to ask!
Where can we find you online?
Tango 1945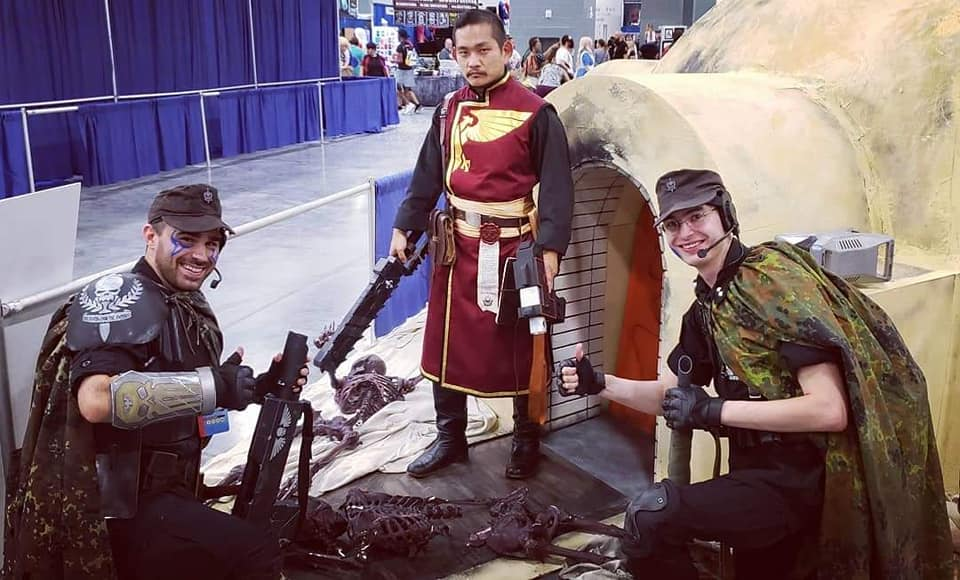 What cosplays do you create?
For 40k, I do Tanith First and Only's "Sgt. Varl," but I also do a various others such as Star Wars Rebel Commandos, Resident Evil, Red Dead Redemption 2, and various other historical-related cosplays and impressions for either museums or conventions.
Where you are located:
American Midwest for now, originally from Florida though.
How the Quarantine has effected you?
Well as a grad student, all my classes have been moved online, which has really made me miss the classroom experience as well as teaching my own sections to undergrads.  It's also made it harder to search for museum job in the summer, as no one's hiring because they're uncertain if it'll open.  But!  At least I've had more time to read and listen to audiobooks.
What you miss the most about the cosplay community/what you love most about it?
I miss the human interaction.  The Creativity everyone shows.  The swapping of tips and tricks on how to improve things.  I also love helping people find and source surplus military equipment to build their own cosplays, and talking about historical military influences on sci fi.
What keeps you going/motivated during these times?
My fiancée has been a real trooper in all this, even with postponed wedding and cancelled honeymoon, she keeps me motivated to keep up my studies and to continue improving myself!  I'm also something of an optimist, and I know that in the grand scheme of history, humans have survived through significantly darker and grimmer times than we're going through now.
I'm hoping to run some panels at cons in the future talking about history and their influences on sci-fi and fantasy, so fingers crossed they can happen soon!
Where can we find you online?
https://www.instagram.com/tango1945/?hl=en
Join us next week for more stories from the Warhammer 40k Cosplay Community!
~Join us next week for more Cosplay Coverage~
Have a Cosplay question you would like Mayhem's Muse to answer? Know a Cosplayer you'd like to see featured? Send an email here!
Learn more about Mayhem's Muse