Cosplay: Horizon Zero Dawn's Aloy Brought to Life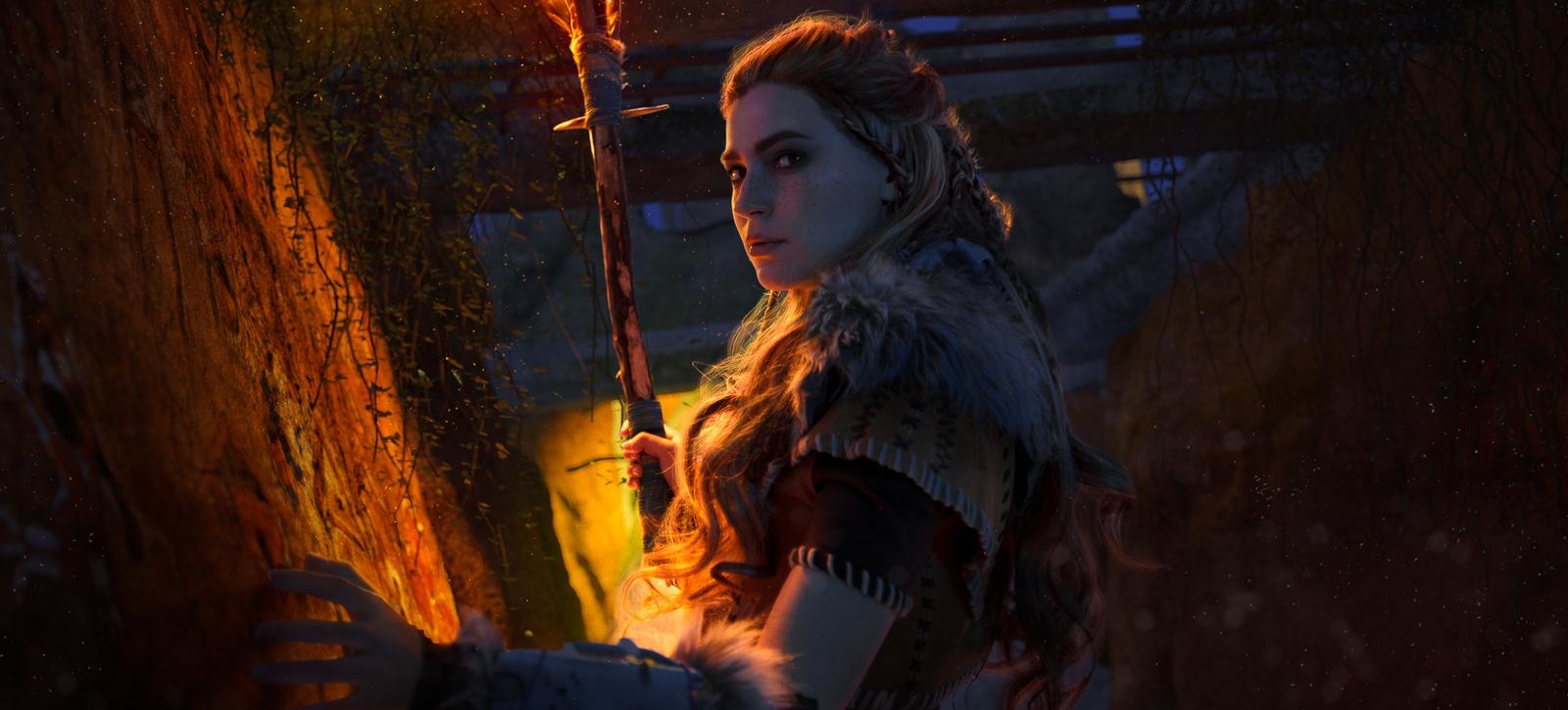 As we await the much anticipated Playstation 5 Sequel, Horizon Forbidden West, let's look at some of the most iconic Cosplays to come out of this Post-Post Apocalyptic world!
During the first days of Covid-19 sweeping the globe naturally, I decided to invest some time into gaming- something I had neglected for far too long due to my usually frenetic work schedule. While wondering what game I should play, I found myself thinking about a Cosplayer in 2017 who did an amazing costume from a property that had not been released yet- it was her first costume contest, and she won with her gorgeous construction. I had no idea what the game was at the time, but her description of it and passion for it stuck with me. Who doesn't love a strong, sassy redheaded hunter with a bow?!
I ordered myself a copy of Horizon Zero Dawn, and I was NOT disappointed. I spent the last several months combing through the wilderness, hunting for bits of lore and machine parts as I navigated through this rich story.  Fast forward to over 100 hours invested into completing the game, and I agree that Guerilla Games took a very worthwhile risk with this new game system. I cannot WAIT for the Playstation 5, and the sequel to Horizon Zero Dawn, to come out in 2021 (we hope). Take a look at some of the most fabulous videogame Cosplays I have ever seen.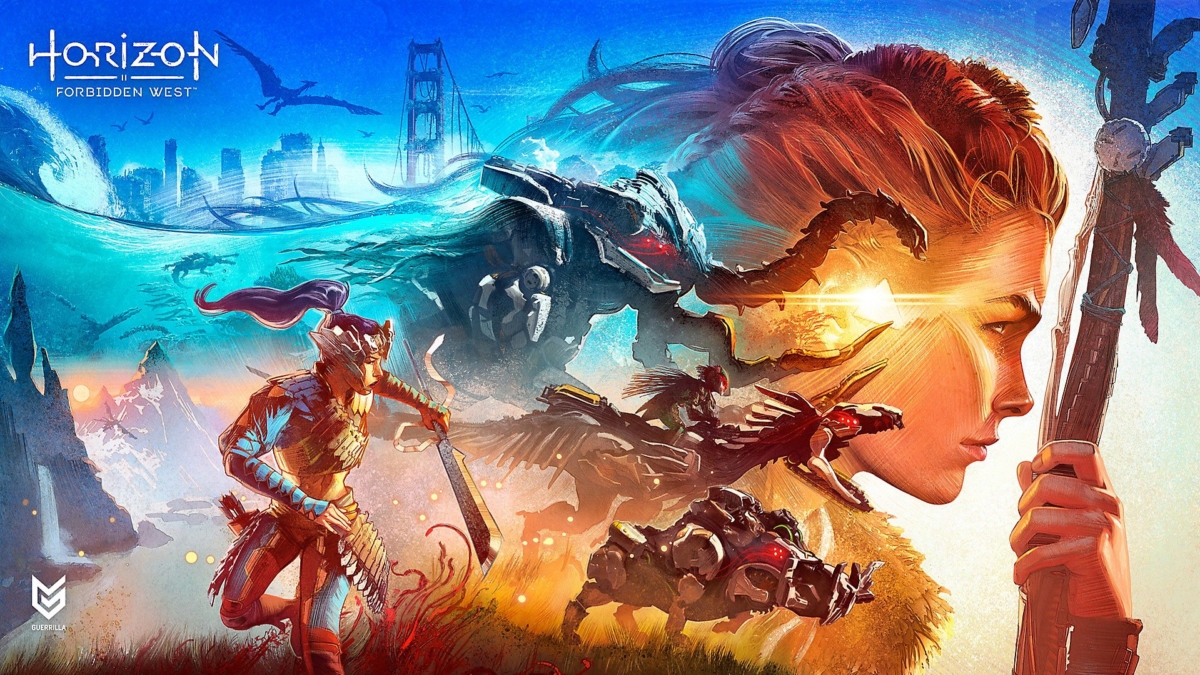 "I would have wanted her to be… curious. And willful, unstoppable even… but with enough compassion to… heal the world… just a little bit."- Elisabet Sobek, Horizon Zero Dawn
Skunk, Weasel, and Demateraliz
These images inspired today's article on Horizon Zero Dawn. The Skunk & Weasel Cosplay team produces work that is on an INSANE level. Their images consistently look like something that popped right off of your television screen, and their attention to detail is excellent. I found this collaboration a few weeks ago when searching through the works of EosAndy (a German photographer whose works are also excruciatingly beautiful- CHECK OUT HIS WORK!!!) and these images jumped right off of the page for me. Skunk is featured here as Aloy, and The Rost in these images is a Cosplayer named Demateraliz, whose Instagram page seems to not be active right now.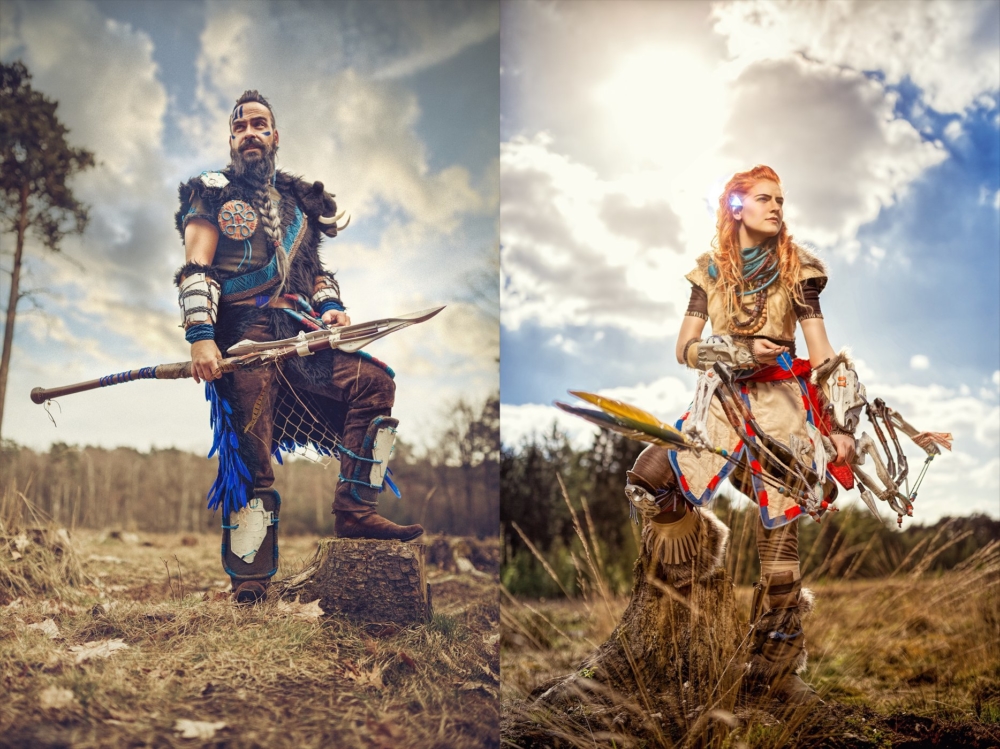 "It is one thing to hunt a beast. Another to hunt a machine. You must learn to respect their power." – Rost, Horizon Zero Dawn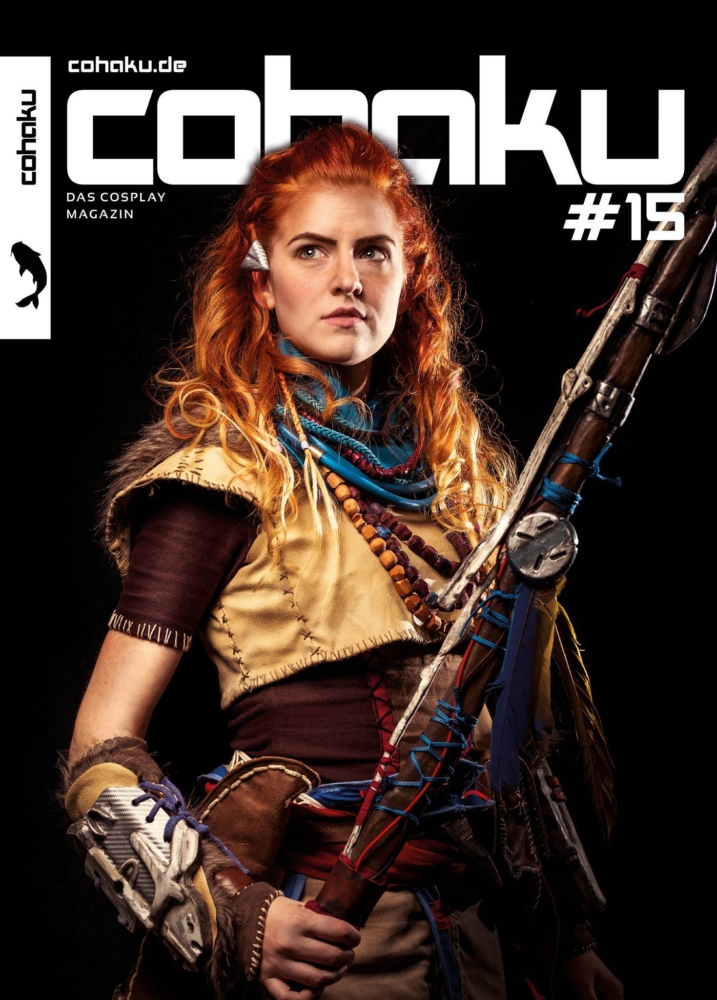 I particularly love the small details of this Cosplay – the attention paid to the Focus (Aloy's earpiece that allows her to connect with the digital world), as well as the Moccasins she wears. The stitching and construction of those boots are on POINT, and matches the construction of many styles of Native Nation moccasins I have seen created.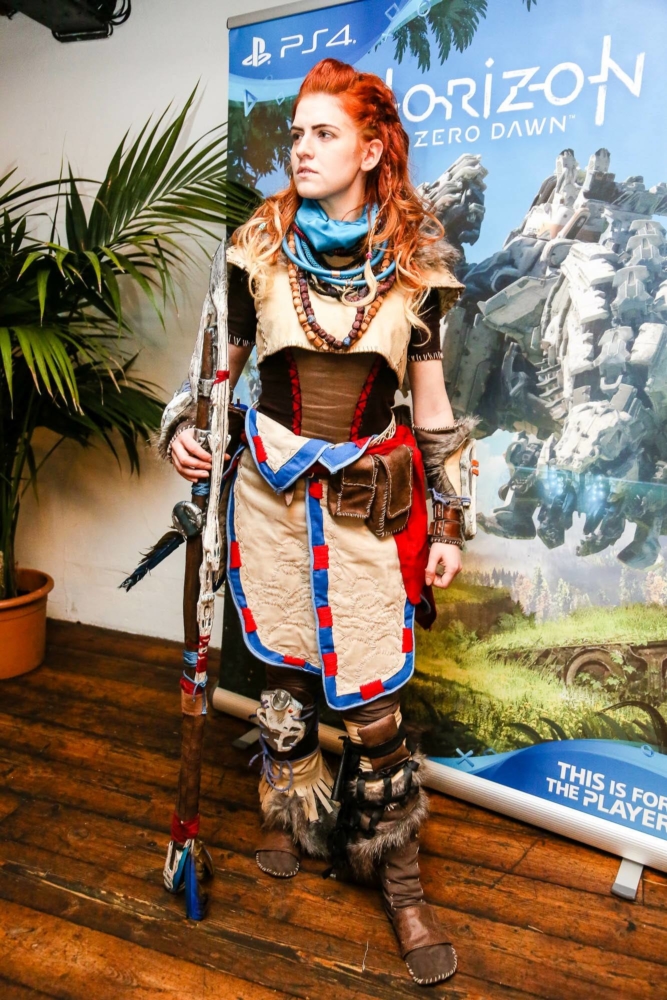 Subscribe to our newsletter!
Get Tabletop, RPG & Pop Culture news delivered directly to your inbox.
Image Credit: Roger Sieber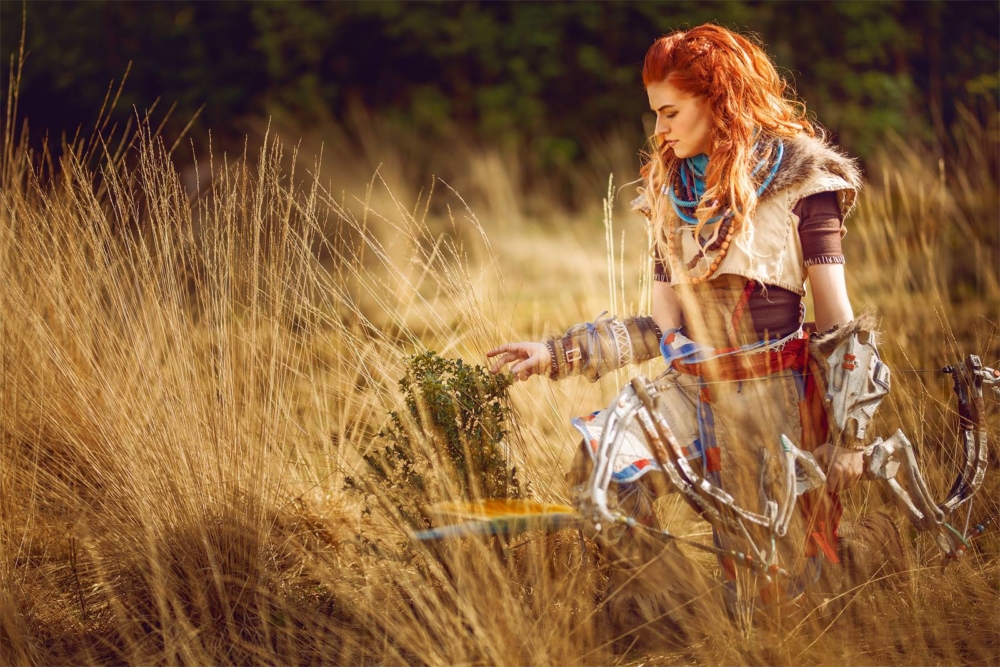 "Confidence is quiet, you're not."- Aloy, Horizon Zero Dawn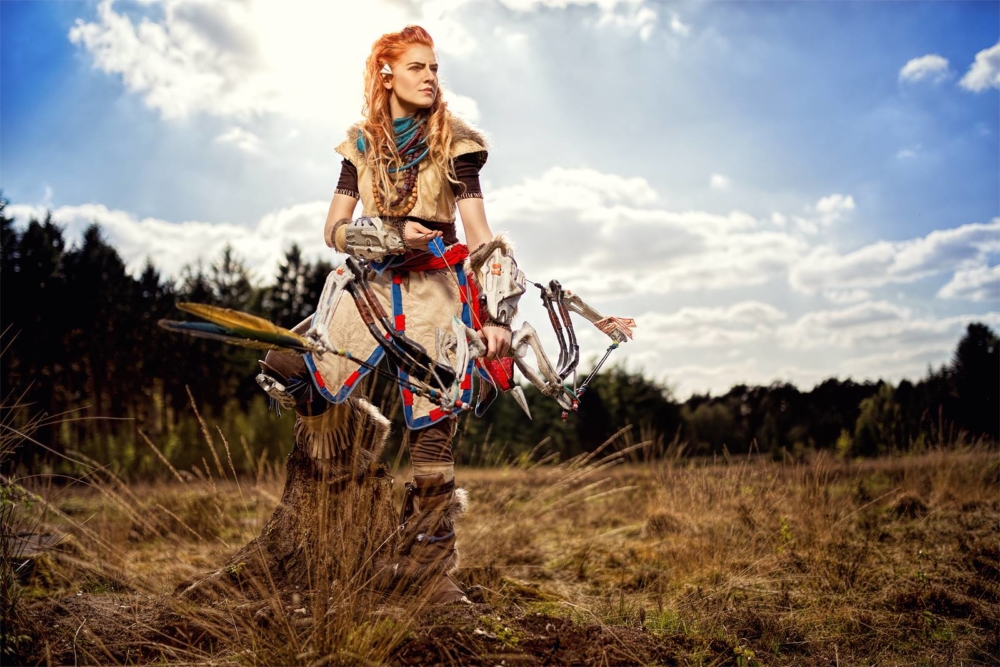 Cosplayer: Skunk & Weasel. Images: EOSAndy
LuckyStrike Cosplay
Talk about cinematic glory!!! This Cosplay comes from Russian duo Lucky Strike Cosplay, who have a myriad of couple cosplays that are remarkable. The element of this particular set for me is the complete ambiance captured in each image. These look like stills from the game, or from a digitized video trailer. Every image tells a story, and makes you wonder what adventure Aloy is on!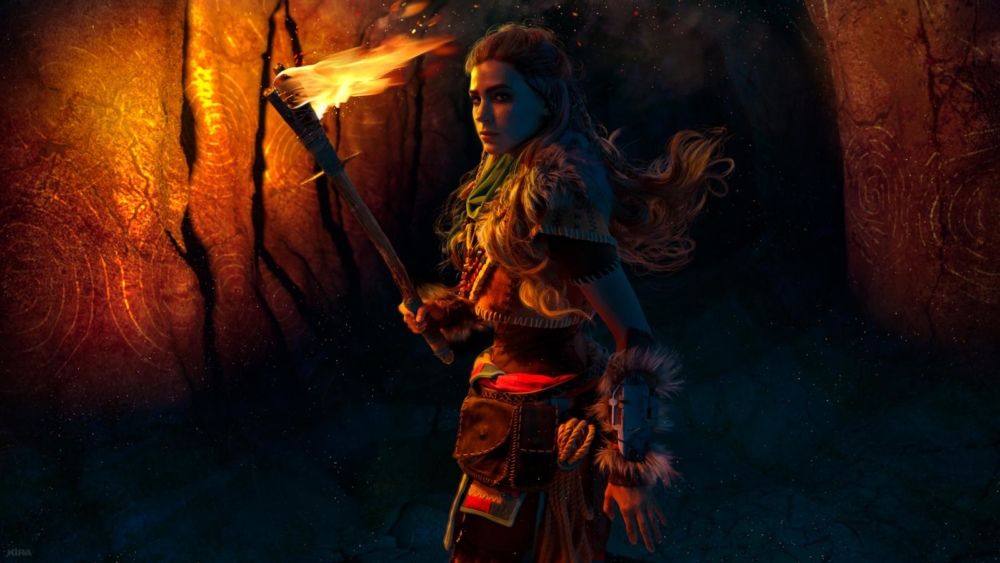 "I fought my way past an army while you cowered in this cave, do you really think you can stop me?!"- Aloy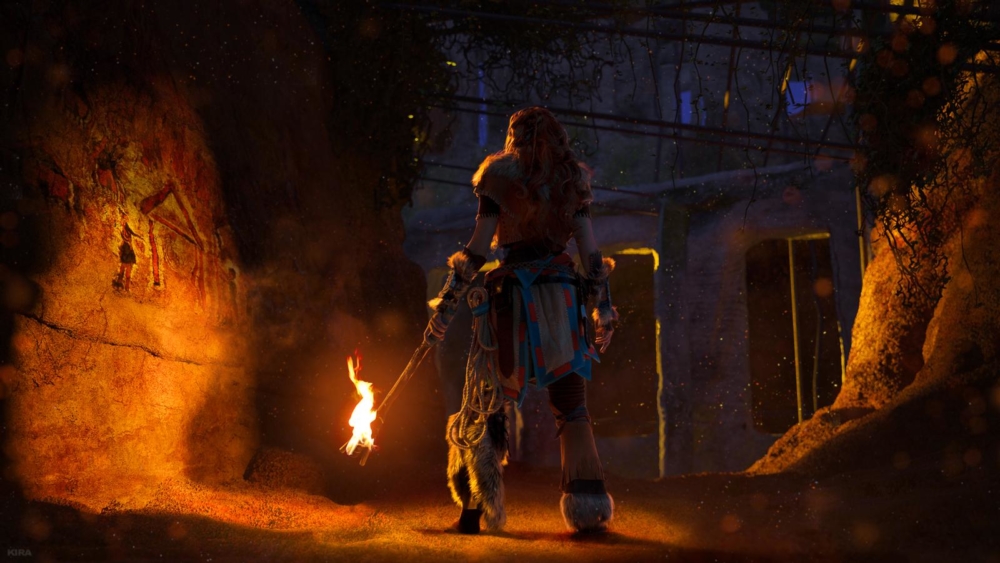 "being smart will count for nothing if you don't make the world better. You have to use your smarts to count for something, to serve life, not death."- Elisabet Sobek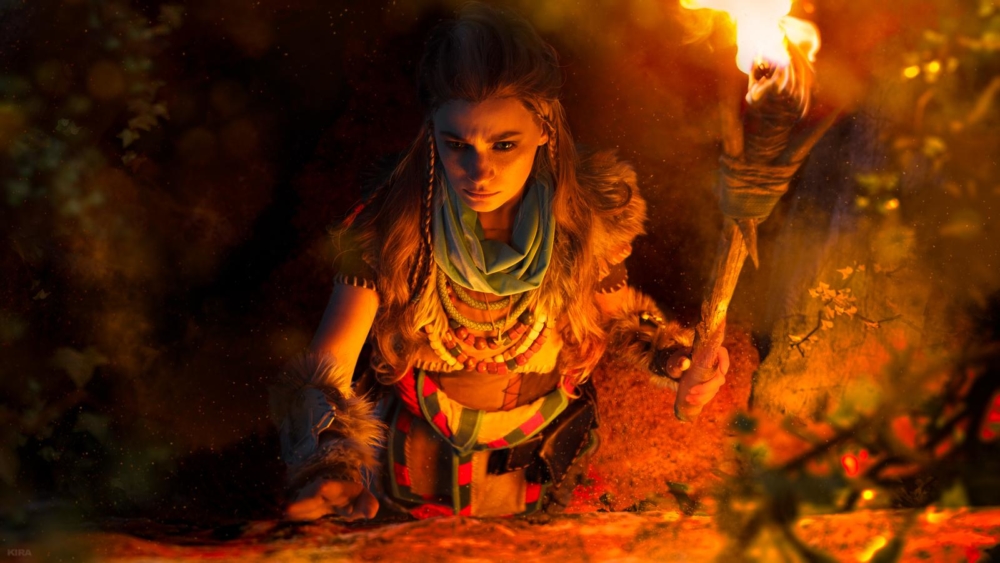 Cosplayer: Lucky Strike Cosplay / Images: kmitenkova 
Margaret Cosplay Art
For me, this Cosplay is all about the prop. Her execution of Aloy's unique and iconic bow is excellent. Not only is it a spot-on recreation of the bow from the game, but it is also able to be drawn! As a historical archer in real life, I always pay way more attention than suggested on the construction and execution of Cosplays of Archer characters. Unhealthy habit, I know. But I cannot help myself. ANYWAYS, Margaret Cosplay Art definitely nails the archery aspect of this Cosplay. Check out her artist intro video from her Facebook page, because she shows some good archery technique!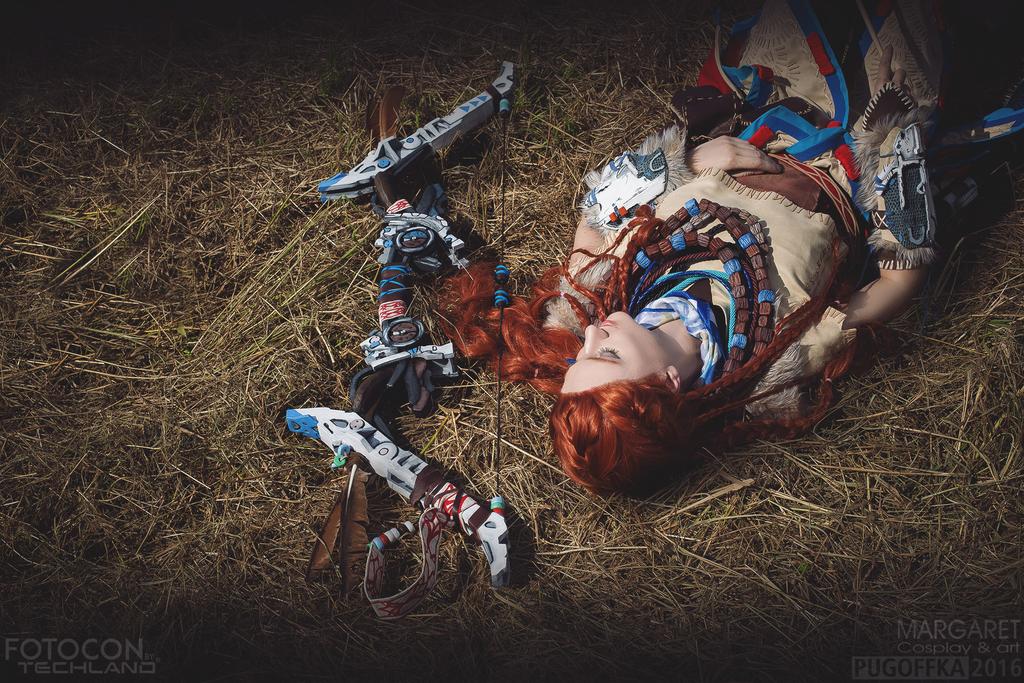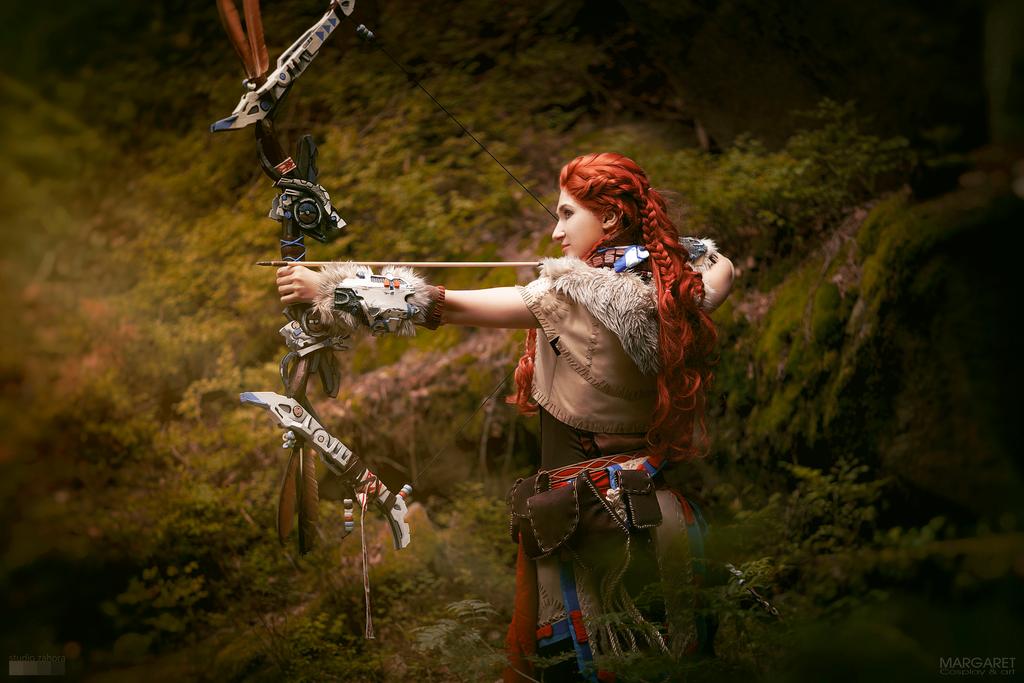 Images and Video: Margaret Cosplay & Art
~Join us next week for more Cosplay Coverage~
Have a Cosplay question you would like Mayhem's Muse to answer? Know a Cosplayer you'd like to see featured? Send an email here!
Learn more about Mayhem's Muse