A new sourcebook for Modiphius' Conan RPG pulls in the exploration and survival of Conan: Exiles, the videogame. Pants not provided.
If you're a fan of the nudity and Conan simulator known as Conan: Exiles, then you will want to craft some pants and head down to Modiphius' web store where you can get your hands on a brand new pdf of the Exiles sourcebook for the Conan RPG. Now, this is an interesting one, because it's not every day that you see a tabletop game take a videogame loop that's very clearly inspired by hexcrawl exploration and survival and then jam it into something that's way more narrative-focused, like the 2d20 system.
But… Conan seems like the perfect place to try this. And the book promises fights against epic foes like Tyros the Deathbringer or the Witch Queen of Lemuria. So if you're into the Conan RPG, this one feels like it's worth a shot.
via Modiphius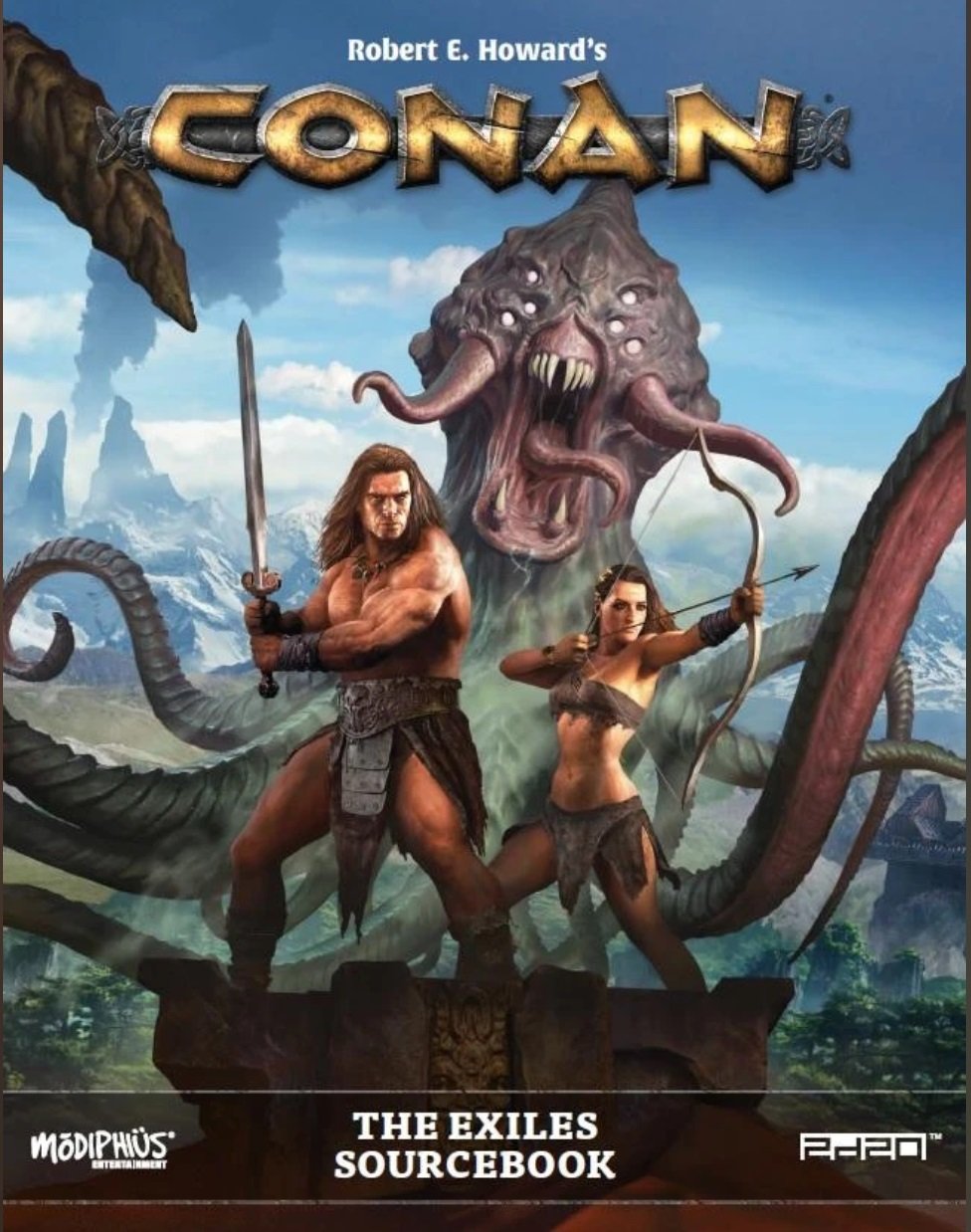 HE STRODE OUT ACROSS THE SANDY WASTE AS IF HE HAD JUST BEGUN THE JOURNEY. A BARBARIAN OF BARBARIANS, THE VITALITY AND ENDURANCE OF THE WILD WERE HIS, GRANTING HIM SURVIVAL WHERE CIVILIZED MEN WOULD HAVE PERISHED.
Combining the gritty suspense of the online gaming with the fast action of the tabletop roleplaying game, Conan: The Exiles Sourcebook brings together the genres of deep and immersive character creation, survival gameplay, base building and improvement, hex crawl adventuring, and kingdom-level siege mechanics. Set in the world of the hit online title, Conan: The Exiles Sourcebook lets players experience the Exiled Lands firsthand, with unique content from that world allowing for a truly unique Conan roleplaying experience.
Within this 120 page full colour volume, players can:
Create new characters from archetypes such as the Exile, the Forgotten, the Shaper, and Wasteland Priest.
Build your character with new backgrounds, new and expanded talents, new equipment, new weapon qualities, and more.
Explore the Exiled Lands and learn how to survive there, seeking out or avoiding places like the Shattered Springs, the City of Relic Hunters, the Circle of Swords, the Black Gardens, the Dregs, or the hellish Unnamed City.
Struggle for survival, with detailed rules about exploring the wasteland and ruins, scavenging resources and valuable assets.
Learn how to craft new weapons, armor, and equipment suitable for this desperate, dangerous world.
Build shrines and pray to the Exiled Gods, much more powerful than elsewhere in the Hyborian kingdoms. Summon their living avatars to wreck destruction upon your foes!
Battle monsters and foes unique to the Exiled Lands, such as abyssal remnants, Children of Jhil, demonic imps, sandbeasts, and serpent-men, and even face off against epic foes such as Tyros the Deathbringer or the Witch Queen of Lemuria herself.
Build and improve a city of your and try to hold it against the forces of an uncaring world.
This book requires the Robert E. Howard's Conan: Adventures in an Age Undreamed Of corebook to use.
Happy Adventuring!