October is here, and the spookiest Secret Lair Superdrop is at hand. With monsters, ghouls, and more, check out what lurks in store.
Secret Lair is Magic: the Gathering's catchall term for special theme cards. They're either original Magic cards reimagined with gorgeous new art, or they bring in characters from another world to the Multiverse of Magic.
In the past, this has been somewhat controversial. But since WotC announced that Secret Lair cards will see 'in-Magic' versions of those same cards later, you don't have to splash Negan from The Walking Dead into your Khans of Tarkir deck.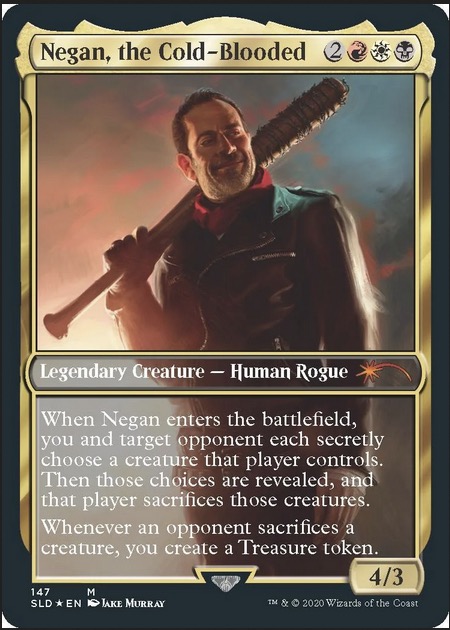 It's a boon for Vorthoses everywhere. Plus, now you don't need a hand that's straight out of Ready Player One (like, say, Michonne from TWD, Marneus Calgar from 40K, and Bartman) in order to pull off your unstoppable combo.
And for those players who do like that sort of thing, there's Secret Lairs. This October drop is especially spooky, and it's up for pre-order now. And for the next 24 days, you have your chance to reserve one of these sets for yourself– but once they're gone, that's it.
Check out the Spooktacular Secret Lairs.
Via Wizards of the Coast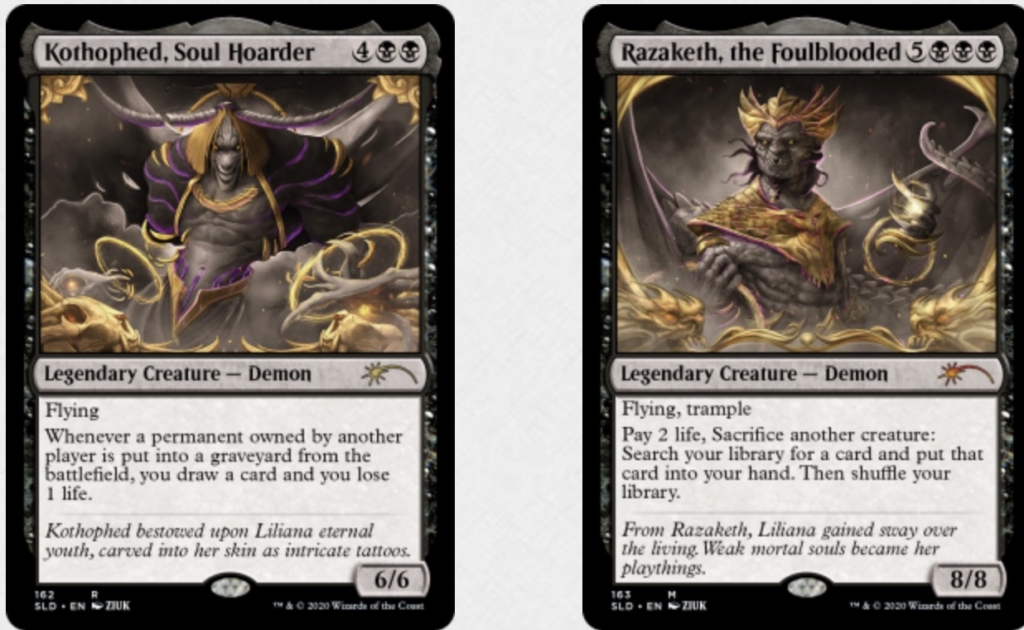 Don't make a deal with a demon. Especially not in Magic. But if you do make a deal with a demon, you'd better be sure and examine closely the fine print. Not doing so is a mistake that has led to some of the most desperate struggles in all of Magic.
But you get to see it in these amazingly rendered, gold plated demonically delicious depictions.
Contents
1x Demonlord Belzenlok 
1x Griselbrand 
1x Kothophed, Soul Hoarder 
1x Liliana's Contract 
1x Razaketh, the Foulblooded 

Thrilling Tales of the Undead brings you pulp-fiction covers of three of the most dastardly, dreadful dames in all of Magic. Check 'em out!
Contents
1x Hand-Drawn Gravecrawler 
1x Hand-Drawn Liliana, Death's Majesty 
1x Hand-Drawn Rise of the Dark Realms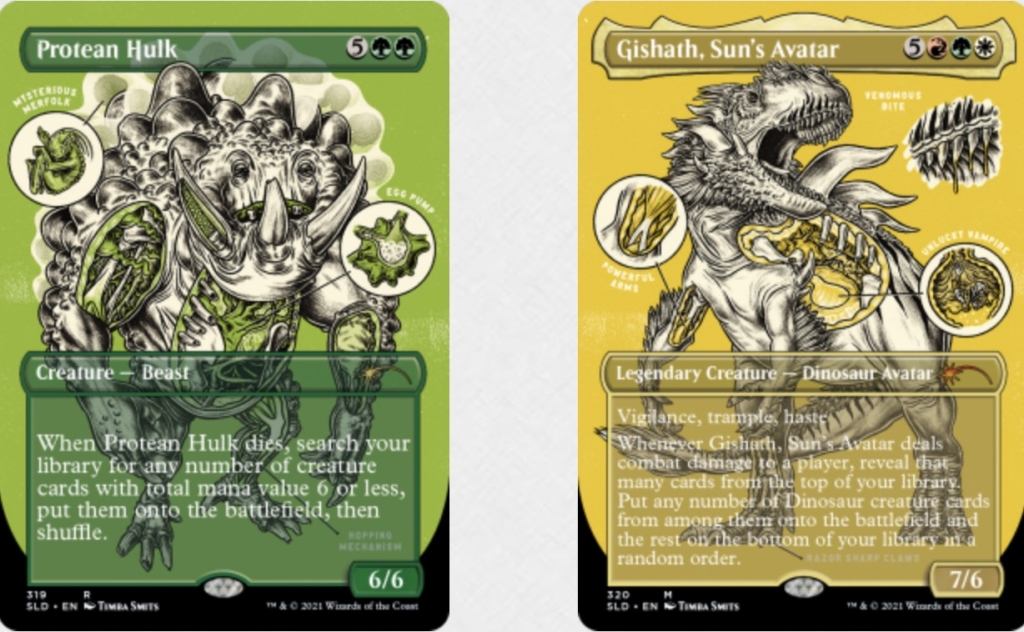 Take a look inside of some of Magic's weirdest and wildest creatures– like Ilharg the Raze-Boar or the Goblin Trashmaster– and see what's really going on under their skin. From terrifying teeth to a garbage gut, you get a cross-section of five of Magic's most legendary beasts, like Gishath or Sun's Avatar, the best dino in all of Magic.
Contents
1x Borderless Fleet Swallower 
1x Borderless Goblin Trashmaster  
1x Borderless Ilharg, the Raze-Boar  
1x Borderless Protean Hulk  
1x Borderless Gishath, Sun's Avatar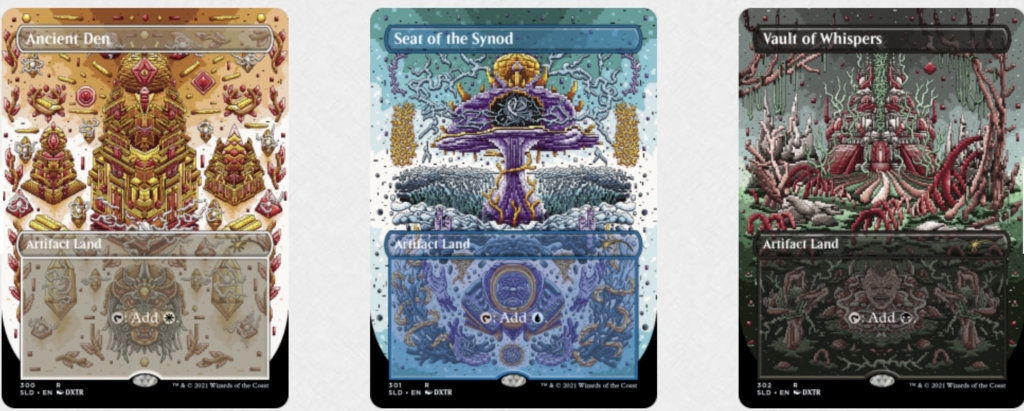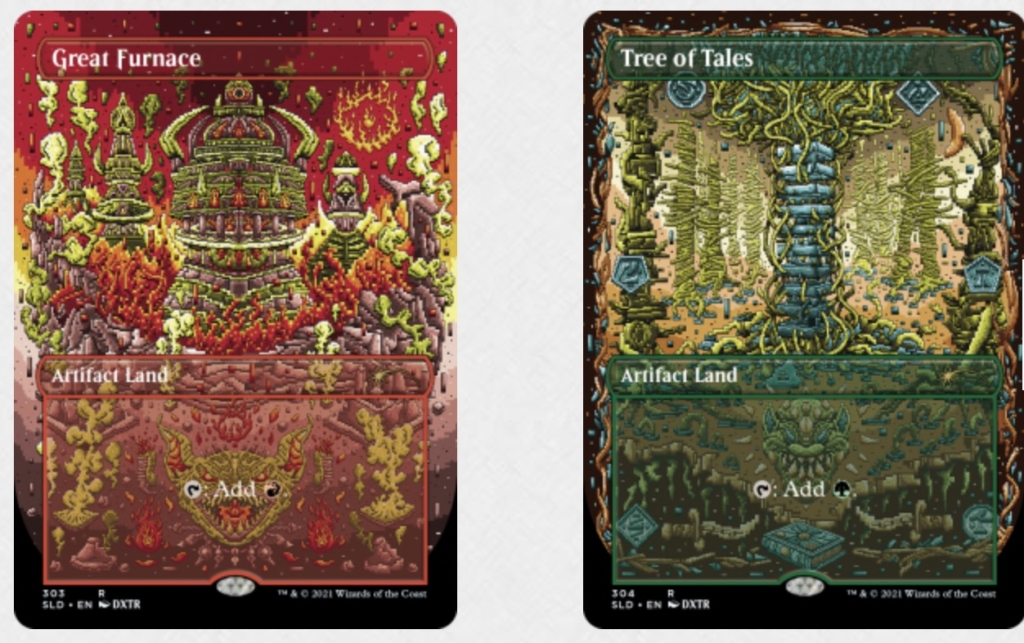 Mirrodinsanity is a phenomenal rendering of Mirrordin's artifact lands by DXTR, whose hand-painted pixel-art styled lands are packed full of detail and lore about the once-shiny plane.
Contents
1x Borderless Ancient Den
1x Borderless Seat of the Synod
1x Borderless Vault of Whispers
1x Borderless Great Furnace
1x Borderless Tree of Tales
Which Secret Lair drop are you excited about? Let us know in the comments!