That Was Some Christmas! 'Hawkeye' Season 1 Finale is Full of Cheer & Surprises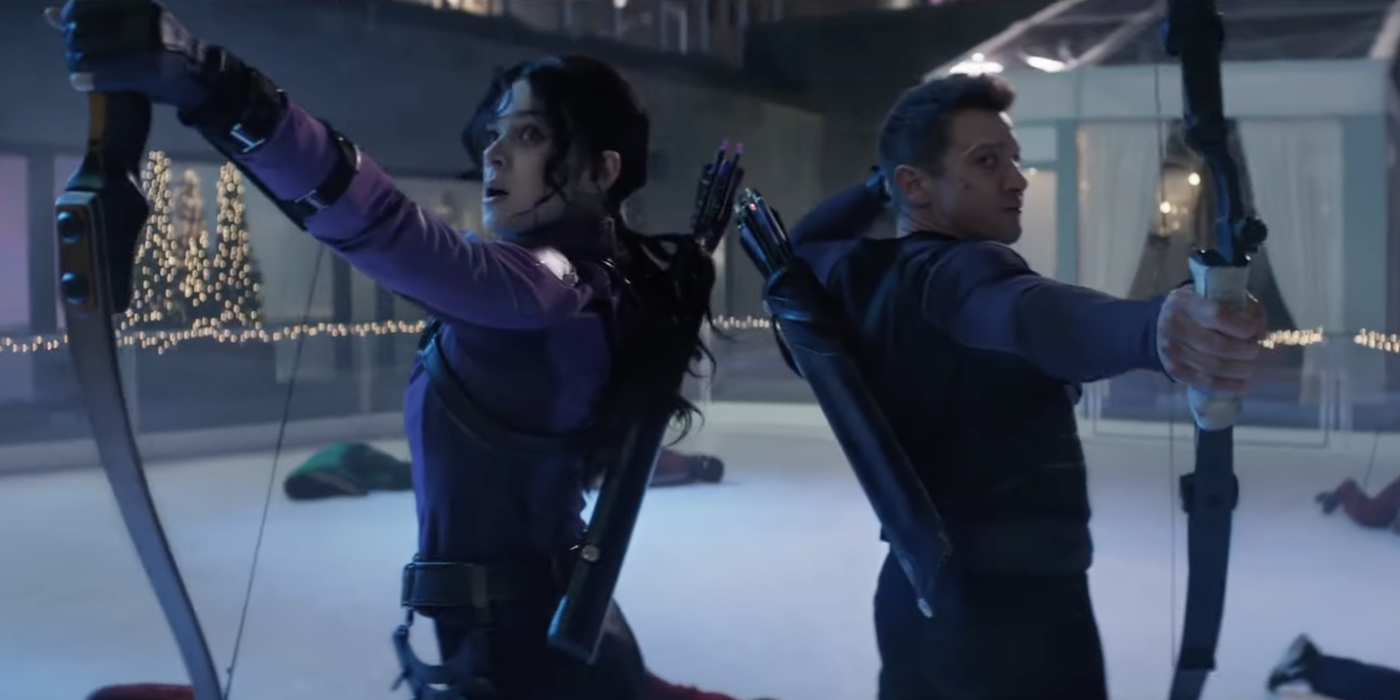 The Hawkeye season 1 finale was a classic holiday spectacular– but there may be clues to recent character reveals in the MCU.

The Hawkeye season 1 finale was every bit the Christmasy climax we expect from a classic holiday story. Every character's story brings them together around the warm light of a giant Christmas tree– even if they are all shooting at each other.
Sure, the show repeats a lot of classic holiday movie themes. But it might also hold some hints about recent changes in the MCU.
This article is full of spoilers for the first season of Marvel's 'Hawkeye'.
Yelena & Kate
When we left Yelena, she had been hired to kill Clint. She had been led to believe that he murdered Natasha to save himself on Vormir.
Florence Pugh wins this episode for both laughs and gutwrenching feels. The moments she shared with Kate during their elevator fight are a highlight of the episode. Kate and Yelena clearly have a lot of chemistry, and are drawn to each other in a way that mirrors Clint's connection to Natasha.
yelena and kate are the superior duo #hawkeye pic.twitter.com/c8OgFtmFAd

— Florence Pugh Daily (@bestofpugh) December 22, 2021
Of course, Yelena catches up with Clint. His attempts to defend himself are restrained, and it quickly becomes clear that Yelena is taking out some of her grief and anger on Clint. After a few attempts, he's able to communicate to her that Natasha sacrificed herself. The two are able to share a comforting moment, and the show's themes of finding family thought trauma firm up like frosting on a gingerbread house.
Hawkeye: The Final Battle
The magnitude of the final fight feels on par with a huge Christmas-move climax. It's very big, very public, and involves a gigantic Christmas tree. It's kind of perfect. There's also fighting on the ice rink, which we saw in the trailers.
Everyone arrives as Elenor's big Christmas party dressed to the nines. Kate is there to confront her Elenor, Kazi is theree to kill Elenor, Yelena is there to kill Clint. And the Tracksuits trying to kill Kate and Clint– but not before thanking Kate for her relationship advice.
Clint's costume reveal was a lot of fun, made even more fun by the LARPer costume reveals. The tiny Rent a Bro truck was a great touch, too.
One of my favorite details in the final battle was Jack, who lunged into the fray with absolute enthusiasm. It's clear now that Jack was a red herring, and it was Elenor whose dealings were more insidious.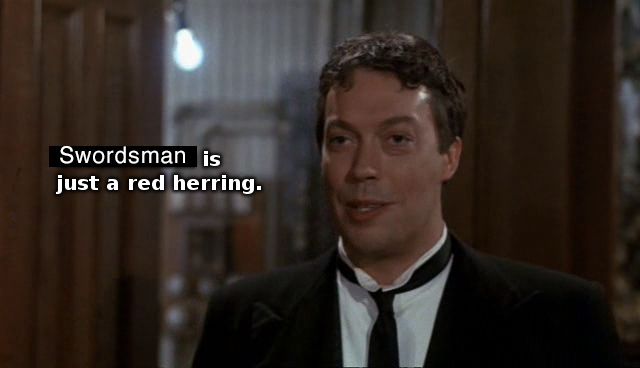 I'm glad Jack isn't a bad guy. His misused aphorisms endeared him to me.
Maya Faces Her Father's Murderer
Of course, Maya had a major turning point in her quest to avenge her father's death. First, she goes head-to-head with Kazi, with whom she has always been quite close. When she asks him to walk away from his life of crime and leave with her, he refuses. It's heartbreaking to watch him dig his heels in. But it's meaningful that he warns Maya that her uncle is coming for her.
Toward the end of the episode, a fight with Kate and her trick arrows leaves Kingpin injured. As he hobbles away from the crime scene, Maya finds him. She confronts him about the death of her father, and as the camera moves away from him, we hear a gunshot.
Did Maya kill the MCU's Kingpin? And is this the same Kingpin from Netflix's Daredevil?
Is Kingpin an MCU Variant?
Last week was the big Kingpin reveal that blew up Marvel Twitter. Many believe this confirmed that Netflix's Marvel universe was a part of the MCU. But I'm not convinced.
I think that the MCU has its own versions of the Netflix characters. I'm not so sure that Marvel is prepared to retcon Kingpin's entire Daredevil origin story to include him raising Maya as he would a daughter. I mean, the Netflix shows went very deep into Wilson Fisk's history, but there isn't really a lot of room to backpedal to squeeze Maya in.
Kingpin also tears the door off of Elenor's when she's attempting to escape the holiday party. Now, the Netflix Kingpin was definitely strong. But it looks like this version of Kingpin has some super-strength, and that makes me think he may be a variant.
Of course, there are other ways the MCU can confirm this variant theory in upcoming stories. Not sure what I mean by that? Go see No Way Home.
Missed last week's big reveal? Check out our 'Hawkeye' episode 5 breakdown!
Laura was Mockingbird
Of course, another huge reveal came at the end of the episode when all the dust had settled. Clint brings Kate home for Christmas, and as she's greeting the family, Clint gives Laura the missing watch. On the back, there's a S.H.I.E.L.D. logo along with the number 19.
In the comics, Mockingbird is also known as Agent 19. Even for those who aren't familiar with the character, the Hawkeye season 1 finale has confirmed that Laura, Clint's wife, was also an agent of S.H.I.E.L.D.
Finally, the show also had a post-credits scene. Well, a post-credits musical number. Audiences are treated to a longer performance of Rogers: the Musical's "I Can Do This All Day". Some fans are upset it wasn't a "real" post-credits scene, but it was a lot of fun and it kept the spirit jolly.
Did you enjoy the first season of Hawkeye? What do you think happened to Kingpin? Do you have any theories about the future of Kate in the MCU? Let us know in the comments below!
You can stream the full season 1 of 'Hawkeye' now exclusively on Disney+.