D&D Accessories: Get Your Kids Into D&D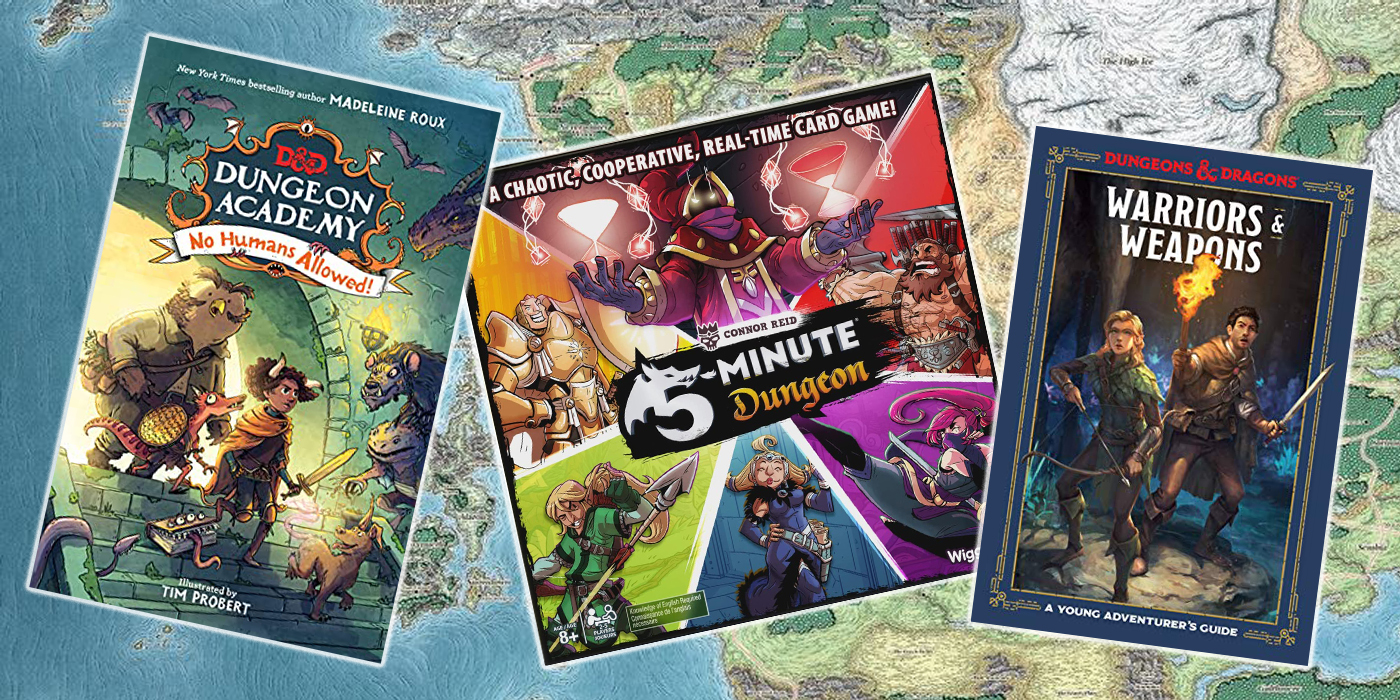 Convince your kids (or your friends' kids or your nieces and nephews) that D&D is fun and forever be the cool adult in their life.
It's the back-to-school season which means it's "oh no what is that kid doing after school?!" season. Introduce them to D&D early and work on social skills, creative problem-solving, and even math. And also, it's fun!
1. Dungeon Mayhem: Monster Madness
There are a couple of versions of Dungeon Mayhem, a kid-friendly game series by Wizards of the Coast. In Monster Madness you play as one of six legendary D&D monsters with their specific monster-sized card deck and take on the other monsters at your table.
Other versions of the game have you take on the role of a Barbarian, Paladin, Rogue, or Wizard and battle through a dungeon of monsters and treasure. They're marketed towards kids, but the art and gameplay can be appreciated by all age groups and you'll definitely find yourself enjoying Dungeon Mayhem just as much as the kids you're trying to get into D&D.
---
2. Dungeon Academy
For a potential fantasy nerd who enjoys reading, Dungeon Academy is a D&D-themed adventure for middle-grade readers. Zelli was raised among monsters in a dungeon. But don't worry, her parents disguised her as a minotaur so she'll fit in.
When she learns about the "horrible human" adventurer Allidora Steelstrike, Zelli sees a resemblance and decides to go out on a dangerous adventure of her own. This is exactly the sort of book I'd have loved when I was young, and I bet there's a kid in your life who would enjoy it too.
---
3. 5-Minute Dungeon
If you're short on time and have two to five players who are at least eight, 5-Minute Dungeon may be the perfect game for you. The card game encourages you to use teamwork to defeat classic D&D monsters; defeat all six to win! And the standard array of D&D classes will make it feel like enough like your normal weekly campaign while being a totally unique game.
---
4. Dungeons and Dragons: Adventure Begins
Adventure Begins is an accessible and kid-friendly introduction to D&D in the form of a board game. This is a cooperative fantasy adventure game for up to four players at least ten years old. You can customize your hero, use magic, fight monsters, and travel Neverwinter with nothing that doesn't come in the game box. Whether you're a fan of D&D already or want to sneakily convince some kids that it's cool, Adventure Begins is easy, contained, and fun.
---
5. A Young Adventurer's Guide To D&D
If the board and card style games are D&D 1.0, this is D&D 2.0. For the young adventurer who's ready to start on their own training dungeon, the Young Adventurer's Guide breaks down D&D into slightly simpler terms. There are of course RPG systems, especially for younger players. But if you know a kid who's almost ready for D&D, this is the perfect set of training wheels.
---
Have you bought any D&D stuff for kids? What kind of accessories or games were a hit and which didn't get the interest you thought they would? Will any of our picks make it onto your wish list? Let us know in the comments!
Happy Adventuring!