10 Best Movies and Shows of 2022 – and 2 That Weren't All That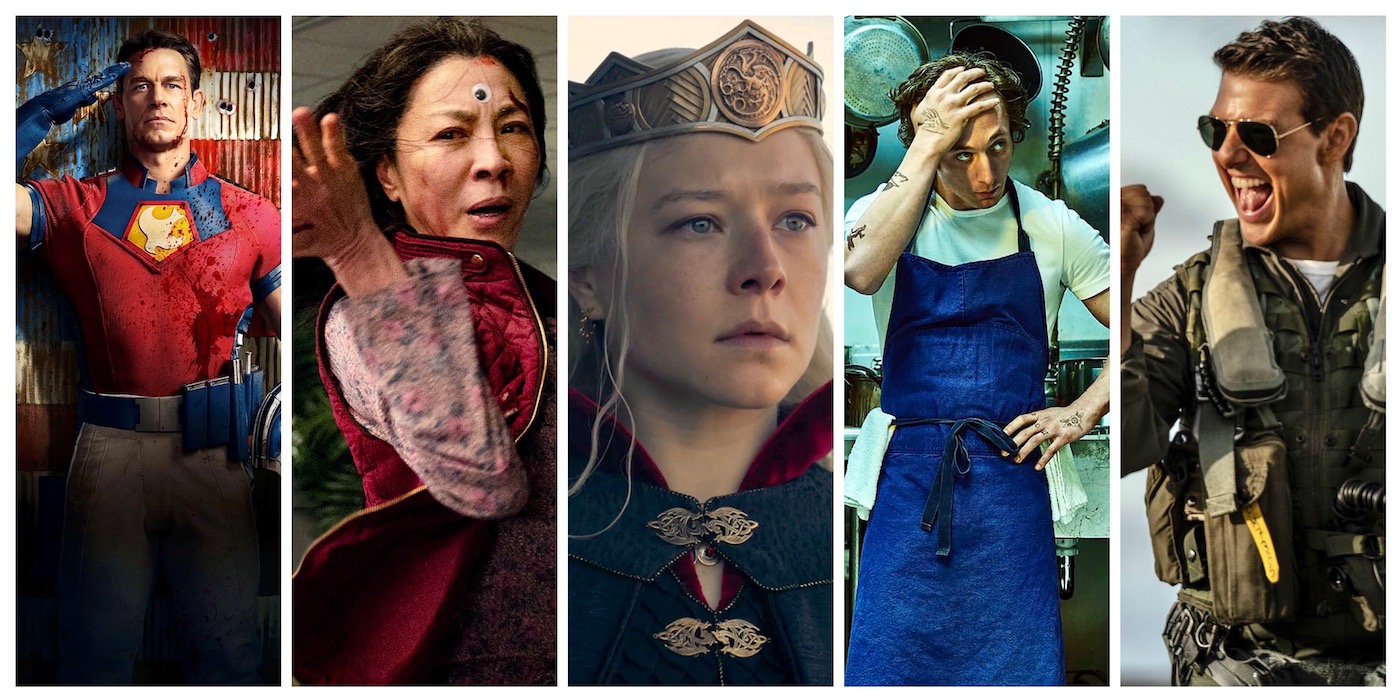 2022 is coming to a close, so it's time for one of those ubiquitous best-of lists! These are my ten favorites from the big and small screen this year – plus two I didn't. Not sorry.
Movies
2022 has been a pretty dang good year for film. The industry is still stumbling to find its feet after the pandemic, but theater going felt more 'normal' this year. It produced great movies, from CG action fests like Doctor Strange and the Multiverse of Madness to intimate examinations of life like Aftersun. Here is a handful of my favorites of the year – and the one I really didn't like.
X
Horror made a comeback this year, and there have been many great movies, but none got my attention like this grindhouse throwback from Ti West. It takes tired tropes (it's a slasher in rural Texas set in the '70s) and breathes some new life into them with some gruesome kills and deeper themes. Jenna Ortega and Mia Goth are fantastic. It's available on demand – as is its follow-up origin story, Pearl.
Prey
One of the year's pleasant surprises is Prey, the back-to-basics Predator movie set 300 years ago. It takes inspiration from across the Predator franchise and presents a story with stakes and character development. Beyond that, Prey destroys old tropes by refusing to use the Comanche Nation as a costume. I only wish it had been released in theaters so I could have seen it on a larger screen with bigger sound. It's on Hulu if you missed it.
The Batman
While Matt Reeves' detective story isn't perfect (with its two-second acts), there's much to like. A grimy Gotham infested with crime and the mob, a Bats that's not an expert at the job and doesn't have an R&D department, and a Catwoman trying to survive by her wits. For a superhero story, it's very human and grounded. This Bruce is an imperfect Batman for the people. If you feel like taking a trip [back] to Gotham, The Batman is on HBOMax.
Top Gun: Maverick The return of the summer action blockbuster (not MCU edition) after two years away. Its no-frills story focuses on the action, which stands out from the pack because it is shot in actual jet fighters and brings back a cast of beloved characters. It's this year's top-grossing movie for many great reasons – mainly because it's fun and doesn't drag. If you missed out on this one in theaters, it's currently on Paramount+.
Subscribe to our newsletter!
Get Tabletop, RPG & Pop Culture news delivered directly to your inbox.
Everything Everywhere All at Once
The most bonkers movie you'll ever see about an exhausted woman trying to file the taxes for her small business. It's an emotional rollercoaster with a fantastical production design that will make you laugh, cry, and examine your own relationships. Michelle Yeoh, Stephanie Hsu, and Ke Huy Quan are marvelous. If you haven't explored this multiverse, Everything Everywhere All at Once is on Showtime and on demand.

The Worst: Avatar – The Way of Water
Where to start? Cameron's ideal format isn't accessible to everyone, so many viewers get a subpar-looking movie, as will the home market. Its white savior narrative insults the Indigenous people Cameron says he's inspired by. Its screenplay is filled with bad dialog, one-dimensional characters, and a disjointed mishmash of stories we've seen dozens of times. Yep, it's pretty for those that can see it in 3D. That's all this movie has, which for me, is not enough.
Before you ask, it beats out Morbius because it doesn't have the redeeming feature of being so bad it's laughable – and Morbius is only 105 minutes long.
---
Streaming Series
Streaming has expanded the number (over 500 new titles this year) of shows to the point that it's impossible to keep up. It's a great and a bad time for long-format storytelling due to this explosion. This year we saw a $462 million Tolkien adaptation, Marvel's first sitcom, and a touching story about love and pirates. Here are some of the series that caught my attention and one I regret spending time on.
House of the Dragon
The Game of Thrones spin-off does a decent job adapting Martin's Fire & Blood. The lower budget for this season doesn't exactly do it favors, but it makes up for it in some powerful performances (Paddy Considine and Milly Alcock are standouts) and the choice to tell the first chapter of the Dance of the Dragons at a brisk pace. As is HBO's way, we won't be seeing a second season until 2024.
Slow Horses
The first two seasons of this spy show dropped this year, and it was quickly renewed for two more. Slow Horses is a spy thriller similar to John le Carré's work. MI5 agents that have screwed up are regaled to a unit where they're destined to push papers around for the rest of their careers, or they quit. The latest batch of failures isn't about to quit. The show's quick-witted writing hooked me from the start. It's on Apple+.
Peacemaker
James Gunn does a marvelous job at combining raunchy humor, comic book heroes, and character-driven storytelling in the Suicide Squad spin-off. I don't think many (myself included) expected this show to be as excellent and relatable as it is. If you haven't seen it – why? The entire first season is on HBOMax.
Severance
This black comedy explores corporate culture, the surveillance state, and the power of grief from Ben Stiller. Yes, that Ben Stiller. It's intelligent, gripping, and has just the right amount of absurdity. The first entire season is on Apple+ now and is a perfect binge for this in-between holiday week.
The Bear
An emotionally scarred James Beard Award-winning chef inherits the family restaurant after his brother dies. Episode one drops right into the stress and drama – and it never lets up. The Bear gets the restaurant business and the people that make it run in a way that most Hollywood projects don't. The cast, the writing – the whole show is just so damn good. The first season is on Hulu.
The Worst: Terminal List
Military-based stories are one of the cores of the action/thriller genre, and plenty of notable titles are out there. Amazon's The Terminal List is not one of those. It wastes the talent of its actors with generic dialog and a monotonous revenge story with pacing problems. I'll stick with Reacher and Jack Ryan from now on; thanks.