December Trailers – Badass Santa, Grand Fantasies, Man Eating Butts, & More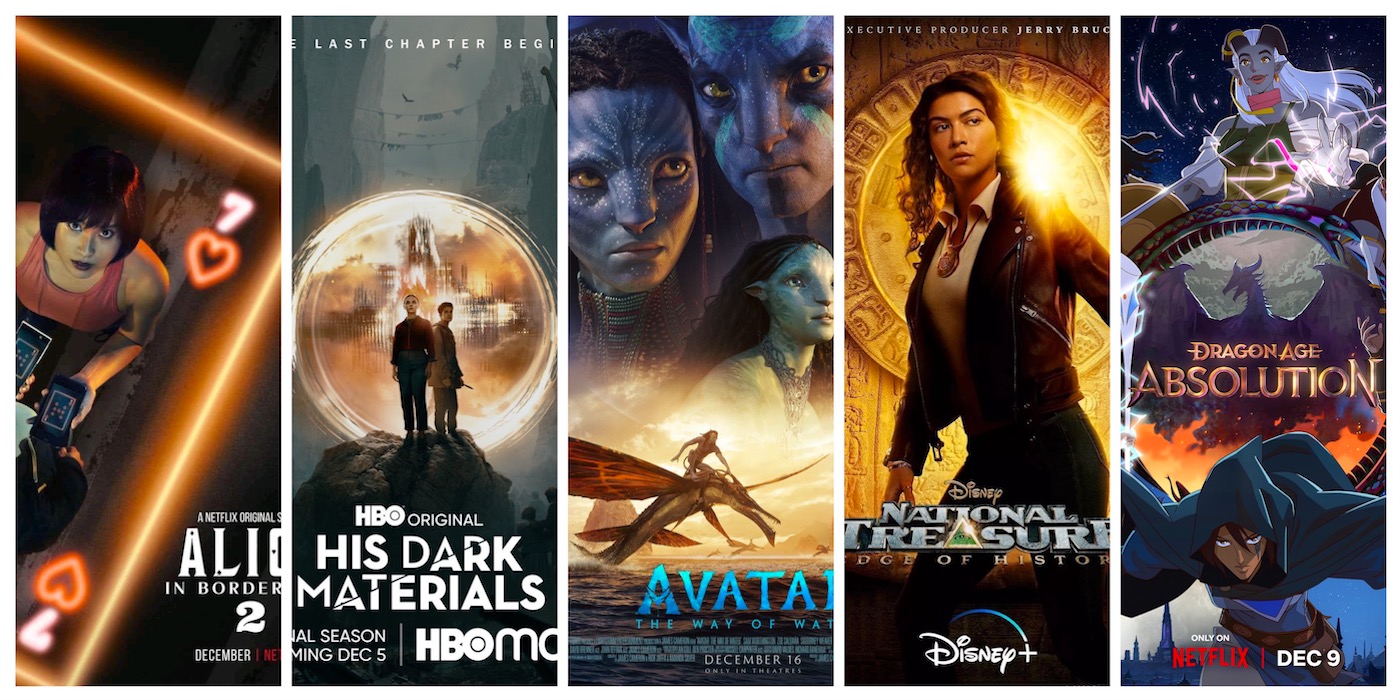 This month brings big movies and the return of some amazing shows from across genres. Check out all of the December trailers!
December is dominated by holiday movies (Hallmark is releasing 27 new holiday titles this month), but that's not all that's hitting screens. There are action, horror, grand fantasies, and anime movies/shows coming up. Pull up your watchlist and check these December trailers out!
Violent Night – In Theaters Now
"When a team of mercenaries breaks into a wealthy family compound on Christmas Eve, taking everyone inside hostage, the team isn't prepared for a surprise combatant: Santa Claus is on the grounds, and he's about to show why this Nick is no saint." – Check out our review!
Troll – Available on Netflix
"When an explosion in the Norwegian mountains awakens an ancient troll, officials appoint a fearless paleontologist to stop it from wreaking deadly havoc."
Willow – Available on Disney+
"The story began when an aspiring sorcerer is whisked away on a journey to protect an infant empress Elora Danan and vanquish the evil Queen Bavmorda from their world of Andowyne. Now, the story continues with Warwick Davis reprising his titular role, as he leads an unlikely crew of heroes on a quest to protect Andowyne from an even larger foe than they had imagined possible." – Check out our review of the first two episodes!
Hot Skull – Netflix 12/2
"Set in a world shaken by an epidemic of madness that spreads through language and speech, the reclusive former linguist Murat Siyavus is the only person mysteriously unaffected by this disease. Hunted by the ruthless Anti-Epidemic Institution, Murat is forced to leave the safe zone and flee within ruins of the streets of Istanbul."
His Dark Materials S3 – HBO 12/5
"In the final chapter of this epic fantasy series, Lyra, the prophesied child, and Will, the bearer of The Subtle Knife, must journey to a dark place from which no one has ever returned. As her father's great war against the Authority edges closer, they will learn that saving the world comes at a terrible price."
Subscribe to our newsletter!
Get Tabletop, RPG & Pop Culture news delivered directly to your inbox.
Doom Patrol S4 – HBOMax 12/8
"Season 4 opens with the team unexpectedly traveling to the future to find an unwelcome surprise. Faced with their imminent demise, the Doom Patrol must decide once and for all which is more important: their own happiness or the fate of the world"
Christmas Bloody Christmas – Shudder 12/9
"It's Christmas Eve and fiery record store owner Tori Tooms just wants to get drunk and party until the robotic Santa Claus at a nearby toy store goes haywire and makes her night more than a little complicated. Santa Claus begins a rampant killing spree, ultimately forcing Tori into a blood-splattered battle for survival against the ruthless heavy metal Saint Nick himself."
Dragon Age: Absolution – Netflix 12/9
"With great power at stake, a group of mages, fighters, and thieves goes head to head against a sinister force possessing a dangerous artifact. Based on BioWare's video game franchise, Dragon Age: Absolution explores mature subjects concerning freedom, power, and corruption set against the backdrop of adult animation."
Guillermo del Toro's Pinocchio – Netflix 12/9
"From the mind of Academy Award-winning filmmaker Guillermo del Toro and award-winning stop-motion legend Mark Gustafson, Guillermo del Toro's Pinocchio is a story you think you may know… but you don't. The classic story of a wooden puppet brought to life is reinvented in this stunning stop-motion musical tale."
National Treasure: Edge of History – Disney+ 12/14
"Jess, a brilliant and resourceful dreamer, searches for answers about her family; she embarks on the adventure of a lifetime to uncover the truth about the past and save a lost Pan-American treasure."
The Big 4 – Netflix 12/15
"In this action comedy from Timo Tjahjanto, four hitmen who have hung up their swords must return to the game. The reason? They encounter a virtuous police officer with a mission to catch a heinous villain who always escapes authorities."
Avatar: The Way of Water – Theaters 12/16
"Set more than a decade after the events of the first film, Avatar: The Way of Water begins to tell the story of the Sully family (Jake, Neytiri, and their kids), the trouble that follows them, the lengths they go to keep each other safe, the battles they fight to stay alive, and the tragedies they endure."
Jack Ryan S3 – Amazon 12/21
"After uncovering a vast conspiracy in season two, Jack has gone rogue. John Krasinski returns as the unwavering hero in Season 3 of Tom Clancy's Jack Ryan."
Alice in Borderland S2 – Netflix 12/22
"Arisu and Usagi must unravel the mysteries of the Borderland in order to return to their world. Shifting from the shocking setting of an empty Shibuya in the first season, this season is set in a devastated Shibuya covered in plants. Don't miss a second of this survival game packed with intense action and a thrilling story!"
Glass Onion: A Knives Out Story – Netflix 12/23
"Tech billionaire Miles Bron invites his friends for a getaway on his private Greek island. When someone turns up dead, Detective Benoit Blanc is put on the case". – Check out the One of Us review!
The Witcher: Blood Origin – Netflix 12/25
"Set in an elven world 1200 years before the time of Geralt, Yennefer, and Ciri. The Witcher: Blood Origin will tell a tale lost to history: the creation of the first prototype Witcher and the events that led to the pivotal Conjunction of the Spheres. The time when the worlds of monsters, men, and elves merged to become one."
Burial – Shudder 12/29
"In the last days of WWII, a band of Allied soldiers are trafficking Hitler's remains out of Germany. They are ambushed by Nazi Wehrwolf fighters. Stars Tom Felton, Charlotte Vega, Harriet Walter, Bill Milner. Directed by Ben Parker."