Marvel and Star Wars Collide with These Moon Knight/Mandalorian Cosplays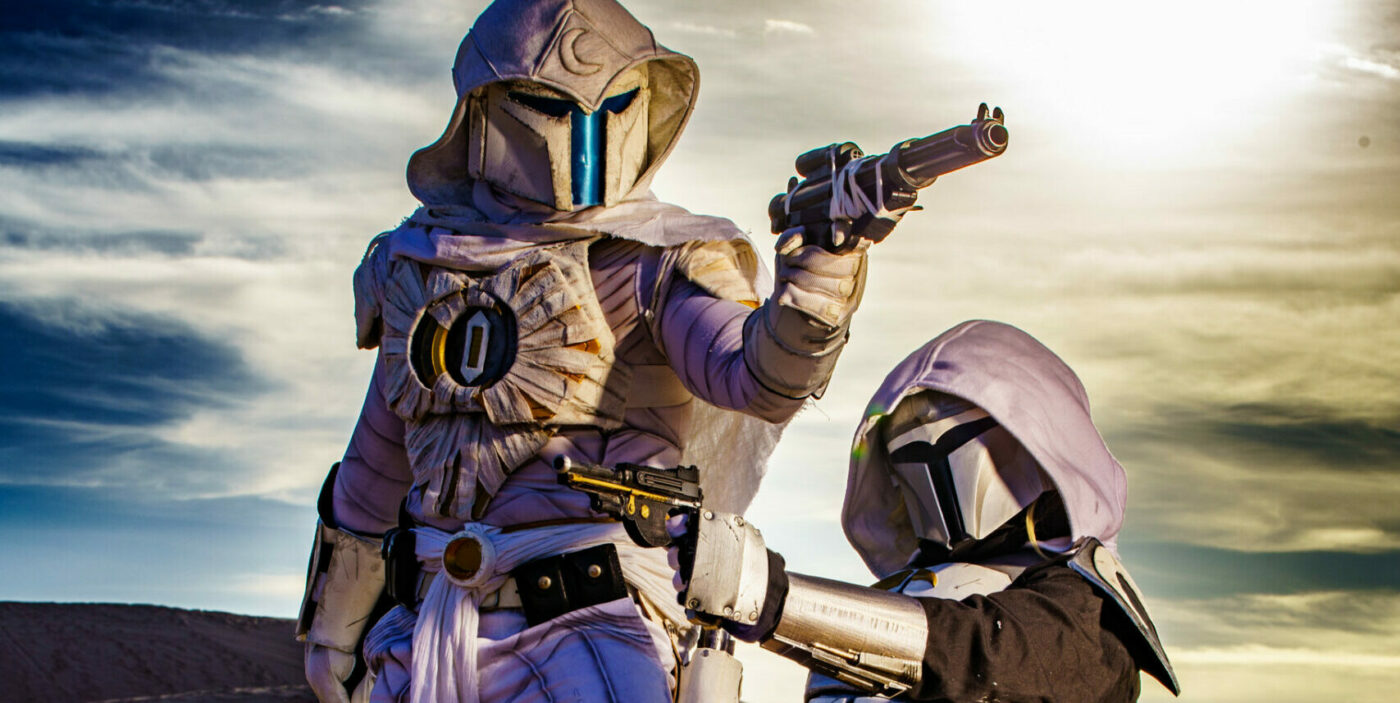 Mercenary madness ensues when these two popular characters combine to form the Moondalorian cosplay!
Marvel and Star Wars are two of the hottest topics in pop culture these days. Both franchises have pumped out years of hit shows. While The Mandalorian and Moon Knight are both popular on their own, this week we're providing sheer chaos with this Moondalorian cosplay feature!
We're back at it again with another creative mashup from KreedCosplay, and his partner in crime-fighting, Invadermercedes. Here's what Invadermercedes has to say about the collaboration:
For this Moondalorian, it was not my idea. We were planning a shoot for my birthday and derek suggested that we venture out to the desert to shoot since the group that im now in (Sci-Fi coalition) was doing their annual group shoot. He already made some major upgrades to his Moondalorian, so he actually started making me my OWN Moondalorian. As a big time Moon Knight fan I was EXTREMELY excited. Since I now owned my own Mando and Moon Knight mash up! Honestly it was all Dereks idea and this is my favorite cosplay I own. We first started with cardboard and then moved onto foam. Then the child, Gro-shu (Grogu cosplaying Khonshu). Derek made the mask and cold brew dyed the fabric (super funny moment). And thus Gro-shu was born.

Dereks Moondalorian is Marc Spector themed, while Mine is Jake Lockey, and honestly It works so well together.

-Invadermercedes
What's particularly genius about these cosplays is the elegant blend of key visual elements. The signature beskar armor of the Mandalorians meshes well with the Moon Knight-orang (what else do you call that thing?!). The Mando blaster and the Konshu staff are excellent details… And the entire project is made wholesome in Gro-shu; the mask-wearing kiddo is ridiculously cute. The construction on these cosplays is fantastic. It's obvious that these cosplayers have passion for the characters and excellent construction abilities, too. Well done on all accounts!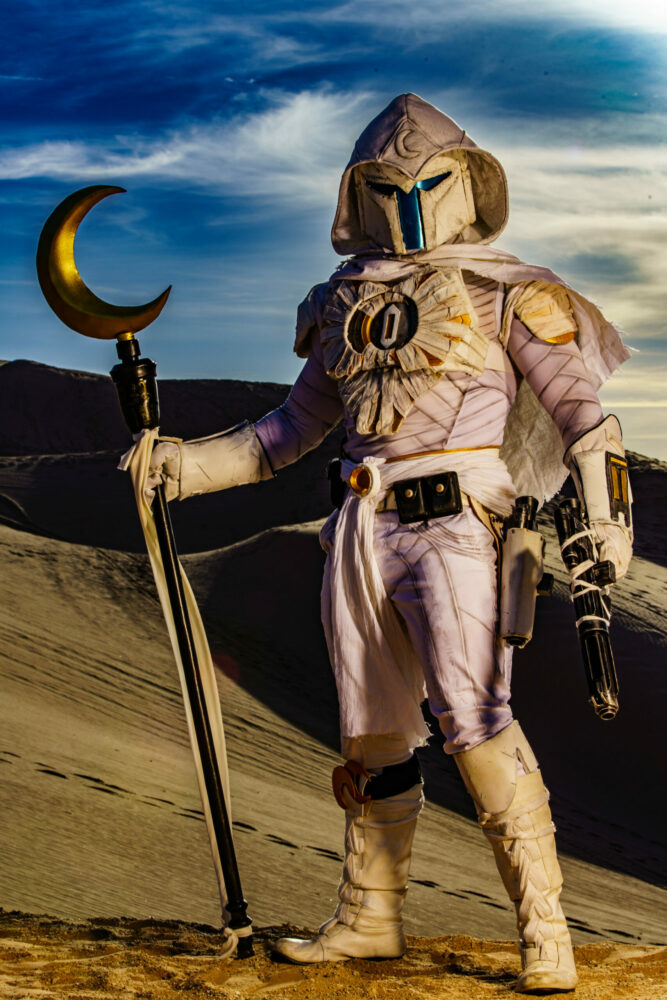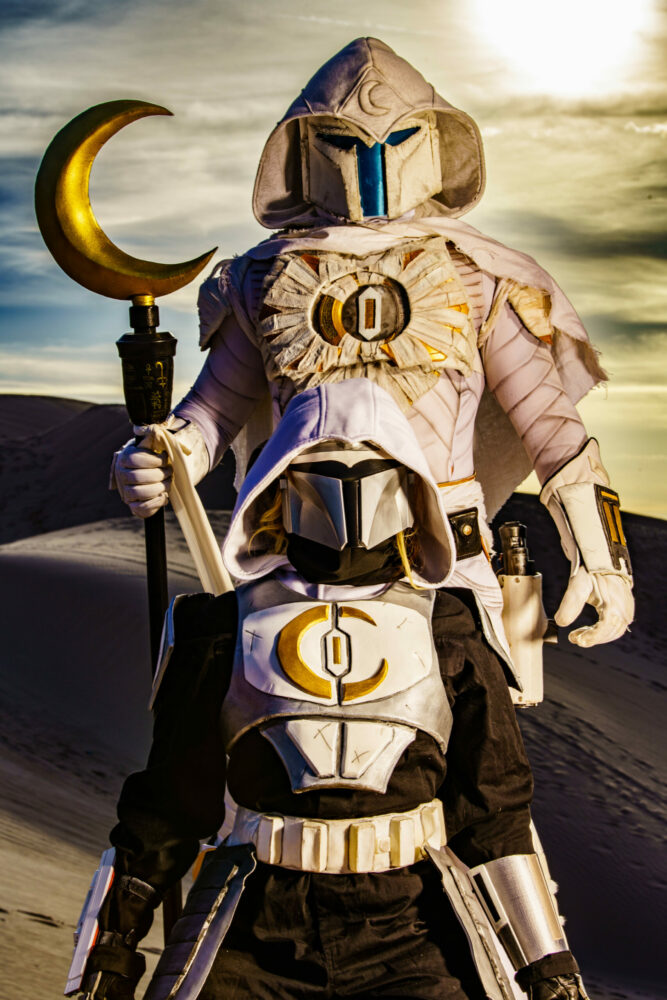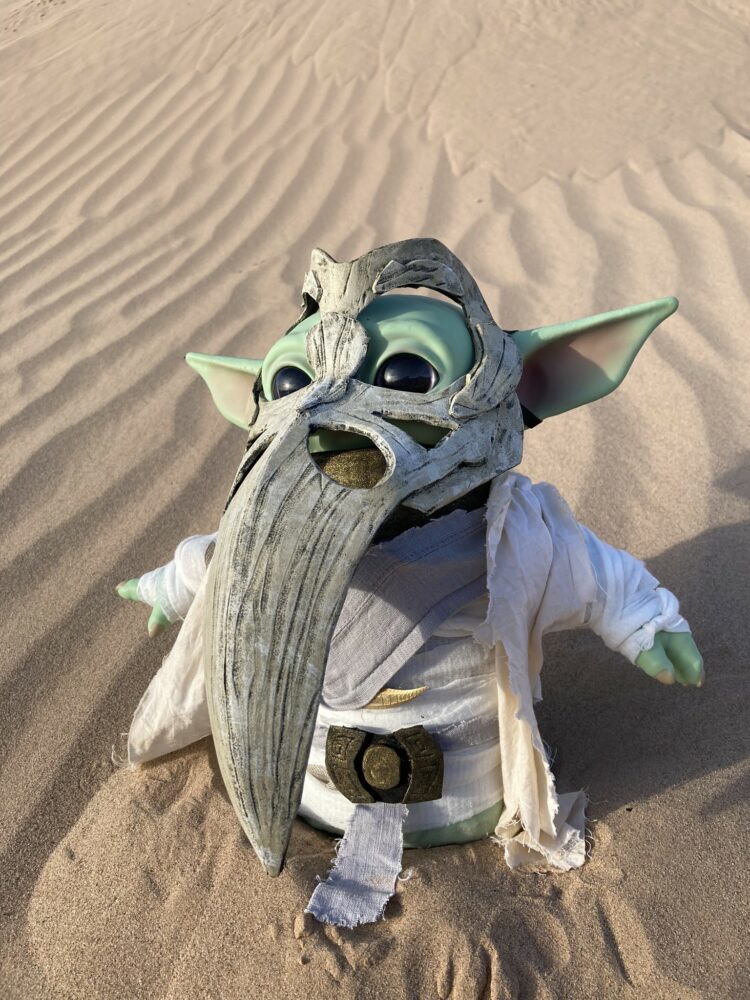 Subscribe to our newsletter!
Get Tabletop, RPG & Pop Culture news delivered directly to your inbox.
~Join us next week for more Cosplay Coverage~
Have a Cosplay question you would like Mayhem's Muse to answer?
Know a Cosplayer you'd like to see featured? Send an email here!