Warhammer 40K Harlequin Shadowseer Cosplay Invites You to the Dance of Death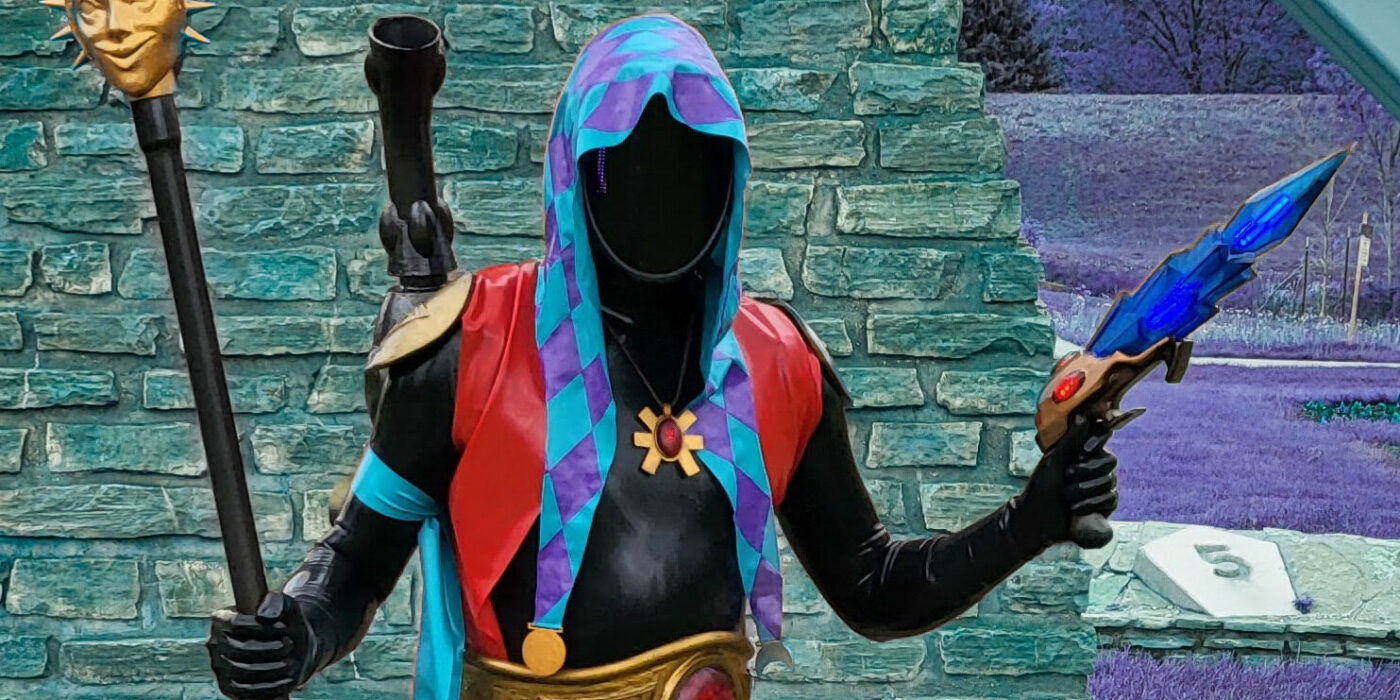 Death and Fate have taken the stage in this Aeldari Shadowseer cosplay
Of all the Warhammer 40k characters, I have always been most drawn to the Aeldari. Regardless of which faction or army, the beautiful and exotic Eldar are captivating. The Craftworlds and Drukhari receive most of the attention, but this week, we're featuring the protectors of the Black Library- the Harlequins.
The Harlequins worship Cagorath, and are the protectors of the Black Library. They harness the devastation of the shadows and turn combat into a lethal dance. They are known for their bright, vibrant colors and wild patterns. Cosplayer Mike Curran decided to take on this wild bunch in his recent cosplay. What's particularly fascinating about this build is the use of LEDs to bring the soul stones and face mask to life.
The Aeldari Harlequin Shadowseer is not a common cosplay choice for 40K, but one I thought would be fun to do. I have been into Warhammer for many years since I was a teenager. Aeldari was always my goto army for 40K. I always enjoyed playing them. I took a break from playing and when I got back in I thought I needed to challenge myself with my painting skills. I decided I would do a Harlequin army because of how flashy they look. This is also the main reason why I choose to do this cosplay. I normally do cosplay items based on things I enjoy and things that reflect a bit of myself.

-Mike Curran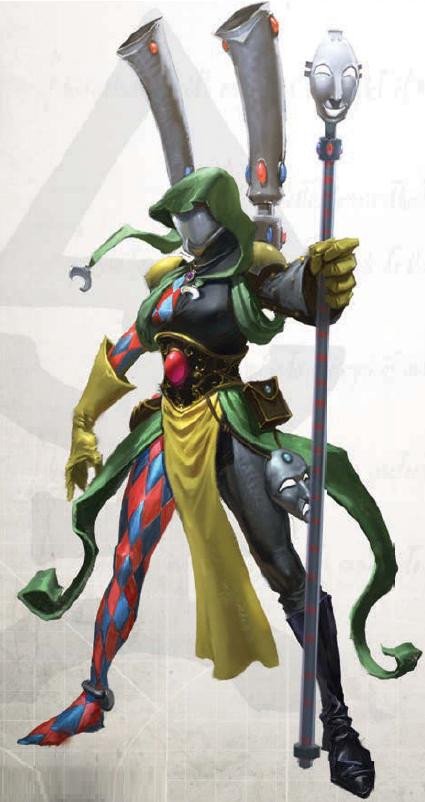 Shadowseer Cosplay with permission by Mike Curran
One of the things I love about this cosplay is the amount of comments I get. Warhammer players are the best because I normally hear something along the lines of "it's heresy for me saying this, but that looks cool." Even non-warhammer players enjoy the look of the cosplay, it's not a normal look. I stand out from all the other trendy cosplay items people wear. Best of all the outfit is comfortable allowing me to wear it throughout the entire day at a convention. I only have to remove my backpack to sit down on a chair, if the chair turns sideways I don't even have to remove anything to sit.

-Mike Curran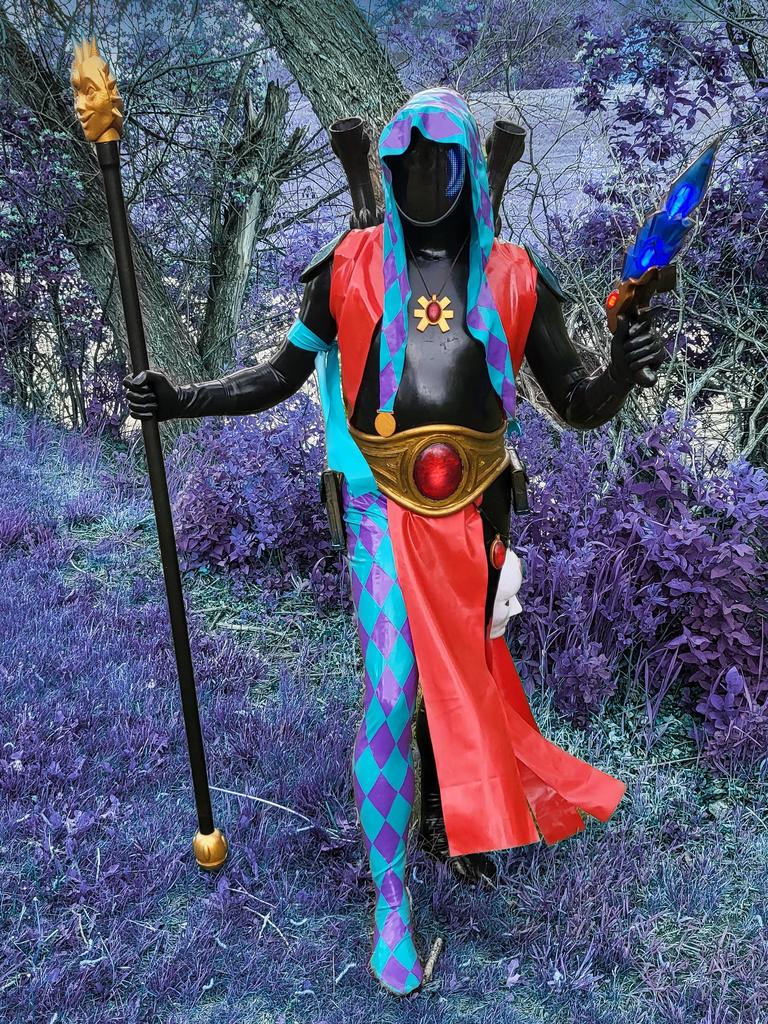 Working on this cosplay I pushed myself to learn a few new tricks with the outfit. 3D Printing, foam, resin, and smooth-on casting all went into this outfit. The neuro disruptor, backpack and jewelry items were all designed and printed out on 3D printers. The flip belt was created by using smooth-on foam-it 15 expanding foam from a mold I created. The pouches are your typical foam pouches. Masks are paper mache coated with resin to give them more of a porcelain look to them. Lastly the under suit is done in latex, I choose this because harlequin halo-suits produce color and lights as they move. I felt latex is a better choice than spandex for creating this look as it's flashy and shiny and screams look at me.

Subscribe to our newsletter!

Get Tabletop, RPG & Pop Culture news delivered directly to your inbox.

-Mike Curran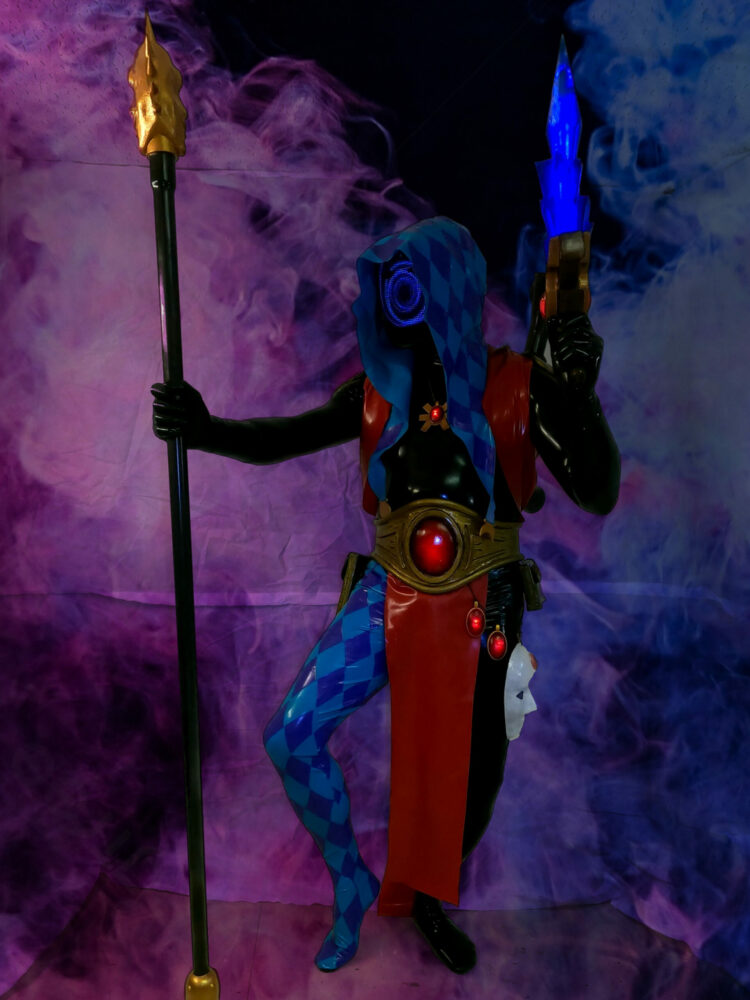 Another thing I feel turns heads with the cosplay outfit is all the lighting effects spread through-out. Adding LEDs to cosplay outfits has come a long way from when I started doing cosplay. You used to repurpose items from other lights and glue them in place. I started to program arduino boards and have them control some addressable leds. Addressable leds are lights you can tell what color and brightness will be for each light on the strip/strand. I used to spend a week programming and flashing arduino boards to control all the LEDs. Now thanks to WLED I just go to a website to flash an esp chip and I have a wifi enabled chip that I can connect to and set up for all my lighting needs.

-Mike Curran
~Join us next week for more Cosplay Coverage~
Have a Cosplay question you would like Mayhem's Muse to answer?
Know a Cosplayer you'd like to see featured? Send an email here!