Canceling 'Star Trek: Prodigy' is a Mistake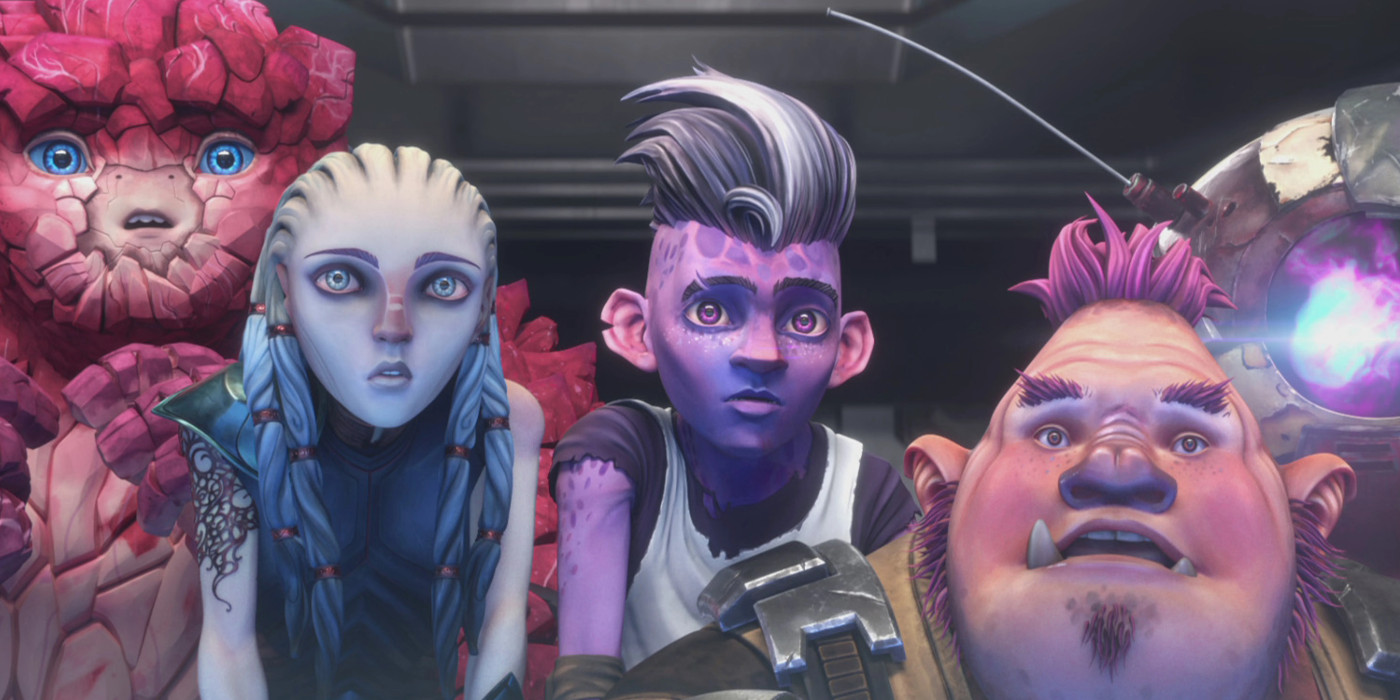 Star Trek: Prodigy is (as of now) no more. The show's cancellation is more than a disappointment–it's a failure to understand the future.
Star Trek: Prodigy is great. Let's start there. Of all the Trek shows out there, Prodigy is the one set post-Voyager that features a majority of both characters, new aliens, and new worlds. We'll talk about this more in a moment, but the brave new path Prodigy charters is a big part of why it is great.
Which is why it's so stunning to hear that Prodigy is canceled. More than that, Paramount recently announced that, with a second season already mostly complete, not only will the series not return to Paramount Plus–the first season is no longer available on the streaming platform.
The reaction to the news of Prodigy's cancellation is nearly uniform. Fans are not happy. It's worth taking a look at the aftermath of the news–fan reaction and crew reactions alike. More than that, it's worth talking about how canceling Star Trek: Prodigy illustrates Paramount missing the moment.
Prodigy is more than just a good show–it's a marker on the road for where Trek should be going.
Star Trek: Prodigy–Cancellation Reactions So Far
How do fans feel about Star Trek: Prodigy's cancellation? They're angry! If you run a search on social media, there's no shortage of dismay over the show's removal. Similarly, even Star Trek's biggest cheerleaders (said with affection) on YouTube like Jessie Gender and Trek Culture are both speaking out about the cancellation.
Anson Mount, shared a tweet recently pointing out that all of Star Trek should be on Paramount Plus.
There's hopefulness, too. A number of people working on Prodigy's second season right now think Prodigy can find a new home. Co-showrunner  Dan Hageman says "We have faith this show will be picked up by a new home to help grow our fervent fanbase and inspire the next generation of Star Trek fans". And EP Aaron J. Waltke says he's rejecting cynicism and embracing joy.
And on the hopefulness front, there is also a petition to save Prodigy. In only a few days, that petition already has over 15,000 signatures. And as Ryan Britt writes over at Inverse, Paramount Plus and Paramount are technically two different entities. Think of Paramount Plus as a channel on TV. Paramount Plus does not produce Prodigy so it can always live on another proverbial station.
But regardless of what happens next, we need to address Prodigy's cancellation and removal in the first place. What does that say about Trek's present and its future?
Courting New Fans
One of the most astute responses to Star Trek: Prodigy's cancellation comes courtesy of Escapist columnist Darren Mooney. He sees Prodigy as a show that, by design, brings new people into Trek fandom. And in canceling Prodigy, "It seems that the franchise has given up on the idea of making newer, younger fans, and is instead trying desperately to hold on to older ones," he writes.
There's a big question right now about what best serves the streaming marketplace. And that question has a big impact on the future of any franchise's success, Star Trek included. What brings in a larger audience share–courting new fans or placating old ones?
Subscribe to our newsletter!
Get Tabletop, RPG & Pop Culture news delivered directly to your inbox.
The recent success of Star Trek: Picard season three, which is a nostalgia bomb, suggests trying to keep old fans is a good idea. And certainly, the wildly popular petition to follow up on Picard with Star Trek: Legacy paints a similar picture.
But I believe that focusing primarily on older fans to the point of eschewing a path to new viewership is short-sighted for multiple reasons.
Nostalgia For Nostalgia's Sake
This may be an unpopular opinion, but I think part of Star Trek: Picard's popularity stems from a need for comfort food. The people who love the third season of Picard are those who grew up watching Star Trek: The Next Generation. And a huge part of Picard season three is the message that you can get back all your old friends. You can beam aboard a long-lost starship and save the day. Essentially: you can go home again.
As comforting as that may feel after years of pandemic, "you can go home again" is not an honest message. And more to the point, it's not even what people crave when things are going well. People want to look forward. In fact, the whole point of Star Trek is to look forward and imagine a better world than the one we're in now.
A lot of modern Star Trek focuses on the past. Picard plays on TNG nostalgia. Strange New Worlds does the same for TOS. Discovery starts as a prequel and Lower Decks is all about Easter eggs. That's not a condemnation of these shows, but it points to an important difference between them and Star Trek: Prodigy.
While Prodigy does have legacy characters like Janeway and Chakotay, they are featured players, not the leads. Prodigy is about young aliens escaping a literal prison in the hopes of joining Starfleet and being part of a better tomorrow. And in that way, it is the most classically Star Trek show right now–or it was until Paramount Plus canceled it.
Star Trek: Prodigy Deserves Its Place in the Franchise
Canceling a series is one thing. Shows get canceled all the time. The most galling part of the premature ending of Prodigy is how quickly it was straight-up removed from Paramount Plus. This show that looks forward with hope that exemplifies the core of what makes Star Trek great is not even available to watch on what is effectively the Star Trek network.
If Star Trek: Legacy is something you crave, ask yourself this: what chance does it stand in this landscape? If the series is one that has a legacy captain in Seven of Nine but otherwise new characters–what is to protect it from Prodigy's fate? What's to prevent Star Trek from losing the thing that makes it Star Trek?
Frankly, nostalgia for nostalgia's sake has a brief shelf life. Heck, The Flash, which steeps itself in nostalgia and Easter eggs is a bona fide bomb of epic proportions. Not to sound dire, but someday the people who get all the references will be gone. As is, a lot of us are starting to tire.
Star Trek: Prodigy is that rare animal: a true successor to a long franchise that is also incredibly new. That's good for Star Trek. And it's good for Paramount Plus too. Hopefully, the folks at Paramount Plus realize that and keep Prodigy a mainline part of the franchise.