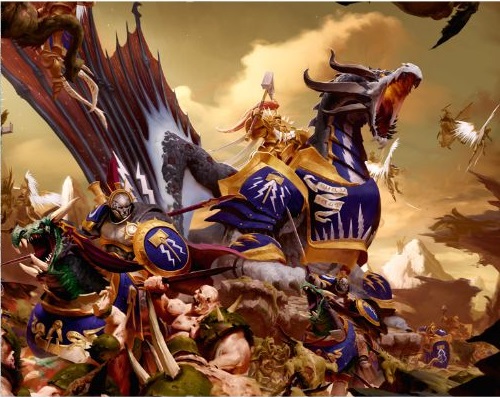 Games Workshop's Global Campaign has ended – Come see the results!
The Age of Sigmar Season of War Global Campaign is finally over. For the Past 30 days players from around the globe in over 1000 participating stores have thrown-down the gauntlet in battle. At the end of the day Order has managed to hold it's own and control all three cities. As a Chaos player I begrudgingly have to admit defeat. For now…
Let's a take a look at the final recap of all the cities. You can see the progress from the initial engagement, the first week's results, the second week's results and the third week's results. We even have a snap shot of the last minute fighting.
via Games Workshop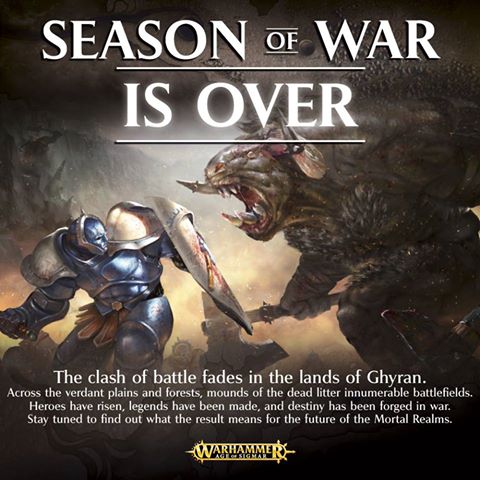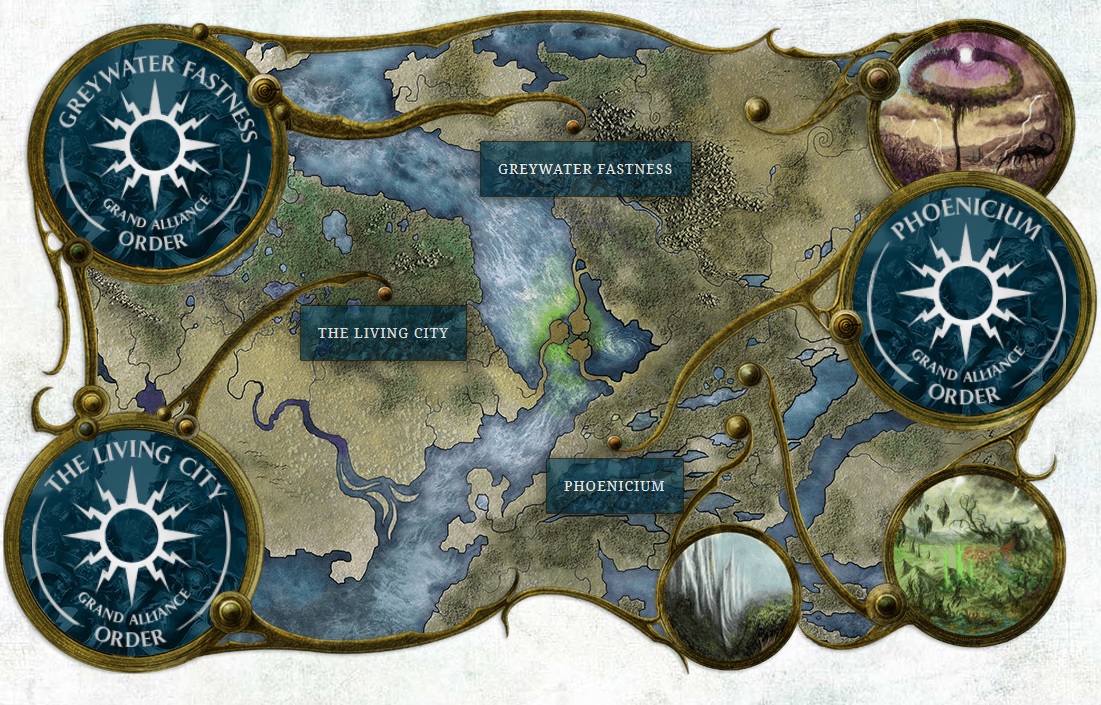 The Living City – Order Controlled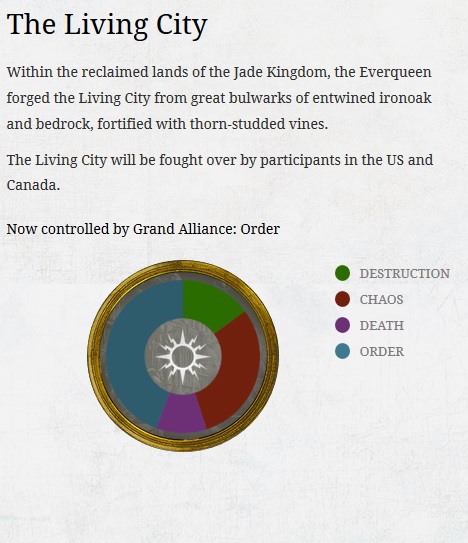 The final push from Chaos on The Living City fell flat (unfortunately). Order has a rock-solid hold with very little shifting from last week. Chaos looks relatively stable in second place while Destruction actually gained some final ground for a third place finish. Death got a late start if you remember the initial engagement and just never seemed to be able to gain any ground. Maybe next time…
Greywater Fastness – Order Controlled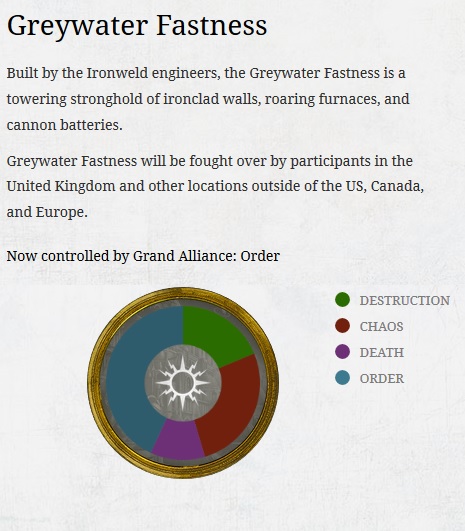 I'd like to give a HUGE shout-out to the Destruction players in the Greywater. They made some amazing gains almost doubling their control in the final days. Unfortunately for them, it wasn't quite enough to topple Chaos out of a 2nd place spot. Order won the zone, Chaos got a shaky second, Destruction had a strong showing for third and Death finished last. I wonder what would have happened if the Destruction players had attacked more of Order instead of Chaos – it could have led to an upset!
Phoenicium – Order Controlled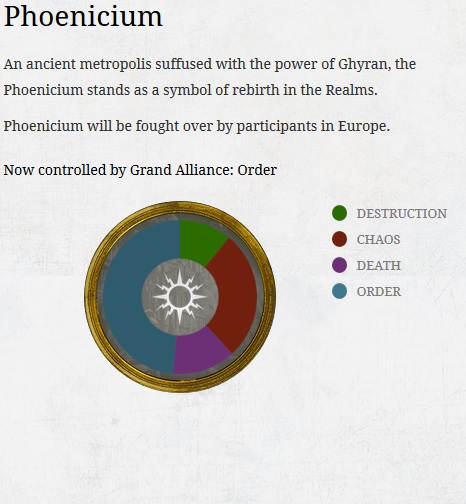 While Death may have been behind in the other two zones, it appears to have a much stronger presence in Phoenicium. Order finished strong and actually gained some turf to finish first. Chaos shifted slightly but maintained a strong second place finish. Death actually took third from Destruction who finished last. That last minute push is quite surprising but Death had been clawing it's way from the grave for the entire campaign.
What does this mean for the rest of the Mortal Realms? We're not sure yet! Games Workshop will have the final news and results later this week. I'm sure there are lots of lessons to learn from this campaign for players and Games Workshop. I can't wait for the next one as I'm sure it's going to build on these lessons and have new ideas implemented.
I'm also glad we didn't see any last-minute "switch-a-roo" nonsense. Having stores report results was a really, really good move. I also liked the subtle buffs GW provided – I think they were useful but not dominating. They could influence the outcomes just a bit, but they didn't win you the game.
What do you think? Did you participate and what was your favorite moment in the campaign?