Canix Rex, Rogue Trader Unboxed, Beasts of Chaos, D&D's New Project, Gaslands & More!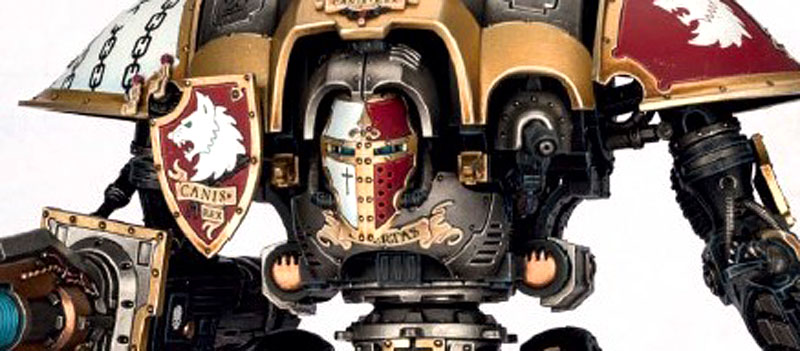 It was a busy weekend tabletop fans. The last missing Imperial Knight, Beasts of Chaos, Rogue Trader, D&D's Request for support, Gaslands & a lot more arrived. Take a look.
The Beastmen, which comprise Brayherds, Tzangors, Ogors, and a score of other chaos-tainted marauding creatures, are coming next week from GW. Here's a preview of what you can expect.
Dungeons & Dragons is getting ready to design their next big project for Extra Life–and they're asking for your contributions. What will you say about the Barrier Peaks?
Take a look at the new Knight Preceptor kit, which features everything you need to build seven different knights, including the legendary Canis Rex–plus build your own scion. More details inside!
Well okay it's more of an overview than a Primer, but you get what we mean. Come join the BoLS Crew as we take you through the second mini-dex in the Rogue Trader box: the Elucidian Starstriders.
Osprey Games puts out a lot of great games. One of their recent Hits is Gaslands. Personally, I really like this one because it is easy to get in on with a limited budget. Grab some matchbox cars, a rulebook, and you're ready to play!
Rogue Traders are many things, wealthy, powerful, used to lives of danger–and Elucia Vhane is a prime example of the sort of hero the Imperium has come to call on in times of need. Take a look at what this Rogue Trader is capable of when fighting alongside allied Imperial units.
There is a new batch of Made-to-Order items up for sale for the last time from Games Workshop, plus Kill Team: Rogue Trader is now available for Pre-Order!
The Gellerpox Infected are a brand new faction and we're taking a tour of their new Mini-codex!
Join us as we take a look inside the new Warhammer 40,000 Kill Team: Rogue Trader Boxed set!
There's a new batch of Desert Fighters from MaxMini.eu and you are going to want to take a look for yourself!
Subscribe to our newsletter!
Get Tabletop, RPG & Pop Culture news delivered directly to your inbox.