Geekery: Captain Marvel Lands on Earth in First Trailer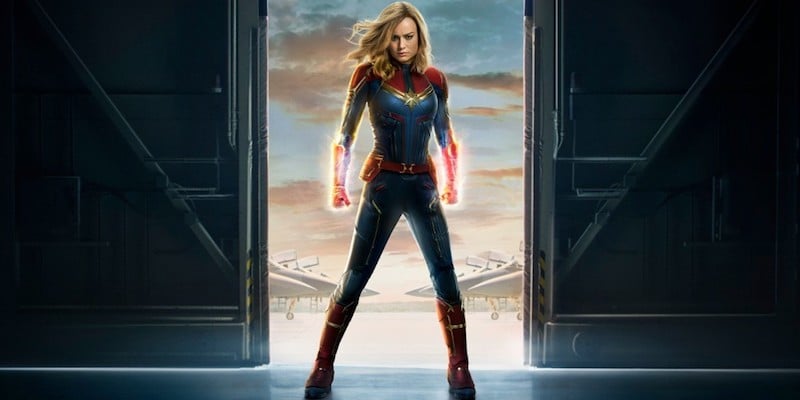 "Higher. Further. Faster." Fans get a first look at most powerful being in the MCU in action. There's a lot to get excited about in this trailer.

Fans have been waiting for more about the next Marvel movie since the post credit scene after Infinity War that featured a piece of tech that hasn't been popular in 30 years. We got a glimpse when EW released a set of photos of Brie Larson and the cast in costume. Now we have a trailer, and it looks fantastic. There's a lot of throw backs – this is going to be a bit of a blast from the past for those of us that grew up in the 1990s.
Anna Boden and Ryan Fleck have teamed up to direct the first Marvel movie lead by a female super hero. Her arrival is bound to bring a lot of changes to the MCU – according to studio head Kevin Feige her combination of human and Kree genetics make her most powerful being in the movie universe. She gets to test her powers in this introduction, which drops audiences into the middle of the galactic war between the Kree and the Skrulls. It's set a period that we've never seen in the MCU, which makes me think we'll be getting a lot of S.H.I.E.L.D. history in this movie too.
Brie Larson makes her debut as Carol Danvers aka Captain Marvel; the cast also includes Lashana Lynch and Gemma Chan, along with Ben Mendelsohn, Jude Law, Algenis Perez Soto, Rune Temte, and McKenna Grace. There are some familiar faces from across the twenty titles in the MCU, too – Lee Pace as Ronan, Djimon Hounsou as Korath, Samuel L. Jackson as Nick Fury, and Clark Gregg as Agent Paul Coulson. The latter two are getting ILM's de-aging treatment – young Jackson looks pretty dang good in this trailer.
Captain Marvel lands in theaters March 8, 2019.