Today we travel through space and time, to the Biel-Tan Craftworld and beyond with a pair of artists who expertly craft the Cosplay world to their whims. Creating projects from multiple fandoms, these two Cosplayers set an incredibly high bar, and have fantastic words of wisdom for the community.
"We are like echoes in a cave, or waves upon the water: performing our part every time we are called. We who have glimpsed into the flow of time see that it is exactly such vast confluence, paths crossed and re-crossed.When one truly understands fate as it is, myriad branching paths, then one can truly see that duty is cleaving to a particular fate, and glory is the accomplishment of duty's ends." -Farseer Caerys
Over a year and a half ago when I first started writing for BoLS, I came across a fellow on the cosplay forums who was talking about an upcoming Eldar cosplay he and his wife were about to undertake. Intrigued, I messaged him for details, and have watched avidly they created one of the most beautiful Farseers I have ever seen. This couple's  dynamic and delicately detailed Eldar cosplays were the first to draw my eye to their work, and I have been eagerly awaiting the opportunity to feature them. I hope you enjoy them as much as I do!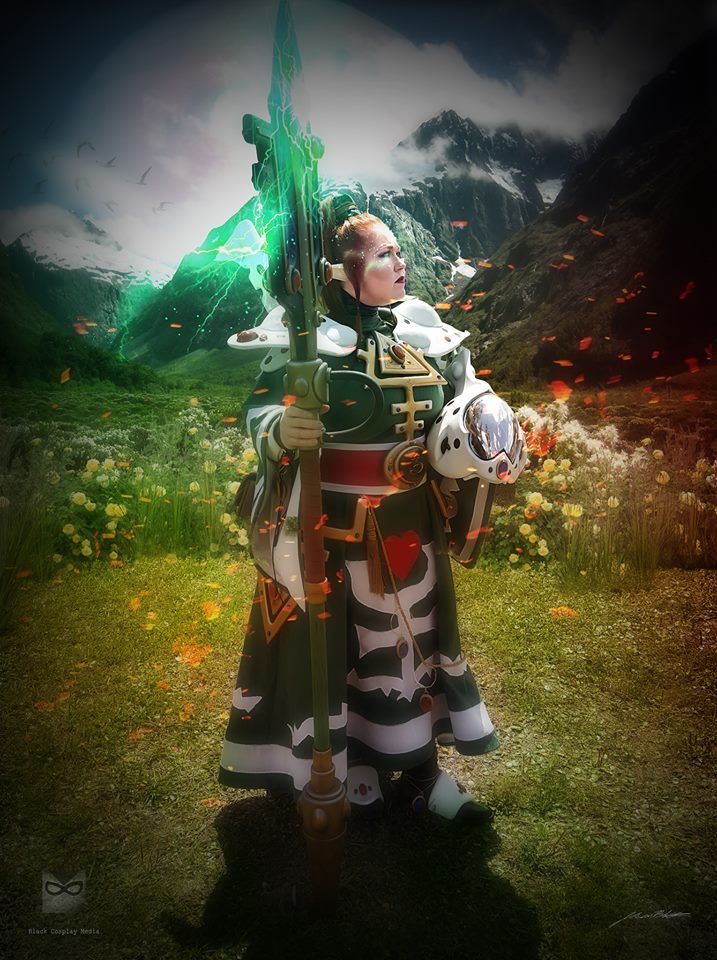 How did you get your start in cosplay? How long have you been creating your projects? What inspires you to work in the cosplay realm?
 We started cosplaying about seven years ago when we decided to go to this crazy event called DragonCon in Atlanta. Before that, we were obsessed with Halloween and had made costumes for us and our kids, but we didn't put two-and-two together that what we were doing was cosplay. As we learned more about DragonCon, we learned more about cosplay and decided to give it a try. Our first official cosplay was a Steampunk couple. It was mostly store-bought and cheesy, but it sparked the flame and the rest is history.
Cosplay gives us the opportunity use the skills we had before discovering the craft – sewing, painting, fabricating – to build things together and then socialize with like-minded nerds. For us, cosplay is a way of strengthening our personal relationship while also being part of a close-knit community. We get to travel together to fun events, meet great people, and play dress up – who WOULDN'T want to be a part of the cosplay realm?
What is your strongest construction aspect?
 Elle: Sewing hands down. I've been sewing for over 25 years and find the process therapeutic. Some people like do Sudoku puzzles, I like to figure out how to take fabric and turn it into something complicated and magical. To me, sewing is a creative science that involves geometry, algebra, engineering, and sometimes even quantum physics. It's like chess — the process involves a lot of planning and you're always thinking about the end game. Before I put scissors to materials, I often spend weeks looking over patterns, drawing schematics, and percolating on the outcome before starting work on a cosplay. What's nice about that is I can argue that sitting on the couch drinking wine is a critical part of my creative process!
Fred: Painting without a doubt. A mediocre cosplay can be made amazing with a good paint job. Likewise, you can ruin a well-designed cosplay by giving it a bad paint job. With the exception of rattle cans for bulk colors, I almost exclusively use Vallejo Game Colors for brush work and airbrushing (anything that wasn't white on the Wraithguard was painted with only 13 bottles of Vallejo paints and a bottle of airbrush thinner).  I've been painting military models since I was 9 and started painting Games Workshop miniatures when I was 25. I had a very successful stint as a commissioned painter until I got a little older and my hands weren't as steady as they used to be. Scaling up to cosplay size was a welcome opportunity to use my skills but in a way in which I didn't have to worry so much about the miniscule details. I still love to put in fine detail, but I have a bit more latitude with it.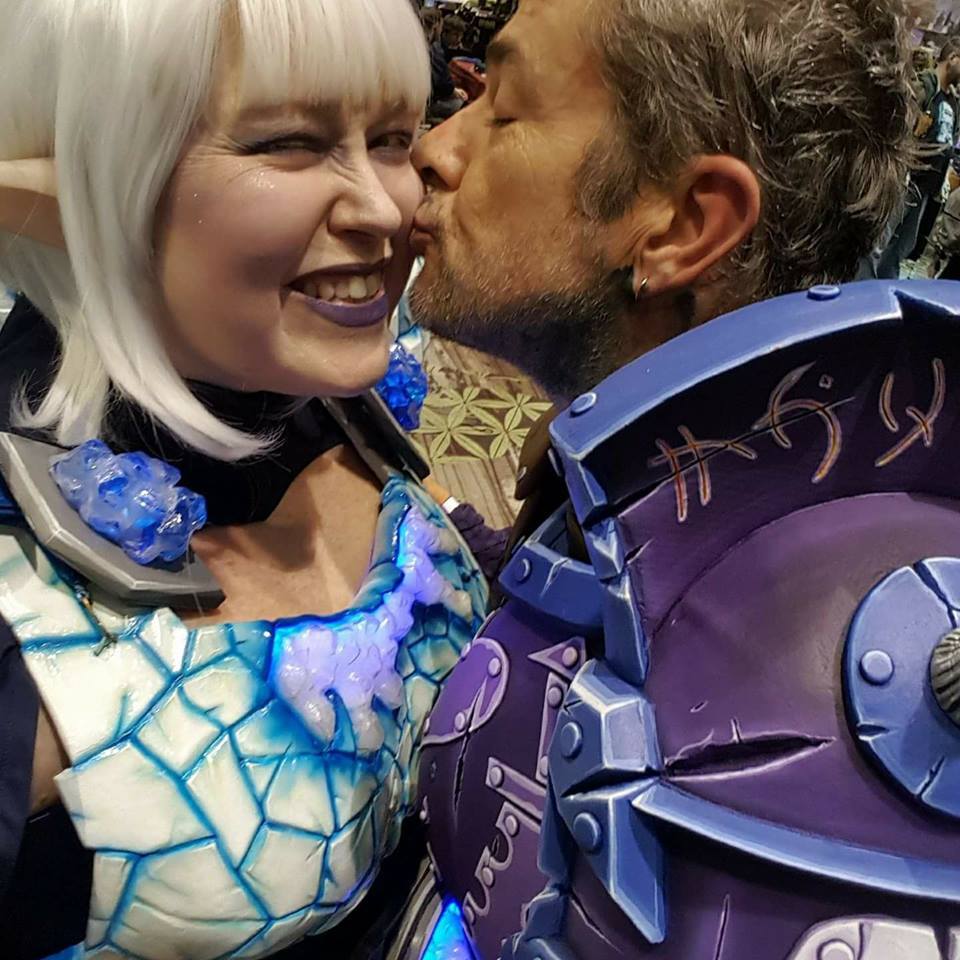 What is your favorite type of cosplay work to do?
 Elle: Of all the tasks involved with creating a cosplay, I most enjoy the planning and design work (see previous comment about couch-sitting and wine-drinking). Once I have an idea, I get to the work of thinking it through – What will the details look like? How will it come together? What materials will I need? How will this connect to that? Once I begin to form a picture of the finished product, I will produce a sketch and then a finished drawing complete with color selections, hairstyle, makeup, etc. That's the part of the process that gets me the most excited!
Fred: I really like doing commission work because there is something so gratifying about handing over the finished product and seeing their reaction. There is an anxious excitement as you worry about whether or not they will love it as much as you do… Will it fit just right? Are they happy with the investment? Will they squee with delight when they put it on for the first time? I love being tagged in their photos when they go to conventions and get a rush of happiness when I see them in person wearing my work.
Really excited about this video by @blackcosplaymedia! They made us look far more badass than we are 🙂 and we are so grateful!

Posted by Fred and Elle Designs on Wednesday, October 17, 2018
What are your favorite completed projects, or your most popular?
 Elle: I think I'm most known for my Ursula cosplay and probably have the most fun wearing it. Interestingly, it was a last-minute weekend project I converted from several other cosplays I had made, and I didn't expect it to come together as well as it did.
My favorite completed project is my Eldar Spiritseer because it came together exactly as I envisioned, and it pushed me outside my comfort zone. It was the first time I did resin casting, and I did far more detailed paintwork than I'm used to doing. When I put the fully-completed project on for the first time, I giggled with excitement!
Fred: My favorite to date is my Colonel Hoffman cosplay from Gears of War. It was my first attempt to fully replicate a character instead of creating an original character based on a theme. Up until that time, I had created cosplays like a Sith, or a World of Warcraft character, but they weren't named characters. When I created Colonel Hoffman, I made an effort to replicate every detail, down to the handpainted insignias, and am very happy with how it turned out.
As much as I used to think I was known for my armored Batman from Dawn of Justice or my Colonel Hoffman, I think I have to say that I'm pretty well known for the Wraithguard. I guess once you've walked around a con in an 11-foot cosplay, that sticks with people so I guess I'm now known as that "Wraithguard guy".
What material is your favorite to work with?
 Elle: Huge swathes of fabric! I don't think I've ever had less than five yards of fabric cut. In particular, I love brocades and upholstery fabrics because they are full-bodied and vibrant. Currently, I'm obsessed with horsehair braid and use it on nearly every hem I put in.
Fred: EVA foam, of course! It is cheap and it is versatile. With the advent of higher density foam and the availability of varying thicknesses and shapes from vendors like TNT cosplay, the construction process has become that much simpler. Add to that the availability of products from Smooth-On like Epsilon and Epsilon Pro, I'm able to create more durable cosplays that allows you to harden the foam and get smooth finishes that rival Worbla for a fraction of the price.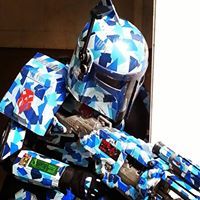 What are your favorite fandoms? Favorite characters?
Elle: Though we both love the big ones like Star Wars, Star Trek, Lord of the Rings, Marvel/DC, I'm obsessed with TV shows, cartoons, and weird pop culture. Last year, I insisted on cosplaying Leslie Knope from Parks and Rec in her paper wedding dress and encouraged our group to cosplay Bob's Burgers. I love: British TV like Doctor Who and Sherlock; cartoons like Steven Universe and Adventure Time; and comedies like Community and Parks and Rec. Much to Fred's chagrin, I will re-watch the same films over and over and am incapable of NOT watching Mean Girls, Pitch Perfect, and Girls Trip if they're on.
Fred: I tend to lean more towards hard-core science fiction like Defiance, Killjoys, Dark Matter, and my current favorite is The Expanse because science is a real thing in it. But I'm also a long-time lover of the Warhammer 40k lore and a useless, walking encyclopedia of related knowledge of it.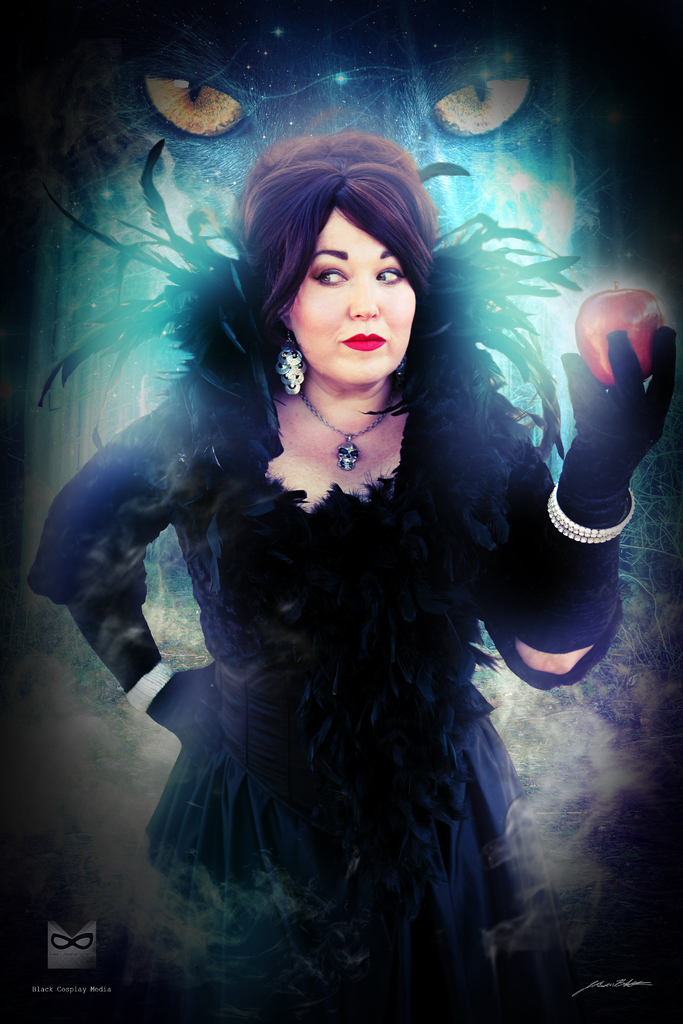 What kind of games do you play? Videogames? Tabletop? Wargames? 
Funny story – we met over a mutual love of Warhammer 40k and figure painting! We still can't understand why it took us over 12 years to cosplay anything from the 40k universe since it was the foundation for our entire relationship. Due to heavy work schedules, much of our gaming has slowed, but some of our favorites are: Fallout, Mass Effect, Skyrim, Assassin's Creed and Farcry. Fred likes to play. Elle likes to watch, give directions, and point out the shiny things Fred has missed.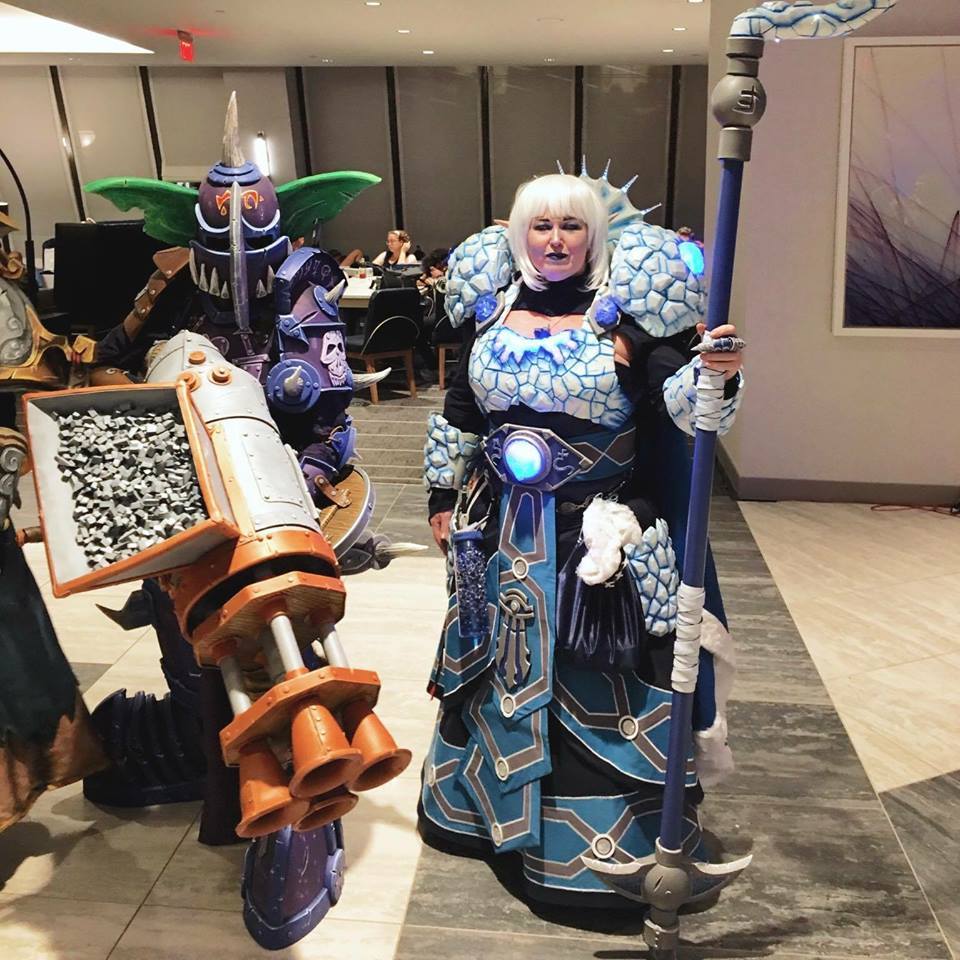 What do you do with your time outside of Cosplay? Any special skills or experiences?
Elle: When I'm not sewing, I run an environmental nonprofit in North Florida that focuses on sea level rise, coastal ecosystems, marine biology, and research. Thankfully, I work with an incredible staff of fellow nerds who are also into Star Trek, Doctor Who, and cosplay so I don't get as many crazy looks at you'd expect. My cosplay skills actually come in handy at work when we have huge galas or special fundraising events because I can help design event décor and create themes. I'm the person at work that always seems to have safety pins.
Fred: In between building stuff for cosplay projects, I like to make my wife's life as happy as possible and look after two dogs. I also think it's important to note that our decades of time on this planet (in other words, we're OLD) has given us special skills that help us be better cosplayers. For example, because I have a military background, I understand how armor appears when it's weathered and old (and that everything leaks and rusts). Working in construction and owning a home has given us basic skills in plumbing, woodworking, electronics, and repair, which has conveyed to many of our projects. The best cosplays are multimedia and include a variety of materials and skills. Being old and having a crazy number of tools in the toolkit helps!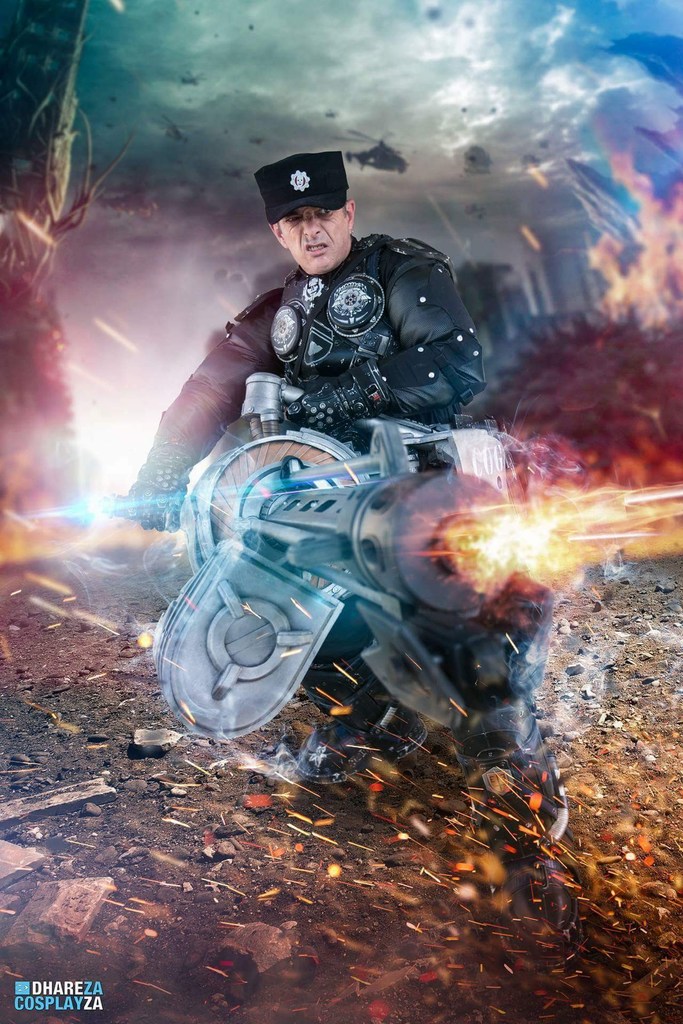 Anything important we've left out that you want to share?
Remember that the cosplay community is, for the most part, a generous and helpful group. People want to help so don't be afraid to reach out and ask questions. If you see something awesome, ask how it was made. Check out YouTube tutorials and try something new. Follow cosplayers you admire and pay attention to their techniques. This is a fun group of fun people who want to be surrounded by more fun people. Be that person!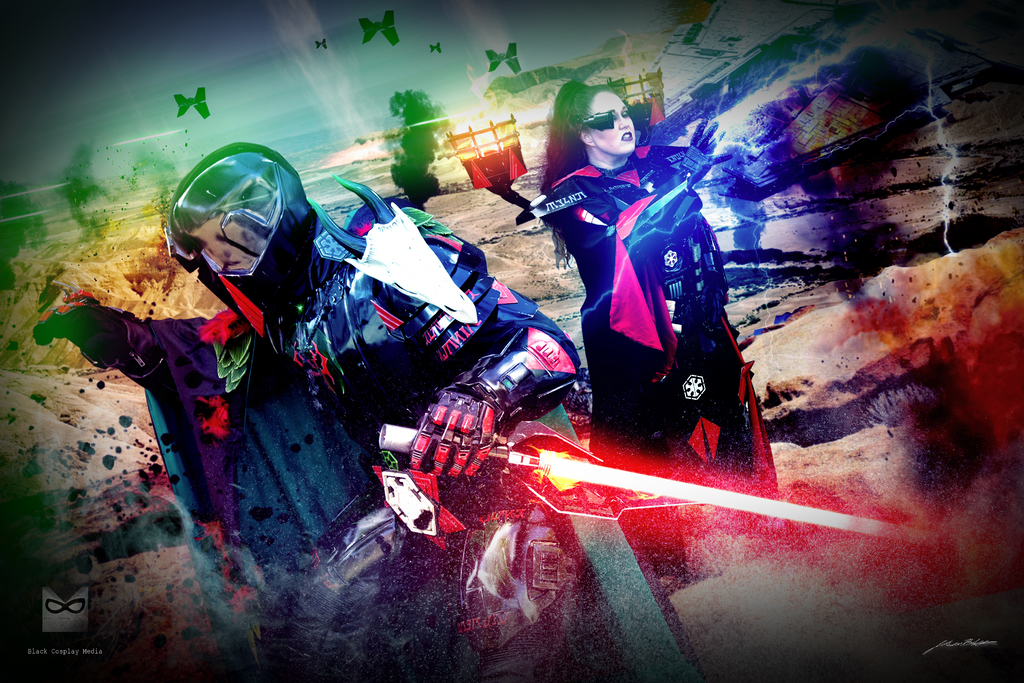 What are your social media/website links? Where can we find you?
Facebook: @FredandElleDesigns
Instagram: @FredandElleDesigns
Twitter: @FredElleDesigns
YouTube: FredandElleDesigns
Twitch: FredandElleDesigns
Web: www.fredandelledesigns.com
~Join us next week for more Cosplay! Coverage~
Have a Cosplay question you would like Mayhem's Muse to answer? Send an email here!