After weeks of apologies, statements, difficult conversations, and disclaimers, WotC is hiring a Senior Manager to head up their diversity efforts.
A new job on the market signals big changes ahead for WotC. Potentially. Let's take a look at the last month or so at Wizards of the Coast. In early June, as the nation erupted in protests–which are ongoing to this day–against racial inequality and police brutality, WotC issued a Statement on Diversity for both its D&D and Magic: the Gathering departments.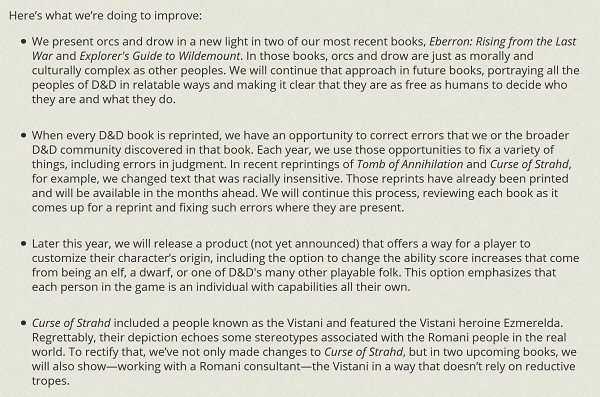 This statement pledged to make the games–and their communities–more inclusive and welcoming, while acknowledging the harmful actions and content (even if not intentionally made). Alongside a stealth announcement for new books that brought in character creation rules that divorce ability score bonuses from "choice of playable folk" as well as quietly moving away from using the term race to refer to whether or not your character is an elf or a dwarf or what-have-you, WotC promised to remove things like humanoid creatures always being evil (Orcs, in particular have been a topic of much discourse), as well as to make changes to existing 5th Edition content and a host of other actions that would make D&D more diverse, inclusive, and welcoming to all of its players. The statement accompanied a promise to listen to the community.
After weeks of "listening to the community" as Wizards of the Coast was called out for mistreating its employees of color, censoring queer artwork with an apparent double standard, questioned for continuing to sell "racially insensitive legacy content" like Oriental Adventures, Maztica, and Al-Qadim, and issuing statement after disclaimer after statement, a new job post has appeared, seeking a Senior Manager for Diversity, Equity and Inclusion. And to a community that has grown weary of "first steps" this might be a more concrete action to show WotC's commitment to change. The position is certainly looking for someone to do some lofty work for the worlds of WotC.
For decades, Wizards of the Coast has connected people around the world through play and imagination, with core games that have defined their genres – Magic: The Gathering® and Dungeons & Dragons®. We want to offer more ways to connect and play as the company grows. And that's where you come in.

Are you an experienced Diversity, Equity and Inclusion Leader (DE&I) who seeks to build fun, innovative organizations, where people can come to work and bring their whole selves?

As we expand our growing multiverse, we continue to innovate and build new ways to foster friendship and connection. We believe that having a well-rounded party (team) that represents and reflects the world around us provides a critical advantage by allowing WotC to build incredible game worlds that everyone can see themselves in.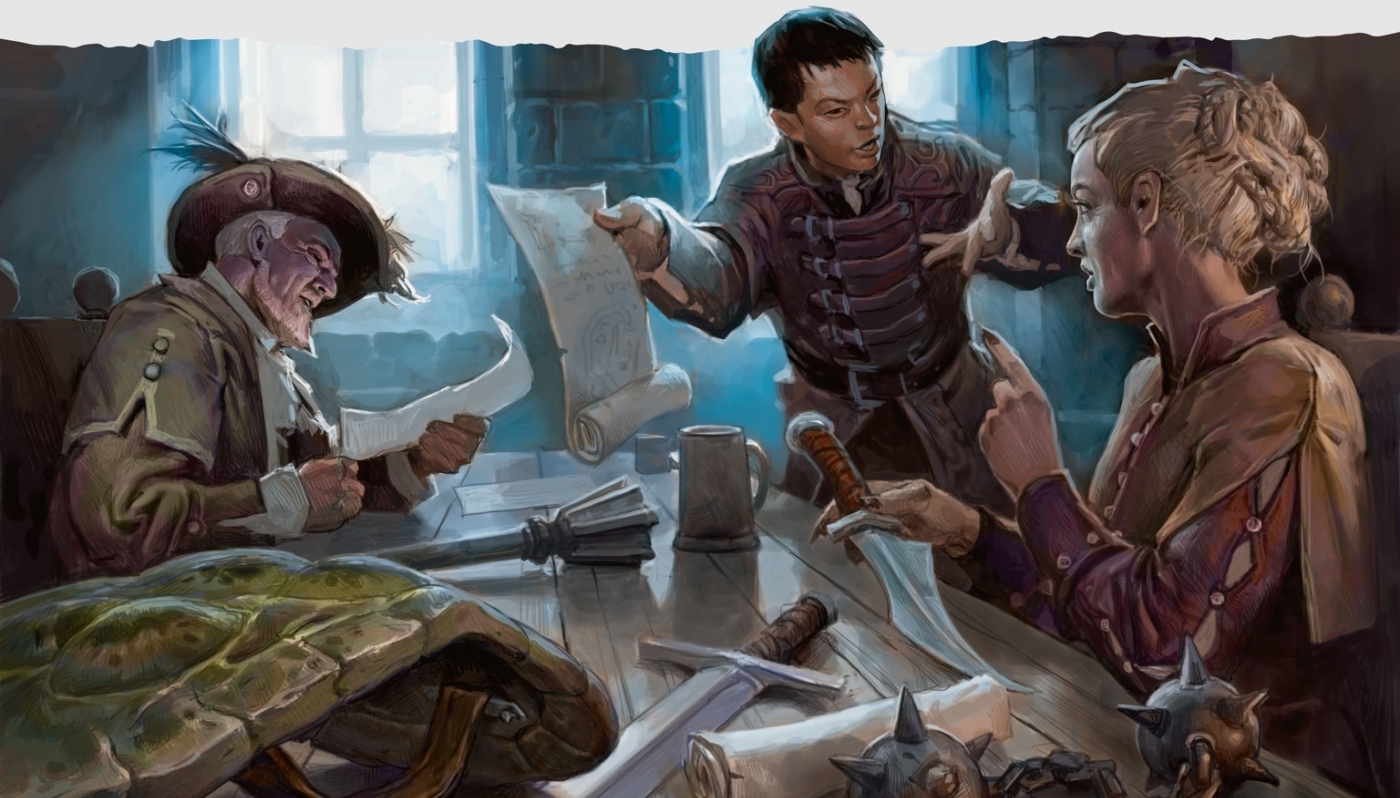 That last sentence where they explain that they want this position to allow WotC to "build incredible game worlds that everyone can see themselves in" is a little nebulous, but it seems to be a catchall term for the broad strokes inclusivity efforts on WotC's radar. When they say everyone, they mean everyone, regardless of ethnicity, gender identity, or sexual preference. But what exactly does that translate to as far as what the "Senior Diversity Manager" will actually do? Here's a look at the job listing.
The Senior Manager of DE&I reports to the Vice President of HR and will have a strong connection with Hasbro's Diversity organization. This role will act as a strategic partner to business leaders and the HR team. You will be focusing on attracting, retaining and developing talent that reflects our audiences and promoting an inclusive environment where employees throughout the company can perform at their best.

Partner with Wizards' Leadership to improve our strategic DE&I plan & identify new opportunities to integrate and amplify diverse perspectives within our processes and products.
Deliver learning experiences to develop leaders, managers and employees in an equitable fashion that builds a more inclusive environment.
Collaborate with Talent Acquisition to build internal and external partnerships that help attract and amplify under-represented perspectives.
Create and moderate safe spaces for honest and practical dialogue around DE&I while challenging conventional wisdom.
Evaluate and report the effectiveness of our diversity activities and their impact on both culture and business results.
Research, design, and implement best-in-class industry DE&I practices to support an inclusive environment, where employees bring their full selves to work.
Support and empower our outstanding Employee Resource Groups, helping them deliver their goals while growing the feedback loop to WOTC leadership.
There are a few key points worth noting here. This person looks to be a leadership team member–they're someone who's there to help senior management step in and see what's lurking in their blind spots. This is a frustration that many at Wizards of the Coast on either side of the executive divide have expressed, whether in the company's contractors expressing their anguish at their poor treatment, or WotC's own senior managers expressing their frustration at saying the same words repeatedly, and "to executives put in charge of a community they don't understand."
I have said almost these exact words for years, and more recently to executives put in charge of a community they don't understand. I am in the awful position of saying things I believe without the company making even a single, simple action of real change.

— Greg Tito (@Gregtito) July 4, 2020
If these comments are at all a bellwether, WotC needs someone strong in this position if they're going to live up to their promise. But they'll also need to work with the person they hire. As contractor Orion Black recently stated, when they were hired, it felt like they were being held up as a shield. And though this is a more managerial position, and one that they're looking at hefty criteria in their candidates:
Sophisticated consultative, mediation, and facilitation skills with the flexibility to adapt to the varying needs of stakeholders, and build trust with all parties.
Ability to handle complex DE&I issues with discretion, self-awareness and sound judgment to assist successful conflict resolution across all levels of the organization.
Strategic, data minded capabilities to quickly interpret & communicate key insights from diversity metrics, research & reporting – with business, financial and legal acuity.
Curiosity driven with a constant pulse on innovative market trends, industry news, and methodologies critical to inform strategy and enhance impact.
As well as:
7+ years of progressive leadership experience in business, marketing, HR or similar people-focused functions, with success as a leader or executive sponsor for successful DE&I programs and initiatives.
A Bachelor's degree, ideally with a focus in business, HR, or related fields. 2-year degree and Equivalent additional work experience may be substituted
…there's no guarantee that the employee will get to effect these changes. And I'm saying this with the earnest hope that this does lead to change at WotC. As someone who wants to see D&D be the game that it wants to be–a welcoming experience for all–things like this do trend more hopeful. And looking at the requirements, it's clear that they're looking for someone who can talk to executives and stakeholders to explain the nuances of the RPG community–which is itself going through a major shift right now thanks to its incredible growth and the general shift in the wider culture–as well as presenting options that are backed by, presumably, financial success. As well as legal acuity.
We'll be watching to see if and when WotC announces their new hire, and what they manage to accomplish.
Here's hoping it's something wonderful. What do you think of the new posting? Is this a step WotC needs to take? What else would you see them do? Let us know what you think in the comments.