Once again, GW has removed all my worries for my Space Marines.
As I've said, it's well known that Space Marines have spent the last year sucking. Iron Hands, in particular, never had much impact on the meta and had a rough year. Sometimes it feels like I just can't win with Marines; everything we do, someone else does better. Luckily we did get some buffs last year, but that was on top of a horde of (unfair!) nerfs.  Heck, poor Iron Hands got nerfed multiple times! Is that army even playable any more? I assume, at this point, a pair of Termagants could beat an Iron Hands army. In short, Marines need help bad as they seem to be just about unplayable in 9th.  Indeed it seems even the last batch of awesome updates might not have been enough to make them any good.
Luckily the powers that be have once again heeded my calls for help and buffed my poor Marines. It seems we might get to make a regular feature of posting about amazing Space Marine buffs.
A Whole Host Of Buffs
This last weekend GW announced a whole ton of upcoming changes in the new Space Marine Codex. These included a ton of new units, new options for existing units, new stuff for Crusade and matched play, and upgraded weapons. It's a lot of stuff and seems to be being added alongside enough of the PA stuff. All of this combines to make it "the biggest and best Codex to date" (since the last biggest and best Marine Codex, just over a year ago). A lot of these things look like major buffs for the faction, but we don't know all the details. To see some examples, let's take a look at some of the new units.
Heavy Intercessors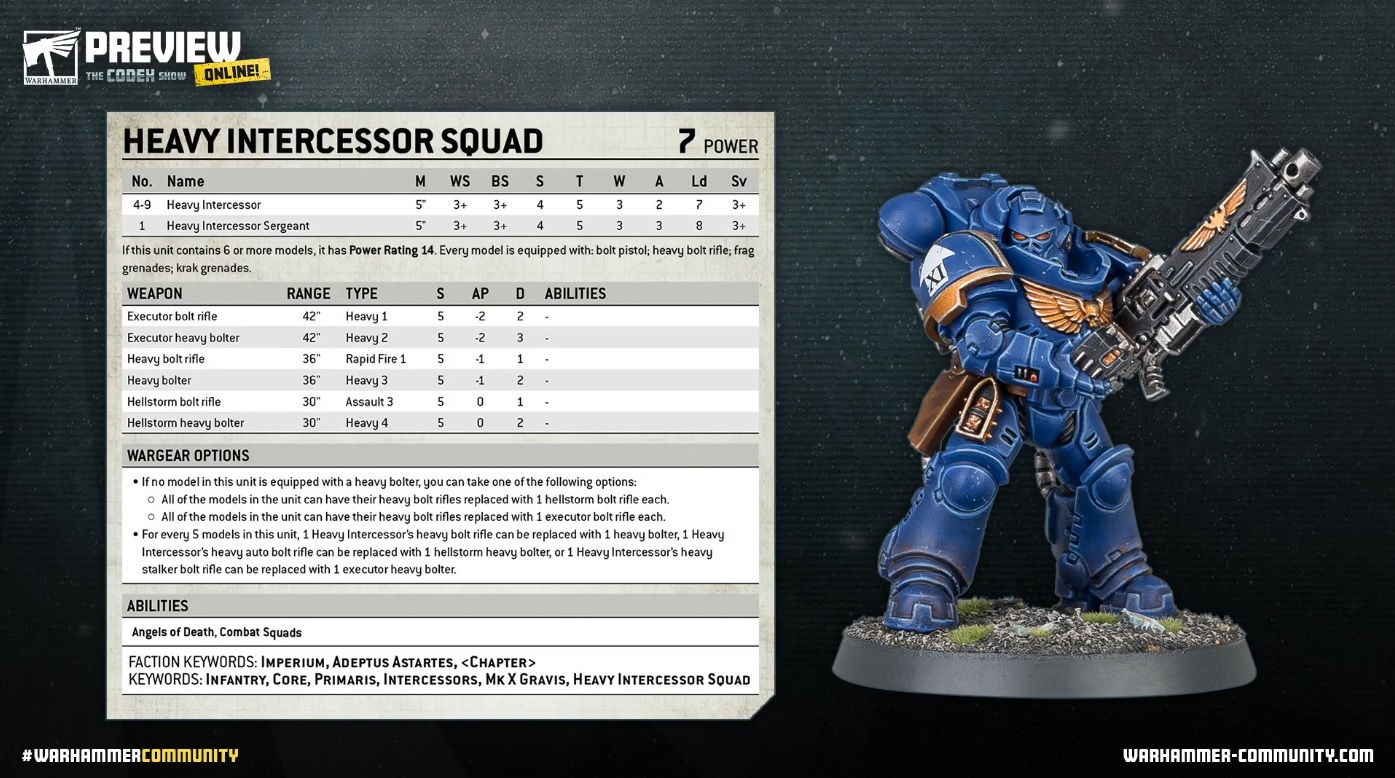 Heavy Intercessors are one of the units that GW showed off the full datasheet for, and they have been getting a lot of interest over the past couple of days. On the surface (ignoring some typos in the options sections), these guys seem pretty solid. They are, in essence, the extra shooty and tough troops. Now I don't think Marines needed another troop choice; this brings them up to what, seven basic options, six if Scouts go to elite, but people have wanted Gravis armored troops. There is no doubt, of course, that T5 3w Objective Secured Troops are kind of scary. On top of that, they get some seemingly lovely guns. This looks like a hard to kill unit with some good output.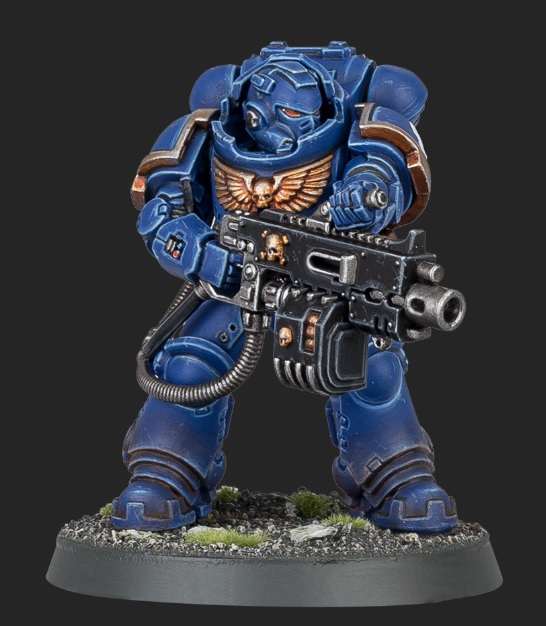 I'm not sold on them. The issues I have with them are three-fold. First, the points. Based on their PL, they are going to be 40%-50% more than a regular Intercessor. That means you'll get a lot less of them. Second, they aren't that much more killy. At the end of the day, 40K is about needing to kill things and the lack of Sgt. CC weapons are going to really hurt them. Lastly, they are slow and don't have as many good transport options. They will have a much harder time grabbing forward objectives.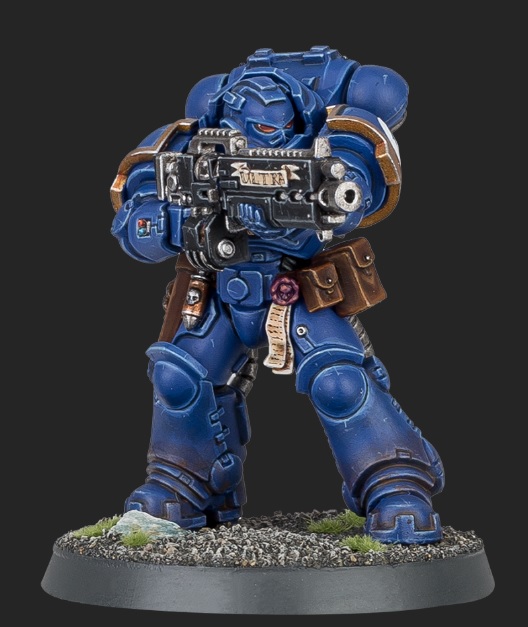 Thematically, I do like the unit. They are a good match with the other Intercessors, and it seems clear the doctrinal idea (likely from the Codex Astartes) is that Heavy Intercessors hold backfield objectives, Intercessors Take the Midfield, and Assault Intercessors push for forward objectives. In a sense, these represent the real evolution of the old Assault/Tactical/Devastator Marines. I am interested to see what people do with them.
Storm Speeder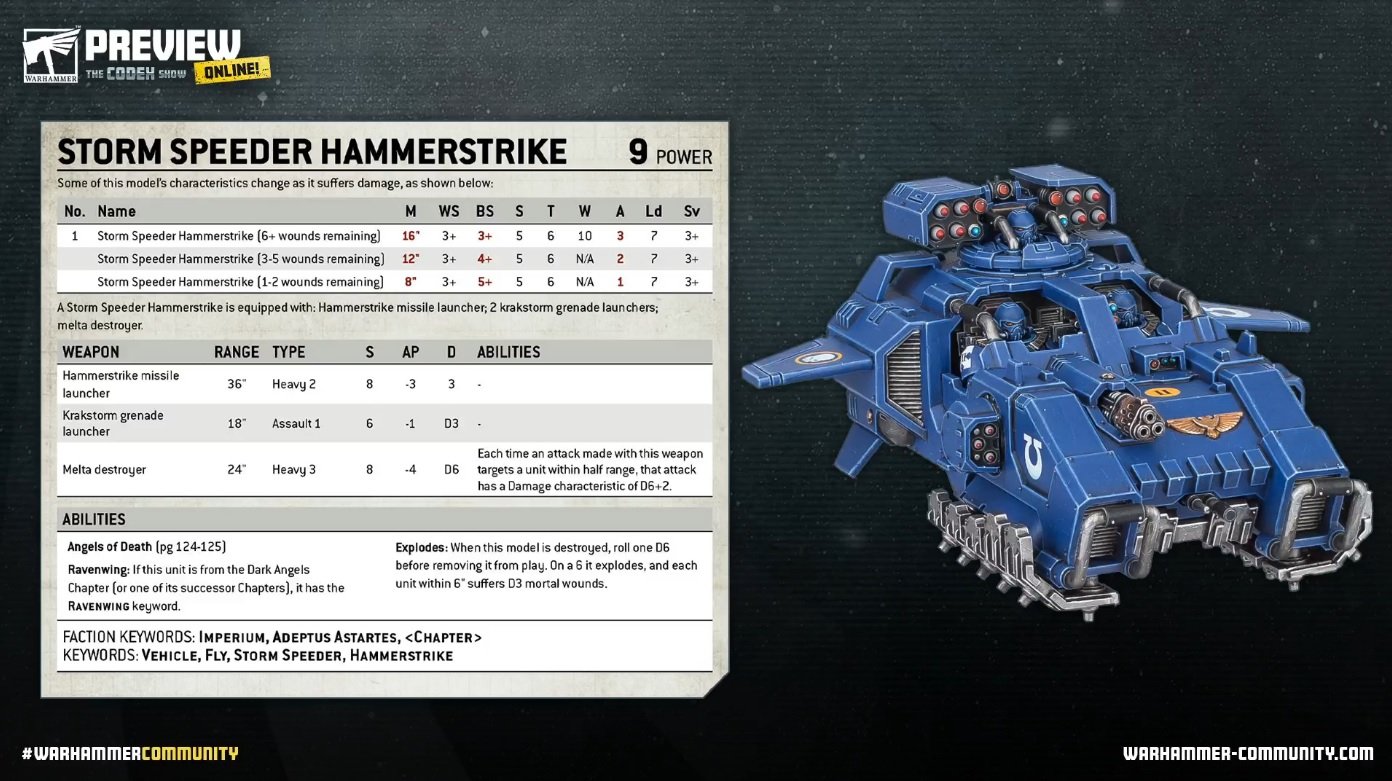 Man, the Storm Speeder is a unit I just don't get. If you want speeders but also want all Primaris, I suppose its the model for you. However, it just feels kind of boring in this day and age. It doesn't do anything special, and it is hard to see why I would take it over say one of the new Gladiators; it gets 4″ extra inches of movement but is easier to kill? Cool? Speeders, in general, are a unit that's really lost most of their flavor, and this just seems like a remake of an old unit for the sake of remaking it. On top of that, at PL 9 it is likely running around 200 pts. That makes it roughly the cost of 2 classic speeders with Multi-Mettas and Typhoon Launchers, and I think the two speeders are better.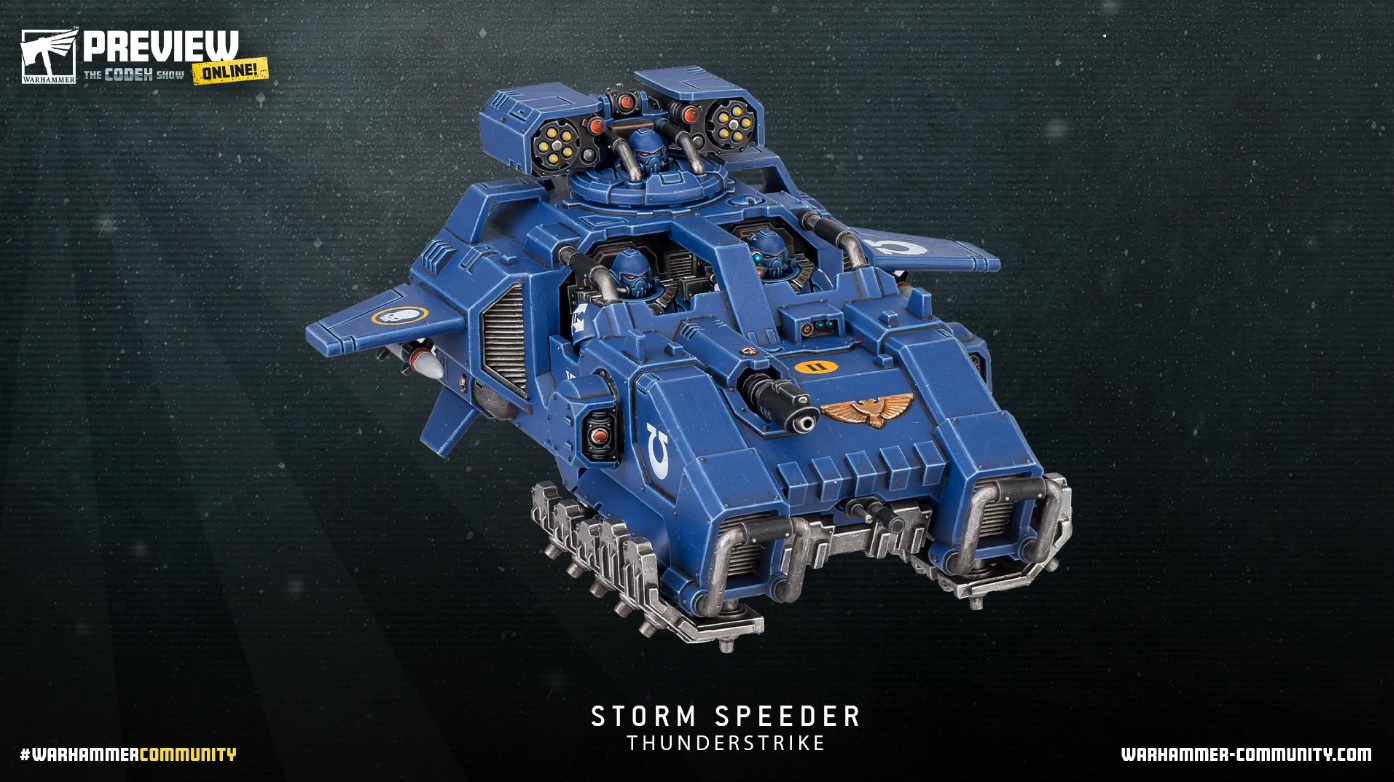 There are two other variants to the speeder. First off, let me tell you how little I care about an anti-flyer speeder. It's zero. Sure the stats may end up surprising us in the end, but dedicated anti-air just isn't something that is good in 40K. The 3rd version features a bunch of high volume, low S anti-infantry firepower. And like… that's the whole Primaris range. There is soooo much of that floating around that I can't fathom why the range needed another unit that fills that role. I guess it's nice for traitors  Ravenwing.
Final Thoughts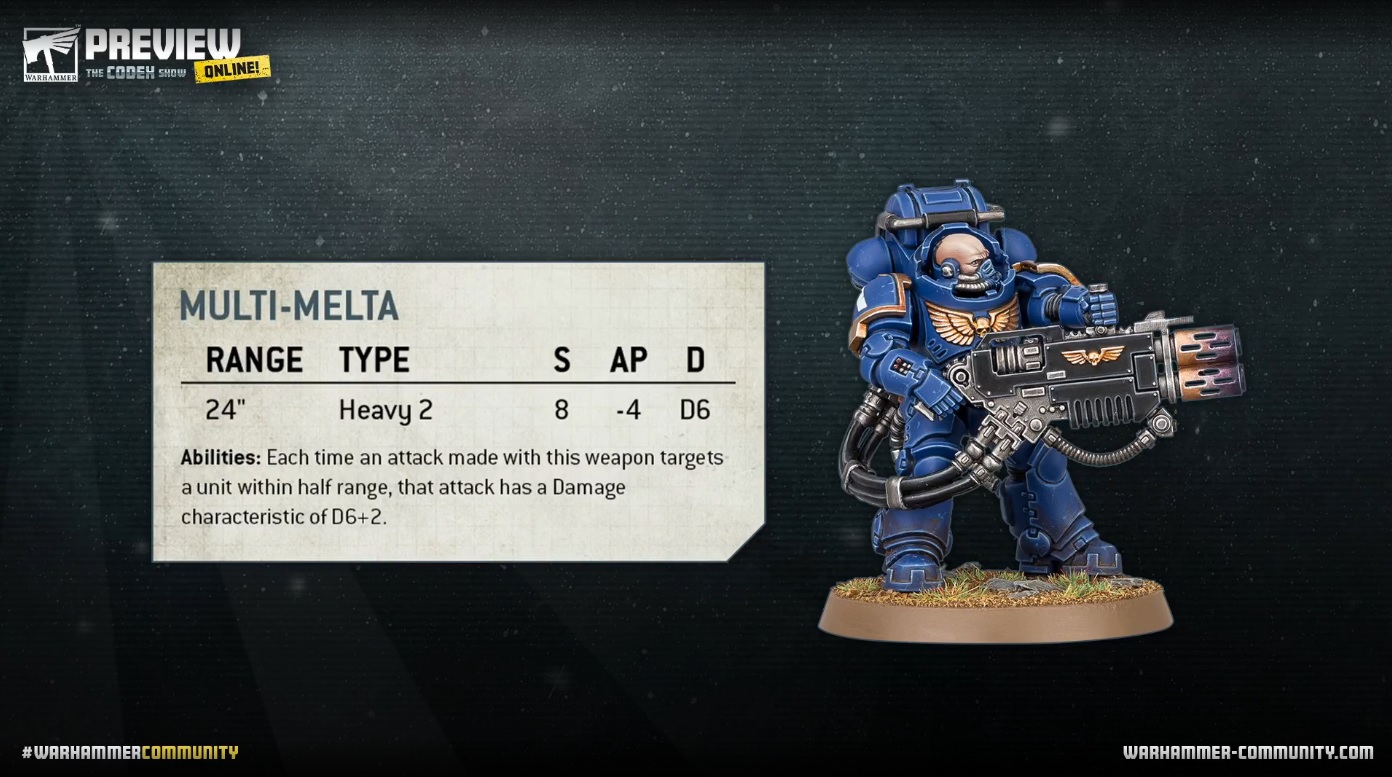 I did notice one really interesting detail in the new announcements. Between the heavy weapons in the Heavy Intercessor Squads and the ability of Eradicators to take a Multi-Melta we are seeing for the first time Primaris units getting the option of taking squad-based heavy weapons. In the past, one of the core design philosophies of the Primaris was that all models in a unit had the same weapons (Aux grenade launchers kinda broke this, but the model still kept the bolt weapon). We eventually saw Sergeants be able to take their own weapons, and now we are seeing units just get upgrade weapons. This removes a key difference between Classic and Primaris Marines.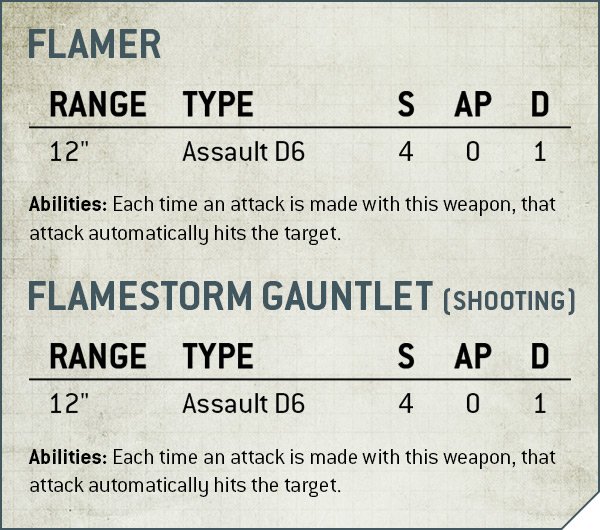 Joking about constant buffs aside, I'm not sure the recent news really will buff Marines that much. The new units that they showed off were a little meh to me, and given how many good options the army has, I'm not sure they will really make a giant splash in the meta or tip the balance. All the weapon upgrades, while in general making things better, are also widespread changes that affect all factions. Arguably they may help other factions more then they help Marines; the damage increase on the Heavy Bolter or instance likely hurts them. Still, the truth can't be denied, Marines have gotten a ton of stuff, recently and with a slew of new supplements coming after the Codex will continue to dominate the release cycle. Thanks!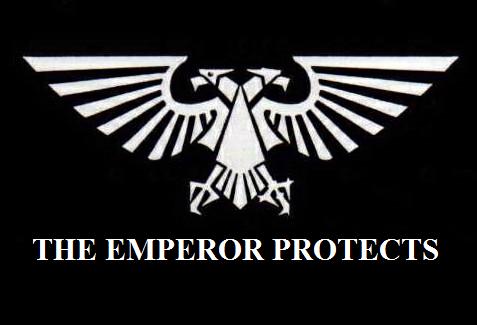 Let us know what you think about these new announcements, down in the comments!