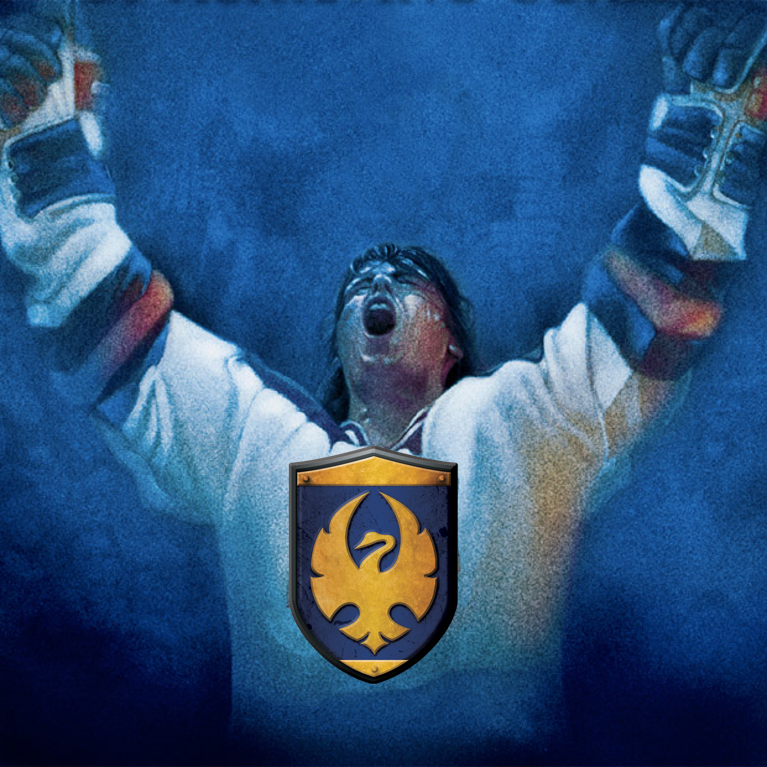 What's the least-used model/unit in Cygnar? Can a list highlight them?
Chalkboard here from Chalkboard War, with part three of a series on the least-used models for each faction in Warmachine and Hordes. As I explained in Part One, I love underdog stories. Moments of triumph when the least expected prove to play a critical role in victory, or when those expected to lose end up winning after all. After some thoroughly non-scientific polling, I compiled what seemed to be the competitors for least-used model within each faction in the game. The goals? First, to figure out why they're least used (meta has shifted, model is over-costed or under-powered, bad sculpt, strange rules, no clear spot, better choices for the points, no caster to pair with them, etc.). Then, to try and theorize a list that could make these underdogs shine.
I've already covered Cryx and Circle, so it's time to turn to Cygnar.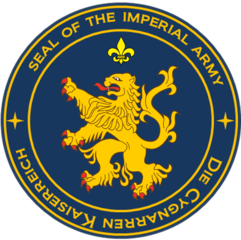 Least Used Cygnar
Winner: Trencher Cannon Crew.
Many different factions had light artillery choices that received votes in the process of gathering community feedback, and it's not surprising. Even with the Steamroller 2015 Armory objective to try and help, they're frequently a sub-par option. Light Artillery combine lack of mobility with inability to boost attack and damage rolls normally. Weapons on Warjacks and Warbeasts simply outshine them, and they're left offering very little in terms of reason to take them.
The Cygnar version has some definite advantages over the other light artillery in Warmachine and Hordes, largely due to its Dig In special rule that gives it cover and the Advance Deploy special rule that allows it to better threaten the table. But even though it is better than other artillery choices, it still ranked lowest of the low among Cygnar players I communicated with. The main limit is the faction: there's so much good, strong, long-range shooting in the faction. A unit with even some drawbacks is likely to sit on the shelf a long time–it's not that the Trencher Cannon is terrible, it's more that so much does the same job better within the same faction.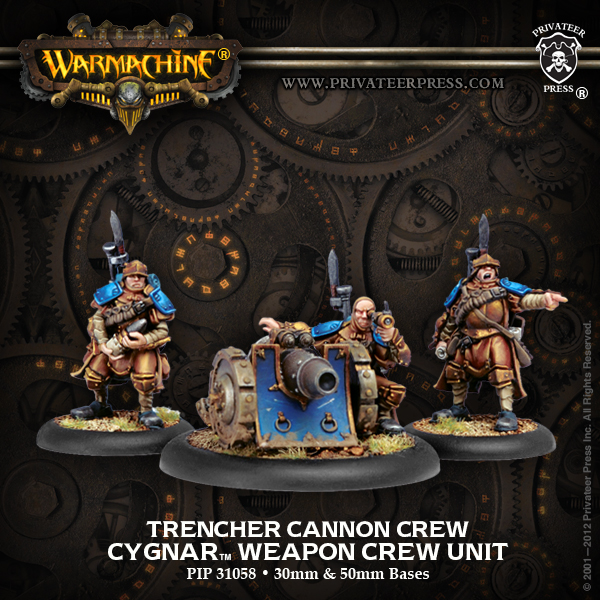 Runner Up: Gun Mage Captain Adept. This model got a lot of votes as well, and largely for the same reasoning. He's a good model in isolation, but within the faction he simply gets displaced. Phantom Seeker is powerful, but there's so much other stuff within the faction that simply covers more bases than this guy. Still, he does his thing really well so has a bit more space in lists than the Trencher Cannon seems to.
Building a Trencher Cannon Crew List
As I did in the prior entries in this series, the goal was to think through "what list could make these guys the hero?" Is there a way to make the Trencher Cannon Crew shine? In my initial poking around, it seemed like Siege Brisbane was a good option for that purpose. I was tempted by his "Big Guns" Tier List, which would allow them to be spammed. However, like last time with the Reeves UA I didn't want to go beyond normal FA limits due to tier bonuses just to get more of them on the table.
What I like about Siege is that him, with a bit of support models for the Cannon Crews, can allow them to be the critical scalpels of the force. Normally, Cygnar relies on their POW 10's to get the job done, but sometimes those critical UAs or Solos that you need to remove have just a bit too much armor to make things dicey. With Explosivo to bust incorporeal models and his feat, Siege seemed to set the guns up for decent success at this role.* In complete honesty, Cygnar is one of the factions I know least well so I did some looking on Discount Games' site, and borrowed heavily from the various lists that were tournament winners using Siege Brisbane. The commonality for Siege seemed to be the Stormwall, Rangers, and Boomhowler and Company for jamming. So what I thought could highlight these was to use those common elements to draw opponents closer into range of the Cannons, then use the Artillerist ability from Trencher Master Gunners to improve accuracy and re-roll scatters (plus the influence of Captain Finn in the middle to boost it even more). Having two accurate cannons that put heavy pressure on squishy warcasters and get ignored in favor of the other traditional "dangerous Siege stuff" might be the right choice.
*Note that when I first published this, I made a mistake and overlooked that Mage Sight was battlegroup only. Cleaned it up to remove that bit (thanks to Kuren for pointing it out in a comment).
The List: Big Distraction
Major Markus "Siege" Brisbane
Squire
Stormwall
Sentinel
Rangers
Greygore Boomhowler & Company (max)
Stormsmith Stormcaller
Stormsmith Stormcaller
Stormsmith Stormcaller
Captain Maxwell Finn
Trencher Cannon Crew
Trencher Master Gunner
Trencher Cannon Crew
Trencher Master Gunner
Trencher Cannon Crew Tactics:
The group would use Boomhowler & Co. to slow down skirmishing threats to the cannons, and rely on the heavy threat of the Stormwall, the Rangers, and the Stormcallers to draw the enemy forward to have to deal with them. The whole time the player relies upon the Cannon's and support staff's Dig In to keep them  safe. When it's time to pounce, Siege sets up the kill shot with his feat, allows other stuff to clear the path, and counts on the two guns to try and take out a caster. Halving base armor on some casters can be really devastating, and with the ability to reroll scatters, it gives the guns a chance to shine. The guns get up to respectable accuracy with the support staff, so they may straight-up hit casters even with good defense. But even in the case of misses, they have a shot under the feat as long as they're re-rolling scatters. A caster that normally shrugs off blast damage may not under the feat, and a caster like Deneghra or Morghoul that have serious blast damage danger could be outright slaughtered by the blasts. The main trick would be to remember that the Stormwall is there for distraction and threat, and use it as such–sort of setting up the Trencher Cannons to get their moment of glory.
Underdog Grade: Invincible. By that, I'm not at all suggesting the list is unbeatable. Rather, that the list is like the story from Invincible: the Trencher Cannon Crew is the Vince Papale of the Warmachine world–it's an unlikely unit joining a list filled with "real" choices, just as Papale was a south Philly bartender and substitute teacher down on his luck who happened to make the Philadelphia Eagles via open tryouts and then worked his way into a moderate career in the NFL. It can shine, and shine really well with the right conditions, but will always be on a team where there are just known to be more "Star" choices.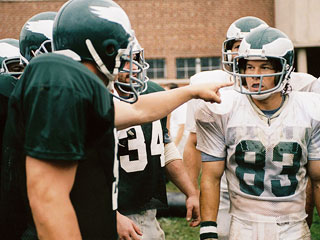 I have a decent feeling about the ability of the Trencher Cannon Crews to be stars with a list like this. It's not perfect and probably too static, and may have some awful match-ups. But there could be games where this least-used model can come off the bench and shine–and a package like this is likely to help them do so.
Thanks to the Cygnar folk who chimed in: CodeRed97, Fortnby, Sletchman, Stormpuppy_Infantry, PG_Tarkand, Coinlord, Ysthrall, haze no ki, and Cannotcope.
~ What would you pair with the Trencher Cannon Crew to make it better? Is there any chance for an underdog story on this one? 
Interested in what underdogs the author is fielding? Check out Chalkboard's blog at www.chalkboardwar.com