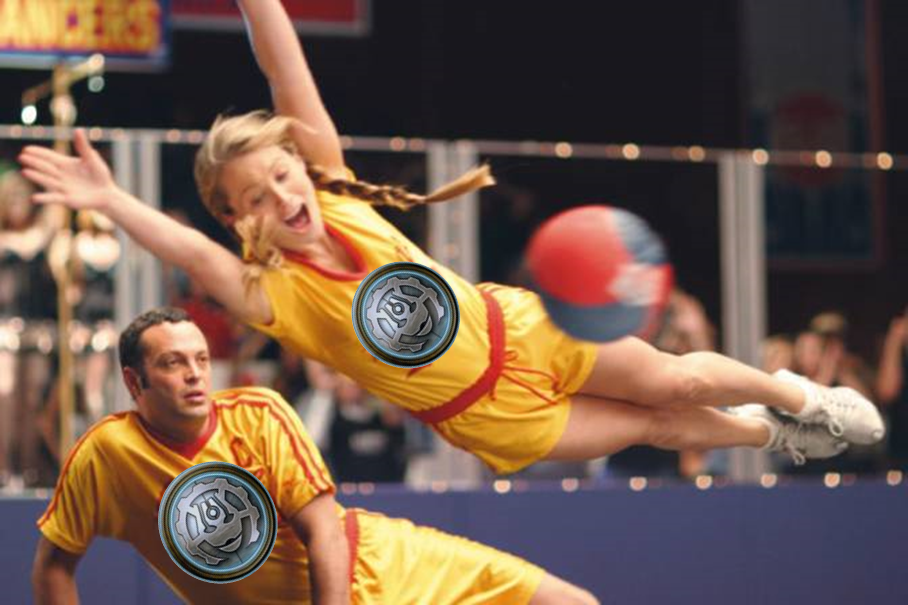 What's the least-used model/unit in Convergence? Can a list highlight them?
Chalkboard here from Chalkboard War, with part seven of a series on on the least-used models for each faction in Warmachine and Hordes. For the full description of what the series is doing, check out Part One. Our society's love of underdogs is such a trope it's ripe for satire (Dodgeball anyone?). And yet we still love it every time it appears. It's just great seeing that lovable loser shine, or that rag-tag band of misfits manage to pull out a win after all. And it's the same with Warmachine and Hordes. Finding a way to make that under-used and little-liked unit have a time to shine is a great effort. And that's my task with this series. After some thoroughly non-scientific polling, I compiled what many players agree is least-used model within each faction in the game. The goals? First, to figure out why they're least used (meta has shifted, model is over-costed or under-powered, bad sculpt, strange rules, no clear spot, better choices for the points, no caster to pair with them, etc.). Then, to try and theorize a list that could make these underdogs shine.
We've covered Cryx, Circle, Cygnar, Trollbloods, Khador, and Legion of Everblight. Now for Convergence of Cyriss.
Least Used Convergence of Cyriss
Winner: Perforators
Let's start with the obvious. Perforators are pretty good at first glance. A unit of five models with hit boxes, Armor Piercing shooting attacks, and solid melee presence would be appealing to most any army–on paper they seem like a great generalist unit. And that might be their problem in Convergence. The faction itself feels organized around combining specialists together–either building overlapping layers of different specializations to triumph, or skewing to one specialty to try and ride it to victory. Amidst either of those, Perforators can be the odd clockwork men out. Also, their Assault ability seems to be viewed as a drawback by some players. With RAT 5, their amazing ranged presence can be significantly less amazing. In particular, if they actually use their Assault shot against things more than one of them are facing, they have the awful chance of shooting each other if they do miss the shot against the main target (and with Armor Piercing they're nearly guaranteed to finish their fellows off).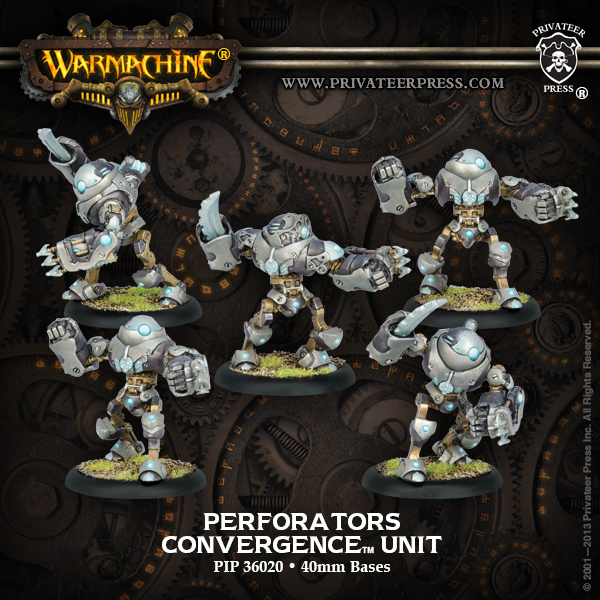 Runner Up: It was pretty unanimous that Perforators were the unused choice. Almost every other part of the Convergence forces has a place in some list or another. The faction as a whole, being designed all at once for a single release, was going to be the challenge for this project all along. Given the way the force is entirely designed around synergy, most everything has a role somehow and in some way. Plus, as a smaller force than most there's less room for "least used" choices to begin with.
Building a Perforators List
So Convergence is another force that I don't know as much about as others, so apologies in advance to Convergence players if this attempt is abysmal. I looked at various Tournament winning Convergence lists and read up plenty to get my sense of things. There were a number of warcasters who seemed to have one way to complement the Perforators–so the question became which one did the best job of making them sing.
I settled on Iron Mother Directrix, as I think her kit makes for an interesting mix. Given that Perforators do their best work against warjacks and warbeasts thanks to Armor Piercing, it was critical to find a way to handle the infantry side of things. Iron Mother does a great job with that herself and fueling her jacks, leaving the Perforators able to perform their job. Now the trick was thinking out a way to get Perforators into the right match-ups. That meant having a big target that requires the enemy's undivided attention: the Prime Axiom.
The List: "Traffic Direction"
Iron Mother Directrix
Prime Axiom
Corollary
Max Perforators Unit with Transverse Enumerator UA
Max Perforators Unit with Transverse Enumerator UA
Enigma Foundry
Enigma Foundry
3 Accretion Servitors
3 Attunement Servitors
Traffic Direction Tactics: This is a list designed to exploit (hopefully) two-list settings like Steamroller events. The goal is to threaten dropping the Prime Axiom, which hopefully the opponent takes the bait by sending their higher-priced heavy-busting stuff list. That comes in two forms: heavies and weapon master infantry. Iron Mother and the Prime Axiom do pretty well clearing infantry at range, especially on her feat turn backed by her own AOE and Shrapnel Swarm spell. The set-up would have the Prime Axiom flanked by the two units. Foes would have to send their heaviest down the center to get to the Prime Axiom, which means the Perforators could hopefully get some moments to close the trap and get their armor piercing off on them. With Iron Mother's Tactical Supremacy spell, one unit can pull back for hopefully a second round of shots. The Prime Axiom could also tow models in for them to pounce upon. With the Transverse Enumerators attached, the units are very expensive but get one turn of re-rolling attacks at critical moments (such as the tow example–you don't want your own assault shots hitting the Prime Axiom with Armor Piercing). If the enemy does have a skirmish screen, the list can do its best to have only one unit of Perforators stand against them–don't forget that the unit's MAT is solid enough to deal with a lot of jamming infantry. With the Iron Mother's Exponent Servitors helping them seal the deal on armor pierced targets, and Attunement Servitors helping offset the low RAT of the unit, this list can hopefully make the Perforators successful.
 Underdog Grade: The Longest Yard. In that it's not going to win any big league games, but against semi-professionals it's got a fighter's chance. The list is all about trying to get the opponents to funnel the wrong stuff to the wrong spots–rushing their armor cracking at the largest foe and hopefully getting cut down on the approach. The more your opponent knows, the less they'll fall for it.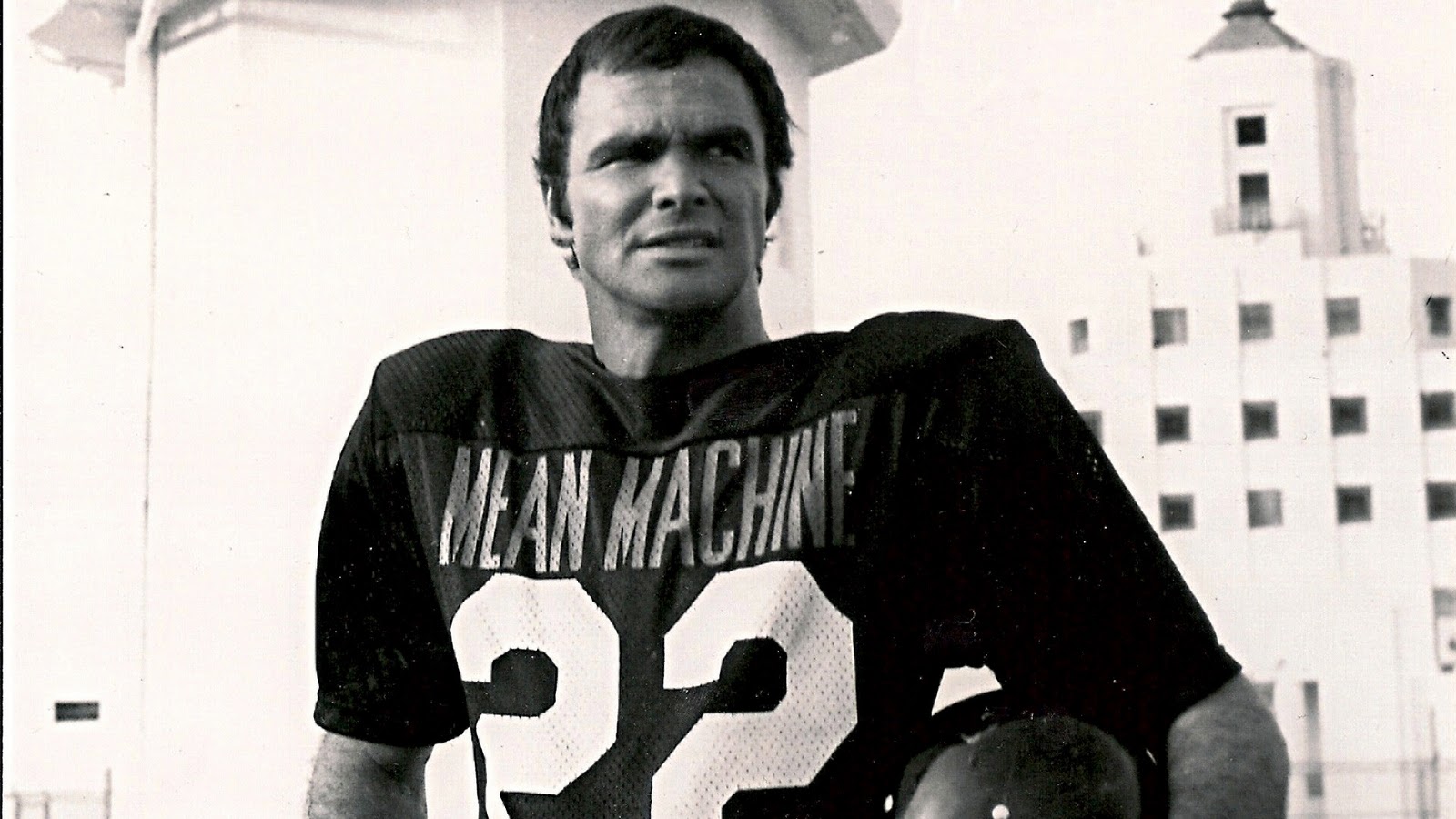 Plus, Convergence is definitely team Mean Machine.
Opposing lists that don't fall for it, or that can stand off and match shots (or spells) would quickly perforate the Perforators. With a whopping 22 points wrapped up in the two relatively fragile units, if an opponent can start to whittle them even a little, this list is going to fold around itself. Even if the Prime ends up being able to pull out a win, it wouldn't be a true underdog moment. Thus, the Perforators need the match up to be just so–and that's hardly going to be every fight.
Thanks to the Convergence of Cyriss folk who chimed in: andalucien, Sami, and aphasia.
~ What would you pair with the Perforators to make them better? Is there any chance for an underdog story on this one? 
Interested in what underdogs the author is fielding? Check out Chalkboard's blog at www.chalkboardwar.com