GW's New Sisters, Titans, Lumineth, Dark Angels – D&D's "Advanced" Warlord & Forgotten Realms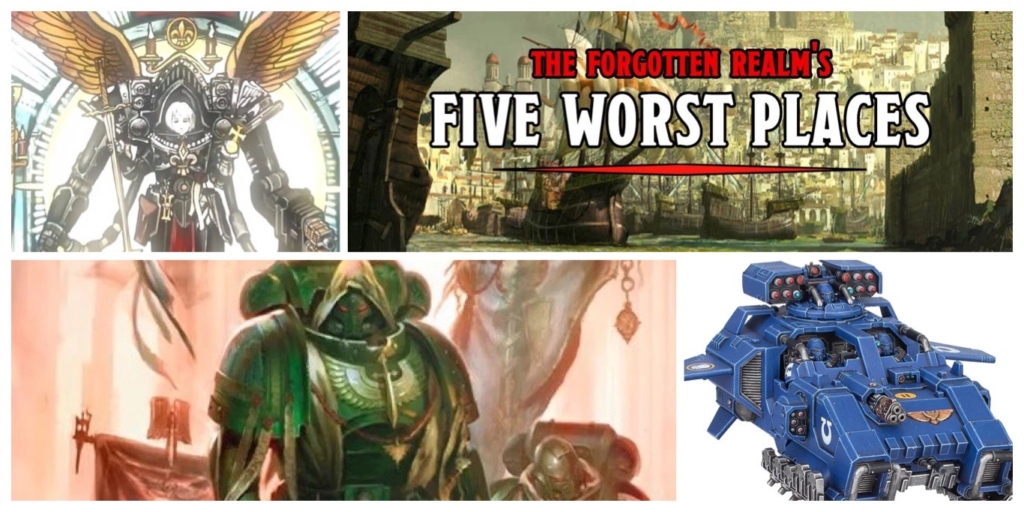 Games Workshop's seminar revealed a boatload of new miniatures, and Dark Angels are coming! Then look at the D&D "Advanced" 5e Warlord and the worst places in the Forgotten Realms.
The Sisters of Battle are getting in the armor game with the new Paragon Warsuit!
Did you think the Warlord Titan was big? Say hello to the new boss. It's the Warmaster Heavy Titan!
The Lumineth Realm-lords are summoning the elements with these new models – check out the new reveals!
The Daughters of Khaine are getting a new Battletome and some fancy new Endless Spells. It's a bloody good time ahead for Morathi's crew!
The big product reveal was a return to the adventures of Warhammer Quest! This time around, things are getting a tad creepy with the Cursed City.
Fans have been clamoring for a 5th Edition Warlord since the beginning–and now, the makers of the "Advanced 5th Edition" have one.
The newest Magic: the Gathering set, Kaldheim, is full of powerful cards with powerful new abilities. Today we're looking at the set mechanics of Kaldheim.
It's a big week for the grim darkness of the distant future–next weekend sees the pre-order release of a new codex and many minis.
What are the five worst places in the Forgotten Realms? Come with us as we journey to Faerun to find out all the places that aren't even nice to visit.
Latest News From BoLS: